Could Geithner Land at Citigroup After Treasury Stint?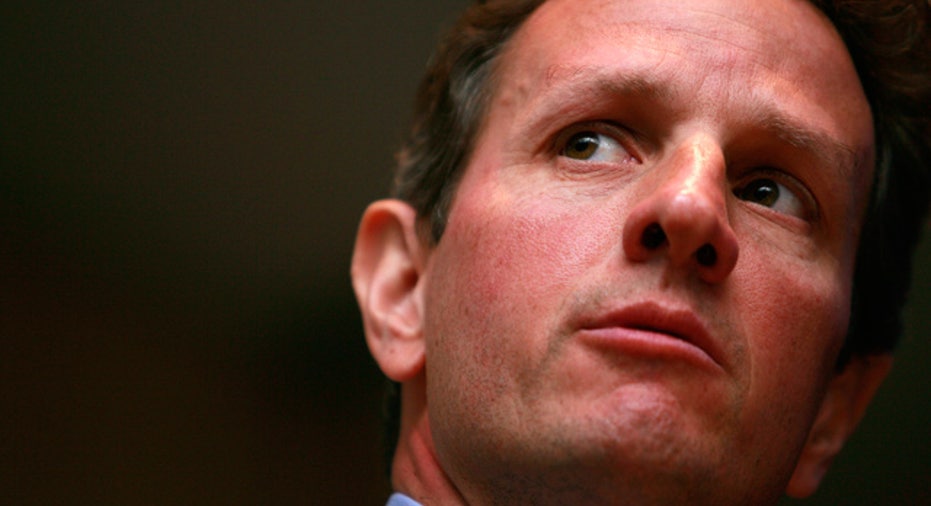 There are rumblings on Wall Street that Citigroup (NYSE:C) may have pushed Vikram Pandit out of its C-Suite last week in part to make room for one of the biggest names of all: Tim Geithner.
Geithner, who is as politically-connected as it gets, would instantly add credibility and his deep international and regulatory experience to Citi's front office, which has a history of luring big-name individuals from the public sector.
It would also be a way for Geithner, who has no private-sector experience, to score a big payday after years as a public servant at the New York Federal Reserve and more recently at the Treasury Department.
"If he was the chairman of Citigroup, he would be a dynamic person who would enhance the bank's stature," said Dick Bove, an influential analyst at Rochdale Securities who covers Citi and floated the Geithner talk last week.
On the other hand, it's not clear if Geithner, 51, would even want the job so soon after leaving the government and his lack of experience working in the financial industry could be a non-starter for the Citi board.
"It's very different regulating a whole industry from being the participant. Someone who is head of the FAA isn't necessarily qualified to be a pilot. It's a very different skill set," said David Yermack, a finance professor at NYU who called the Citi talk "completely preposterous."
Citi Could Covet Geithner's Rolodex
Still, Citi has made overtures to Geithner in the past. Documents show Citi architect Sandy Weill talked to Geithner about the CEO post the day after Chuck Prince stepped down in November 2007 following an $11 billion subprime write down.
Geithner, then president of the NY Fed, ultimately turned down the top job, likely a good career move given the impending implosion at the financial behemoth, which required a massive government rescue to stay alive.
Just a year later President Obama offered Geithner the crucial Cabinet post of Treasury Secretary, a position he is widely expected to give up even if Obama wins re-election next month.
Today Geithner's relationships with foreign central bankers, finance ministers and other regulators could help Citi as it continues to try to bounce back from the Wall Street meltdown.
All of that could increase the chances of success for new Citi CEO Michael Corbat.
"If you put the two of them together, you've got a great banker," said one industry veteran familiar with Geithner and Citi. "That wouldn't be off the wall and maybe that would be revenge on Sheila Bair, since she hates Citi and hates him."
Geithner and Bair famously butted heads when the latter was chair of the Federal Deposit Insurance Corp.
A desire to lure Geithner could also help explain the unexpected ouster of Pandit last month after five years atop Citi.
Following Rubin?
Citi has had success recruiting former government officials to its C-Suite in the past. Last year, Peter Orszag, the former director of the Office of Management and Budget, joined the New York bank as a vice chairman.
And who could forget Robert Rubin, who made a fortune by joining Citi in 1999 just months after stepping down as Treasury secretary in the Clinton White House.
Rubin served as Geithner's mentor and ultimately helped the firm hire Pandit.
Of course, it's not clear if the Rubin experience should be a positive or negative for Geithner's chances of landing at Citi.
"I think they have a lot of regret bringing Robert Rubin in," said Yermack. "He pointed them right toward the basement when the elevator started to fall during the financial crisis."
Lack of Private Credentials
Unlike Geithner, Rubin actually had ample private-sector experience before he jumped to Citi: he worked at Goldman Sachs (NYSE:GS) for nearly three decades, including stints as a director and co-chairman.
Geithner's "lack of any experience whatsoever in the private sector is just a huge handicap," said Yermack. "Despite his political connections, he seems pretty unqualified to run a big bank."
Yermack also said Geithner's relationships with other government officials could raise questions about how Citi would be regulated going forward, preoccupying the board and Geithner himself.
"Maybe in another 10 years he might be in a position for this," said Yermack.
At the same time, Geithner and Citi could suffer a PR backlash for joining forces so soon after he regulated the company.
"If they're bringing Geithner in because they think he's the best person for the job, that's fine. But if you're bringing him in because it's a favor for the bailout, I'm not sure that's in the best interest for corporate governance," said David Becher, a professor at Drexel University. "The timing of it could be seen as a quid pro quo."
To avoid those optical issues, Geithner seems more likely to first join the academic world rather than the Wall Street world.
"Geithner is most likely to hole up in an academic environment to decompress, work on a book and do a little teaching," said Jim Rickards, a partner at New York-based hedge fund JAC Capital Advisors.
Rickards suggested Geithner could follow in the footsteps of his predecessor, Henry Paulson, who joined the faculty at the John Hopkins School of Advanced International Studies after leaving Treasury.
"There's plenty of time for him to enter Wall Street when he wants to," said Rickards.