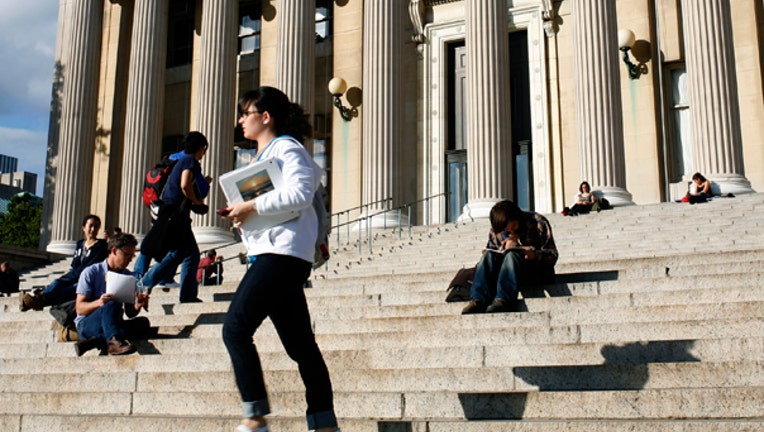 Many high school seniors around the country are waiting for acceptance letters from their dream schools—but not all will get the news they were expecting.
Receiving a rejection letter from a college can be devastating after studying hard at school and putting together applications.
"The kid might be worried about humiliation because they've told everyone they applied to Stanford and then they have to tell everyone they were rejected because everyone is asking," says Suzanne Luse, certified educational consultant.
It's especially important for parents to support their child after receiving a denial letter and remind them that with the competitive nature of the college admissions process, schools are looking to fill their own institutional interests rather than infer a student isn't "good enough," explains Matthew Greene, educational director at Howard Greene & Associates.
"Many acceptance or deferral announcements list the crazy number of applications that were received, the percentage of admissions they were allowed to offer," he says. "Try to give context to the decision and say it's not about you personally, it's not that you didn't deserve this or you didn't earn this."
For students seeking guidance after rejection, here's what college experts say parents can do to provide support and help them figure out what steps to take next.
Acknowledge the Disappointment
Parents need to convey understanding for the frustration their kid is experiencing, recommends Howard Greene, educational director at Howard Greene & Associates.
"The kid can feel that they disappointed their parents and feel guilty that they weren't accepted and didn't have success with X or Y," he says.
After the initial shock fades, pulling out other acceptance letters and discussing pros and cons of each one can remind them of their other options, adds Luse.
"You might be going to a school where you're actually getting a merit scholarship and where you're going to shine and not be clinging on at the bottom of the heap," she says. "When you look at your other options, I think sometimes it's almost a relief."
Re-visit 'Backup' Schools
Taking a fresh look at two or three other choices where they were accepted can remind students of why they were motivated to apply in the first place and allow them to find out more on what that school has to offer.
"In almost every case, their impressions and what they think were or are their priorities are based on trips that they did as juniors over the summer when they were less mature and more tentative," says Howard Greene.
If it's possible for families to facilitate another visit to the college, students can better visualize themselves on campus through extended student stays, shadowing a current student and doing more research on the school's website.
Find Schools still Accepting Applications
If students are denied from all their schools, parents should encourage them to meet with their college counselor or educational consultant to discuss possible solutions.
Students with their hearts set on attending a residential four year university can check out the list of colleges that still have fall openings, published by the National Association for College Admission Counseling (NACAC) in early May, says Jim Miller, past president of NACAC.
"Because there's a lot of variability in all of these demographics, there are a number of quality schools that in the spring still have openings," he says. "There are some good small to mid-size liberal arts colleges and many state institutions, although they are usually not the flagship schools."
Re-Evaluate College Readiness
Although it can be tough to admit, some seniors may not be entirely ready for college.
"[Some students] do need another year of maturity to build a stronger academic program, to be more ready for college," says Howard Greene. "Maybe it's another year to grow and build a better profile--we've done this in our consulting work with many kids over the years."
Parents can encourage students to consider alternative paths such as community college with the intention to transfer, working an internship, volunteer work or taking a gap year.
"Keep in mind that thousands and thousands and thousands of kids are getting rejected," says Luse. "Parents need to maybe share some stories of when they've been rejected and how eventually it turned out to be for the good."