Conversations Boomers Should Have Before Saying 'I Do'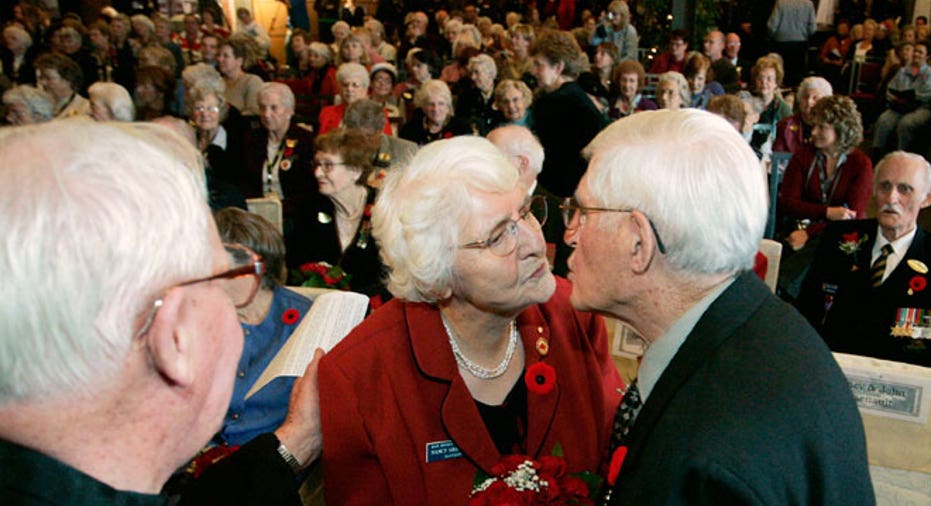 Rediscovering love should be exciting and romantic at any age, however the financial stakes are higher for those in or near retirement who are planning a walk down the aisle.
Tying the knot and merging  finances becomes significantly more complicated with age. Admittedly, talking about finances isn't the most romantic of conversations to have, experts say it's imperative individuals understand the financial and legal implications marriage will have on their estate and retirement planning.
Nick Ventura, president and CEO of Ventura Wealth Management, offers the following pre-marital financial conversations and tips for boomers about to get hitched:
Boomer: What financial complications do older couples face when tying the knot compared to younger ones?
Ventura: At different life stages, newlyweds have various financial decisions that need to be addressed.  Older couples typically have accumulated a number of financial assets: retirement plans, homes, cars, and businesses.
Boomers need to take into account how they plan on protecting their pre-existing, personal financial assets if their new marriage were to take a turn for the worse. Pre-nuptial agreements, trust vehicles, and insurance policies should all be crafted or reviewed before the big day. With recent changes in estate tax laws, new couples should examine the concept of portability to protect their individual estate exemption amounts.
Boomer: What questions should boomers ask their future spouse about their finances?
Ventura: Boomers getting ready to tie the knot should conduct a financial profile of one another. Each person should account for all of their accumulated assets and retirement plans. Furthermore, boomers need to engage in an open discussion with their significant others regarding spending and saving habits.
Another important topic to discuss is what types of financial providers they use (including, estate planners, attorneys, tax preparers and certified financial planners). Couples that plan in advance and work together to accomplish their goals often find more success and less stress.
Boomer: When it comes to retirement savings, what do boomer couples need to do to protect their assets before heading down the aisle?
Ventura: Boomers entering a second marriage or those who accumulated a significant number of assets should arrange for a pre-nuptial agreement. This may present a difficult conversation, but it's a valuable--and often essential--document that protects each person and their assets.
Boomer: Should soon-to-be married boomers keep their retirement accounts separate? What about life insurance policies? Should they automatically change their beneficiaries?
Ventura: While retirement accounts by their nature are separate accounts, when a newly-married couple comes together, they should immediately craft a financial plan that incorporates the financial resources of both individuals.
A cohesive financial plan will cover life insurance as well as retirement accounts. One thing to consider is that as part of some divorce decrees, some beneficiary relationships are court mandated. It is imperative to be aware if this applies to your personal situation. Naturally, all beneficiary relationships should be reviewed in the context of a new union.
Boomer: How can boomers ask their significant other about any debts and spending habits without be offensive or starting an argument? 
Ventura: Your significant other may feel reluctant to discuss their past or current debts and/or their spending habits; however, it remains an extremely important conversation since money issues often lead the causes of break-ups. Spouses who maintain very different attitudes about managing their money cause tension and lack of functionality in a relationship.
We often recommend to our clients that they open up and become brutally honest about past debts to properly resolve issues together and move forward instead of keeping skeletons in the closet, they always come out later and can damage the relationship. Bad credit scores or bankruptcy filings may prevent the purchase of a home, business or any other financial transaction. It's simply too important an issue to ignore.  Rather than being contentious, this is sound financial planning.
Boomer: How can parents protect the inheritance or assets to be allocated to children from previous marriages?
Ventura: Protecting children from a previous marriage is frequently a key issue in a second marriage. A cornerstone of a new marriage is an estate planning review. New wills, powers of attorney, and health care directives should all be part of a comprehensive review.
In many cases, protecting children from previous marriages can be as simple as having properly designated beneficiaries. In other situations, individuals must utilize more complicated trust vehicles.  In both scenarios, parents seeking to protect children from previous marriages should consult a qualified professional.