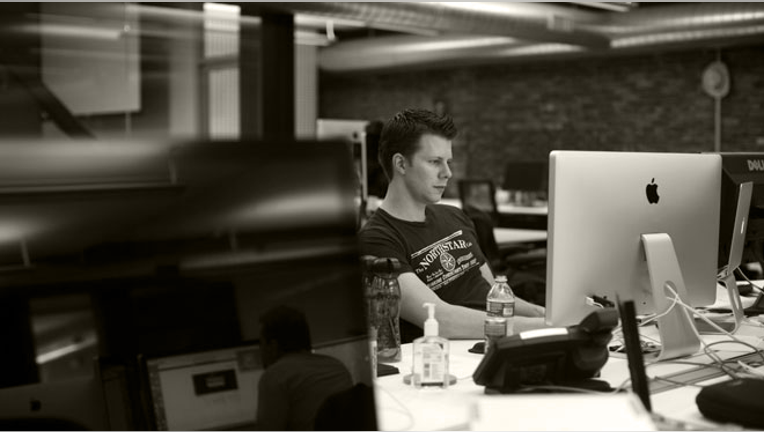 The labor market is still very weak. February's surprise jobs report, which showed employers added 175,000 jobs when economists had expected only 149,000, drew cheers, but it was well below the 12-month average of 189,000.
Yet, there is one employment indicator whose trajectory is clear: the slow but steadily rising "quit rate," which is about halfway back to where it was before the recession. And a recent study shows a staggering 81.5% of employed job seekers are now looking for new work outside of their current occupation.
The new research by jobs-search site Indeed.com, which reportedly had more than 100 million unique visitors in January, says that 81.5% of their sampled job seekers searched in an occupation category other than their current one.
Tara Sinclair, an economist at Indeed, said that more startling is the fact that 56.5% of those job seekers looked exclusively outside of their current job description.
"A higher quit rate is a good thing for the market.... If you're playing musical chairs, the more people get out of their chair, the more open chairs there are to fill,"
"Most people tended to think that once they went down a path, they had defined themselves and that they'd stay in that occupation for life," said Sinclair. "But what we're seeing now is that job seekers are more open about changing their career trajectory."
During the recession, the quit rate, which gauges workers' willingness or ability to leave jobs, predictably plummeted as Americans held on to their jobs, but today it's slowly crawling back to pre-recession levels.
Click here to view an interactive chart on the 'quit rate' from the St. Louis Federal Reserve Bank.
The quit rate, which ticked down to 1.7 % in January from 1.8% in December, captures a wide-ranging picture of the overall jobs market and indicates that the market is slowly improving, said Gary Burtless, a senior economist at the Brookings Institute.
"It's not the job market of 2006 but it is remarkably better than 2009, said Burtless. "And for a lot of people under the age of 35, there is often the need to pass through several jobs to end up in careers that they enjoy and where they prosper."
Still, Burtless said that in a still shaky economy, many people may be feeling overconfident about leaving their jobs and starting over -- but that ultimately a higher voluntary quit rate is a good thing for the market.
"If you're playing musical chairs, the more people get out of their chair, the more open chairs there are to fill," he explained. "It's also important to point out though, that there will be a lot more people circling the chairs looking for an opening than there are chairs left unfilled."
Whether or not veering off outside your current career path is the right decision, Scott Dobroski, career trends analyst at jobs-site Glassdoor, said he is not surprised that employed job seekers are looking -- and looking outside of their industry.
"There are a lot of jobs that were, traditionally, in a specific sector. But now, a lot of sectors are overlapping and are blurring the lines," said Dubroski. "So someone who gets an MBA doesn't necessarily go into finance. Or the person could go into finance, and then switch over to tech."
He pointed to areas like tech, healthcare and consulting as industries that are booming.
"People are looking for a better fit, greater satisfaction and in some cases, a bigger paycheck," he said. "And now more than ever, people are doing a lot research about new potential opportunities and in the age of the Internet, you can get an exponentially better sense of what that job may actually entail."