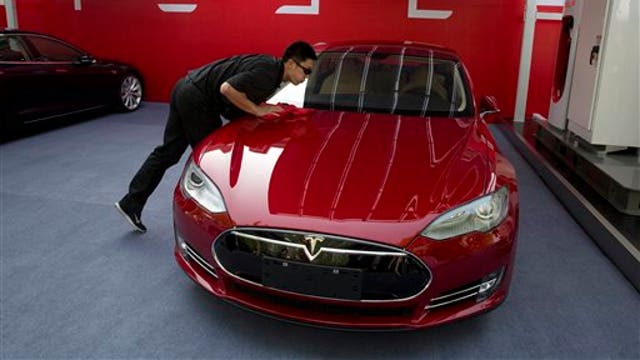 Tesla Motors (NASDAQ:TSLA) appears to remain on track despite a string of issues that plagued a Model S tested by Consumer Reports.
Tesla's $70,000 electric sedan quickly emerged as a legitimate competitor in the luxury car segment last spring. Initial testing by Consumer Reports resulted in a score of 99 out of 100, the highest auto score ever given by the magazine.
In an update published on Monday, Consumer Reports provided details of several issues that have come to light. Gabe Shenhar, program manager and senior engineer at Consumer Reports' auto testing center, wrote that while staff members continued to rave about the car, the Model S "displayed a few quirks" over the course of 15,743 miles.
The car's automatic-retracting door handles failed to activate at times, preventing the driver from opening the door. Tesla resolved the problem with an over-the-air software update.
Consumer Reports also said the center screen went blank at a little more than 12,000 miles. That malfunction prevented access to nearly every function of the car. A Tesla service center performed a hard reset and made other fixes as well. Later, the trunk lid would not open and an adapter for non-Tesla chargers came apart.
Shenhar said Consumer Reports doesn't use its test car to judge reliability. In an annual reliability survey last year, Consumer Reports gave the Model S a score of average based on feedback from 637 owners of the 2012 and 2013 models. This year's reliability survey, which is due out in the fall, will include owners of the 2014 Model S.
"We've seen cars with more than their fair share of problems. It's not unusual. It's actually fairly common in the luxury segment," Shenhar said in an interview.
Tesla said it focuses on being proactive when it comes to potential issues, even if they appear to be minor or have a low likelihood of causing addition problems.
"Like any owner, Consumer Reports benefits from the peace of mind afforded by the comprehensive Tesla warranty. In addition we are constantly upgrading the functionality, features and quality of every Model S through the free over the air updates we provide to every owner," the Palo Alto, Calif.-based company said in a statement.
S&P Capital IQ analyst Efraim Levy said he isn't concerned about the quality of Tesla's Model S, citing the automaker's "excellent track record."
Even when Tesla was faced with controversy over several fires involving the Model S, the cars' safety features worked properly and protected the cabin, Levy noted. Tesla also responded by adding a titanium shield to protect the vehicle's underbody.
Tesla's stock drifted $1.15 lower, or 0.4%, to $258.17 in recent trading. Shares ended Monday's session at a record high of $259.32.
"So far, it doesn't appear widespread," Levy added, referring to the issues covered by Consumer Reports. "That article is the first time I heard about it. I'm sure we would have heard about it if those problems were happening elsewhere."
Shenhar also remarked on Tesla's accommodating repair process. Service centers will pick up cars scheduled for repairs, provide a loaner at no cost to Model S owners and wash the car before returning it. "That's unlike most brands," Shenhar said.
Meanwhile, most of the issues encountered by Consumer Reports were covered by warranty. The magazine paid $636.90 with tax for maintenance service on the Model S.
So even if owners experience the same mechanical problems and push the car's reliability score lower, owner satisfaction could remain high. Consumer Reports also measures owner satisfaction in its annual survey. Last year, Model S owners gave the car a score of 99 out of 100.
Shenhar said Consumer Reports will find out in the fall if the issues are more widespread. "It's the owners out in the real world that will decide."