Consumer Credit Card Balances Continue to Decline in October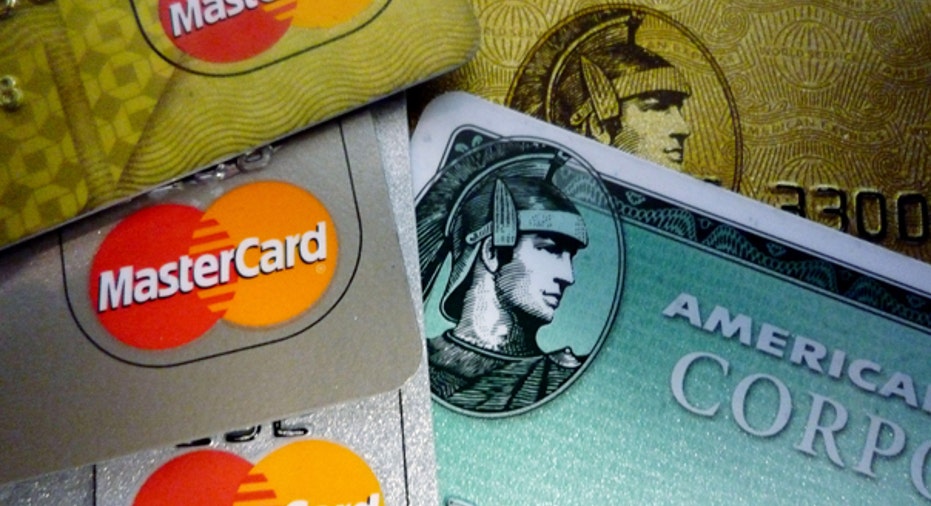 Credit card balances fell by nearly $6 billion in October, as consumers and banks worked to keep revolving debt levels down.
On Tuesday, the Federal Reserve's G.19 consumer credit report showed that card balances tumbled 8.4% in October. That marked the 26th straight month that revolving debt levels -- made up nearly entirely of credit card balances -- have fallen.
"Peoplehave been much more budget conscious," says Donna Rockin, director of the Duman Microenterprise Center at Jewish Vocational Services of Chicago. Cardholders have been using plastic less, paying down balances, transferring debt to lower interest rate cards and trying to use cash, she says.
Revolving debt levels dropped to $800.5 billion in October from $806.1 billion in September, plunging $173.1 billion from their August 2008 peak of $973.6 billion. That means the ordinary credit cardholder has substantially lower balances. Among families, the average U.S. household with credit card debt -- of which government data says there are about 54 million -- has eliminated roughly $3,205 in credit card debt.
Debt levels as a whole rose, however. Overall consumer debt went up 1.7% to $2.399 trillion in October. The overall debt number includes both revolving credit and nonrevolving debt, which includes auto loans, student loans and loans for mobile homes, boats and trailers.
The economic slump has taken a toll on credit card balances. Some cardholders decided to shelve their plastic or increase efforts to pay off debt. Meanwhile, as struggling cardholders failed to pay their bills amid the downturn, banks increasingly charged off those accounts, removing those unpaid debts from lenders' books.
Some analysts believe the worst of those charge-offs have past. Moody's Investors Service says that falling card delinquencies will result in lower charge-off rates during 2011. "What remains in the wake of the credit crisis are accounts with comparatively stronger credit profiles," Moody's Vice President and Senior Analyst Luisa De Gaetan said in a company report.
Holiday shopping rebounds, but credit remains crunched  With the holidays approaching, cardholders who survived the crisis appear to be using their plastic once more. Marketing research firm comScore reported that e-commerce on Cyber Monday -- which kicks off the work week following Thanksgiving -- showed a flurry of shopping activity, with a record $1.028 billion in online spending.
Still, not all credit cardholders will find charging comes easy. FICO's quarterly survey of bank risk professionals revealed a gap between credit demand and supply, which could make putting charges on plastic difficult well into next year.
FICO's survey, conducted by the Professional Risk Managers' International Association (PRMIA), found that 42% of respondents expect an increase in the amount of credit requested by consumers over the next six months, while only 31% of respondents predict the amount of new credit offered by lenders will increase. Additionally, 39% of respondents foresee tighter approval criteria for consumer credit. Just 13%, meanwhile, expect approval criteria to loosen.
"We continue to see a significant gap between expectations for credit demand and credit supply," Dr. Andrew Jennings, chief research officer at FICO and head of FICO Labs, said in a company press release. "Until lenders put the problems in their mortgage portfolios behind them and see sustained growth in private-sector employment, the credit gap is unlikely to close. In the near term, this could have a negative impact on spending during the holiday shopping season, which would be a big blow to an already-fragile economy."
But some experts are more concerned that cardholders keep debt levels low. "I hope it continues, because I don't want people to wake up Jan.1 with a ton of debt," says JVS' Rockin. "My personal holiday wish is that they spend wisely."
More from CreditCards.com: