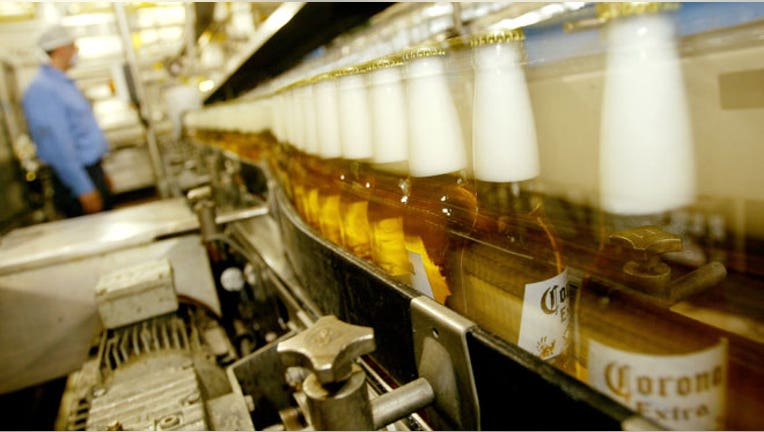 Constellation Brands (NYSE:STZ) saw its third-quarter profit soar 93% to easily beat Wall Street estimates, as the wine and beer company continued to report stronger results following its Corona deal.
The company also said Wednesday it expects full-year earnings of $3.10 to $3.20 a share, up from its previous outlook of $2.80 to $3.10. The improved guidance was driven by the performance of its beer business, Constellation noted.
Shares rallied 10.5% to $77.25 in early morning trading. The stock was already up 38% over the last six months.
Constellation logged a profit of $211 million compared to $109.5 million in the year-ago period. On a per-share basis, earnings rose to $1.07 from 58 cents. Adjusted per-share earnings, which exclude one-time items such as acquisition costs, were up to $1.10 from 63 cents.
Net sales excluding excise taxes jumped 88% to $1.44 billion, as shipment volumes were up 17% for beer and 4.1% for wine and spirits.
Analysts were anticipating adjusted earnings of 91 cents a share and revenue of $1.39 billion.
Last summer, Victor, N.Y.-based Constellation completed its $5.3 billion buyout of Grupo Modelo's half of Crown Imports, which imports Corona and other Mexican beers into the U.S. The move stemmed from AB Inbev's (NYSE:BUD) deal to buy Grupo Modelo, a Mexican brewer, for $20.1 billion.
"The strong marketplace momentum we experienced this summer for our beer portfolio, especially Corona and Modelo Especial, continued throughout the fall and into the holiday selling season," said CEO Rob Sands, who called the newly consolidated beer business the "highlight of the third quarter."
Full ownership of Crown Imports made Constellation the third-largest beer supplier to the U.S. The company is also one of the world's largest wine companies, with brands like Robert Mondavi and Clos du Bois.