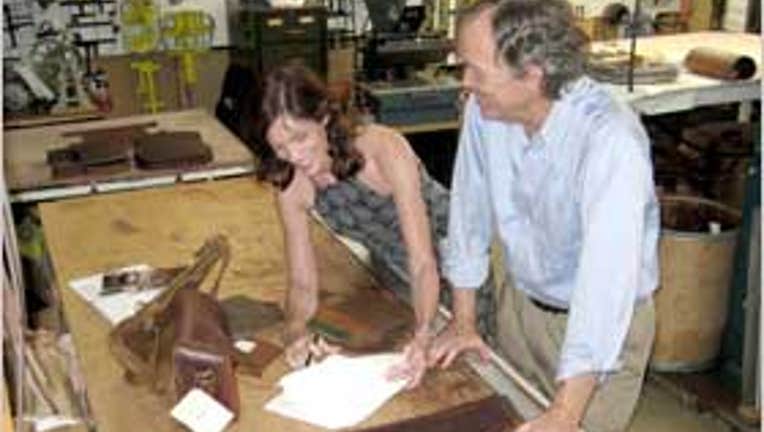 Thinking out of the box used to be the small-business mantra. It was the battle cry of the little guy. Now? Not so much. With credit tight and sales weak, who can afford the time, the dollars, the staff, the trials and errors that, at best, still yield a long wait for return on investment? Yet creative environments remain the key to success.
New ideas help you stand out, add value, improve your business model and boost revenue. Stop innovating and you die. So how does a smart entrepreneur resolve this dilemma of dollars versus development? You guessed it: Get creative about being creative. 3 steps to the next big thing If you're trying to craft big-deal strategy — a vision to move forward — your first step ought to be backward.
You'll need breathing and brainstorming room. No one can see the horizon while toiling in the trenches. But don't be buffaloed by the economic climate. "The recession didn't steal our ability to come up with great ideas, or our ability to value them," says Ed Muzio, a management consultant based in Albuquerque, New Mexico. "It did steal a lot of the discretionary time and money we used to use to implement them."
As a result, Muzio, author of the book "Make Work Great: Supercharge Your Team, Reinvent the Culture, and Gain Influence — One Person at a Time," favors innovation based on practicality. He suggests a three-step process to develop and test ideas, which he credits to Walt Disney:
- Idea generation. Think as if there are no constraints. What would you like to do? - Planning. How would you go about it if your vision were possible? - Critiquing. Be your own worst critic. What are the flaws in your plan?
Then, says Muzio, without budging on the vision, bounce back and forth between refining the plan and uncovering and correcting flaws until you've cleared the hurdles. "If your idea survives this process, it's not only worth doing," he says, "it's already well thought out."
How to press creative juices without squeezing the budget If your goal is day-to-day innovation and motivating staff to push boundaries, then remember that workplaces with such a dynamic only thrive when risk-taking, individuality and fearless thinking are rewarded. With that in mind, here are low-cost ways to encourage profitable creativity:
Schedule playdates. Jill Morin, CEO of Kahler Slater, a Milwaukee-based firm that's grown from a regional architectural services provider to an international design consultancy, believes that having fun is the secret to success. "Out of play can come breakthrough ideas and solutions," she says, underlining how affordable this can be. Workdays at Kahler Slater include:
- Creativity fire drills. "Quick! Pin up whatever you're working on and share it." - Midweek movie madness. Everyone gathers before a big-screen TV to watch fun and inspiring films relevant to the industry or projects. - Cocktail napkin sketch contests. The napkin blueprints are then put on display.
Adopt the 1 percent solution. It's the little things that count. Whether you're boosting sales or streamlining operations, rely on incremental innovation. "We've found that it's the '1-percenters' that are making a difference in this economy," says marketing director Brent Shelton at FatWallet.com, an online shopping coupon outfit. "We find little tweaks that add up, versus the risk and people power of a big innovation."
Audition partners. To expand into new markets or add products or services, "join forces with other marketers to bring in more revenue without having to make a risky up-front investment," suggests Alexander Hiam, author of "Business Innovation for Dummies." An added benefit is that you also tap the partner's experience and brain trust.
Define expectations. Rather than roam the territory, ask your advisors and employees to create "inside the box," advises Shawn and Kevin Coyne, co-authors of "Brainsteering: A Better Approach to Breakthrough Ideas." "Research shows that managers find more valuable ideas when they think within constraints rather than trying to think entirely open-endedly," say the Coynes. For instance, a midsize bank wanted growth ideas that would pay off within 12 months and cost no more than $5,000 a branch. A brainstorming workshop produced several ideas, including a marketing effort that focused on branches located near other banks that local newspapers reported as likely to fail.
Make it top-down. Grassroots innovation begins with senior staff. "Only then will workers take out-of-the-box thinking seriously and not as 'fad of the month,'" says Chuck Dymer, an innovation consultant based in Kansas City, Missouri. You need consistent and defined practices, whether a weekly idea workshop, a monthly cash bonus for best idea, or an online community for customers to weigh in.
Of course, innovation looks different to every business. But, says New York innovation consultant Stavros Michailidis, when leaders are committed to creativity and "invest their energy — not necessarily money — in it, creativity will flourish in its own unique way."
Joanna L. Krotz writes about small-business marketing and management issues. She is the co-author of "Microsoft Small Business Kit" and runs Muse2Muse Productions, a New York City-based custom content provider.
* For more articles like this, visit www.businessonmain.com.  The Fox Business newsroom was not involved in the creation or production of this special advertising section.