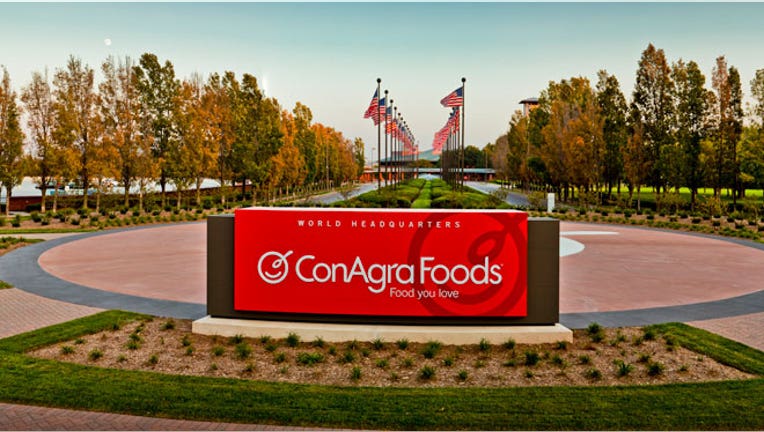 ConAgra Foods (NYSE:CAG) reported on Thursday a 42% drop in its first-quarter profit, as the maker of packaged food saw weaker results at its consumer segment.
The company also said it expects per-share earnings of 55 cents in the current quarter, below the 63-cent estimate from analysts.
ConAgra, which makes Hunt's ketchup and Peter Pan peanut butter, logged a profit of $144.3 million in the latest period, down from $250.1 million year-over-year. On a per-share basis, earnings fell to 34 cents from 61 cents, while earnings from continuing operations were 33 cents a share.
Adjusted per-share earnings checked in at 37 cents compared to 44 cents last year, missing estimates for 39 cents a share. ConAgra reported per-share results last week.
Revenue continued to post gains as a result of ConAgra's acquisition of Ralcorp Holdings, which makes private-label products for retailers that have in-house brands. In the first quarter, revenue leapt 27% to $4.2 billion but missed Wall Street calls for $4.29 billion.
Sales in the consumer foods unit, the largest top-line contributor, slipped 1.8% to $2 billion as operating profit declined 21%. Commercial foods sales edged 0.4% lower, while profit was down 7%.
Also last week, ConAgra provided a dimmed full-year outlook that the company reiterated on Thursday. Chief Executive Gary Rodkin said first-quarter volumes were lower than expected, as consumer foods faced difficult category and customer conditions.
"We are revising our merchandising and promotion plans to improve our volume," he added.
Shares were down 1.25% at $31.67 in pre-market trading. The stock is up about 8.7% on the year, lagging behind the broader market.