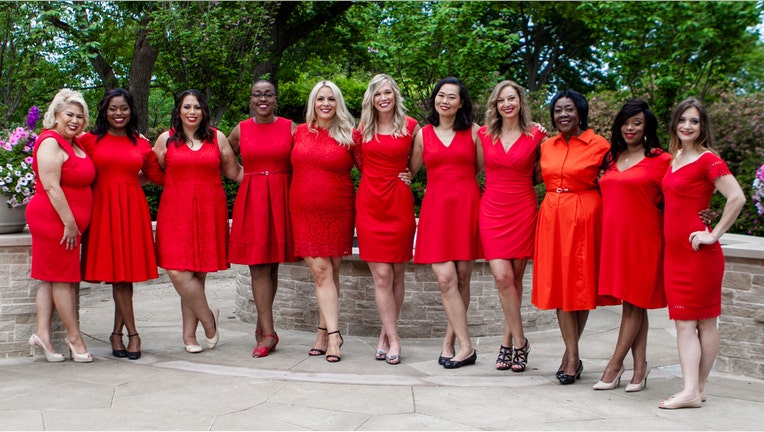 Every minute, a woman dies from heart disease in the United States – and many of them never see it coming, which the American Heart Association (AHA) says could make a life-saving difference.
On Friday, employees at companies big and small across the country will be wearing red to mark the 15th anniversary of National Wear Red Day – AKA "Go Red for Women" – a movement started by the AHA to raise awareness about heart disease, which is the leading cause of death for women in the United States today.
While awareness continues to grow, the AHA says more work still needs to be done. Today, one in three women in the country die of either heart disease or stroke each year, according the organization. Last December, the CDC reported that after nearly three decades in decline, the number of deaths from heart disease – in both American men and women -- has increased.
"Many women do not realize that most regular cardiovascular screening tests should begin at age 20, and that knowing your personal health numbers helps you and your health care provider better determine your risk for developing future problems," said Angela Patterson, Chief Nurse Practitioner Officer at CVS MinuteClinic.
Macy's (NYSE:M) is the day's biggest corporate sponsor to date, raising over $60 million since the event launched in 2004. CVS Health (NYSE:CVS) is the second biggest -- and newest – on that list, this week pledging $10 million. CVS Pharmacy President Helena Foulkes also signed on to serve as National Chair for the campaign.
"Many of our colleagues, customers and communities have been touched by heart disease and stroke and we are encouraging them to help us inspire action and support the work of the American Heart Association by 'going red' -- and as part of our company's broader commitment to helping people on their path to better health," Foulkes said.
CVS is also offering free heart-health screenings at all of its MinuteClinic locations this Valentine's Day (February 14th).
Additionally, companies likes Novartis (NYSE:NVS), Janssen Pharmaceuticals, Inc. (which is owned by Johnson and Johnson (NYSE:JNJ)) and nail-wrap company Jamberry have all devoted resources and cash to the cause.