College Students Trade Up When it Comes to Off-Campus Housing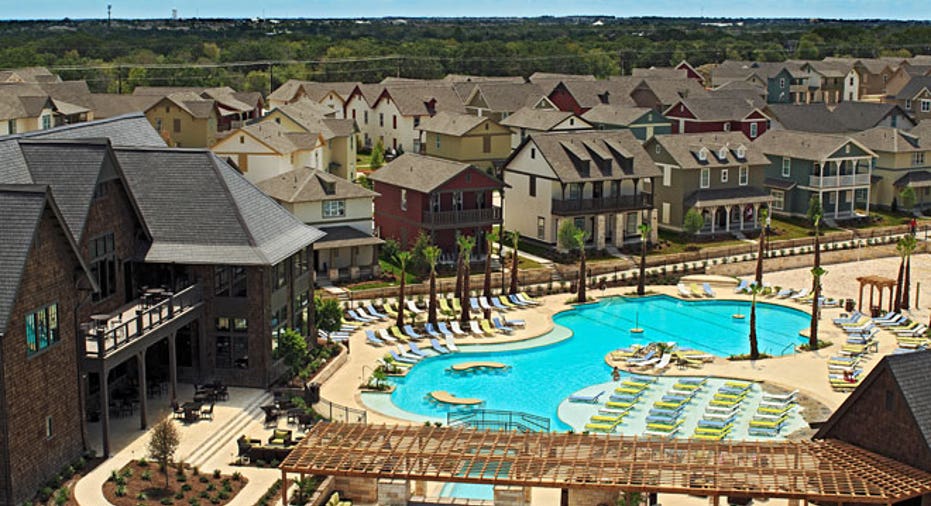 For some college students, living is easy.
Off-campus housing has undergone a makeover featuring fully-furnished apartments with state-of-the-art appliances.
Today's college students and their parents are demanding more out of college resident life, and they're trading up thanks to the lucrative student housing segment of the real estate sector.
There's no doubt dorm living has improved dramatically over the last several decades, but the real frills of collegiate student living come with off-campus housing where the sky can be the limit either in urban environments or  sprawling country settings.
The location of college housing is also evolving with some developers choosing sprawling acreage of anywhere from 25, 58 to even 72 acres in areas like Baton rouge, LA, Columbia, MO, and Boone, NC, that provide individual home-like living for small groups of students, according to John Vawler, principal, Capstone Collegiate Communities.
For more populated areas with little available land, "we go vertical," as at Johns Hopkins University where Education Realty Trust (EdR) opened its 929 North Wolfe Street building , a 20-story collegiate housing building complete with roof garden, says Tom Trubiana, chief investment officer at EdR,  a real estate investment trust.
Modern college housing typically affords students the privacy of their own bathrooms, kitchens and bedrooms with walk-in closets and come equipped with stainless steel fixtures and granite countertops and the housemates' washer and dryer.
College housing developers work to create resort-type living with pools, beach areas and palm trees, large clubhouses, fitness centers, tennis, racquet- and basket ball courts, putting greens, hot tubs and tanning facilities.
The luxury living of the cottage product is attractive to students and gets top off-campus billing at major universities in the southeast and other markets in the midwest, says Vawler.
In fact, off-campus housing experienced growth in and after the recession partly because the dearth of jobs sent many young people back to school, says Wes Rogers, president and CEO of Landmark Properties, a real estate firm specializing in the development and management of student housing communities
School populations are burgeoning and the balance sheets of publicly-chartered state schools and universities are incredibly constrained, says Rogers. This leaves little money for off-campus building and provides a huge opportunity for the private sector.
Rogers says Landmark goes after a higher-end market that will pay an extra $100 a month for top-of-line community-oriented living in good-sized detached duplexes surrounded by lots of green space in prime, safe locations.
To give parents a piece of mind, most of the housing developments have security systems with camera monitoring, key fobs and full-time security personnel; if the larger community allows, the cottages may be gated from vehicular traffic.
Competitive Rates
Developers claim rates are competitive and price sensitive. "We don't want to price ourselves out of the market and rates for identical living arrangements can vary by the dynamics of a particular market," says Trubiana.
Rent for a four-bedroom, four bathroom cottage can be as low as $400 monthly per student or as high as $900 per month depending on a particular market that could be influenced by features like proximity to campus, says Trubiana, noting EdR has two joint projects in the works with EdR for building cottage-style housing at Penn State University and Old Miss.
Rogers says Landmark rents are as $450 a month per person in some markets for a five-bedroom place or as high as $1,200 monthly for a one bedroom. "The average is a $600 to $700 per bed range."
Amanda Woodless, property manager at College Station, says Capstone keeps rates competitive to those on campus, with rates varying with floor plans which include one to five bedrooms. Inclusion of premium packages alter price as does whether a student's bedroom is furnished or unfurnished. Prices can be $540 per person in a four-bedroom cottage or up to $950 per student for a one-bedroom unit.
A heads-not-beds practice throughout the industry means each housemate is charged rent separately. "No one gets stuck with someone else's bill," says Woodless.
Sophomore Carley Cole has lived in Capstone housing since the Cottages at College Station opened in August and couldn't be happier. "Living here was the best decision for what I was looking for price-wise."
Cole lives in a five-bedroom duplex which costs her $560 a month with utilities including Internet cable, water and sewage trash pickup. She lived off-campus second semester freshman year and says her current abode offers more comfort and is "super nice and pretty."
Access to onsite gyms and study rooms plus bus transportation to and from campus fosters convenience and safety, she adds.
Living off campus can help better prepare students for the real world.  Ted W. Rollins, co-chairman and CEO of Campus Crest, reaffirms the importance of the overlay of social and community-based living. "We [Campus Crest] may have the nicest couch in the industry, but we want to make a student's experience self-defining—one that prepares the student for life," he says.