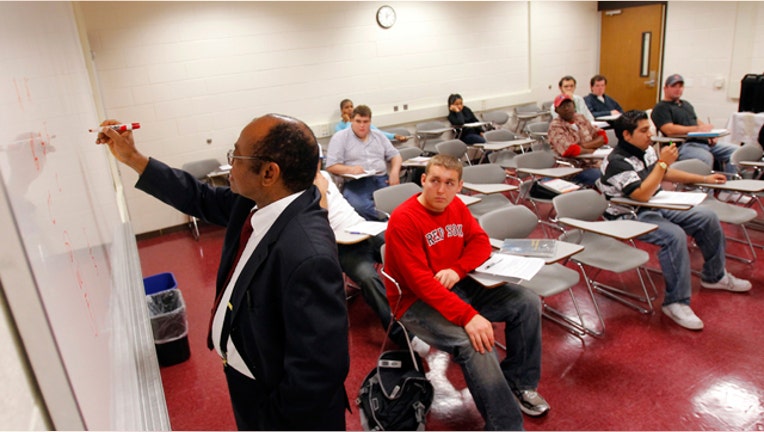 The persistently weak labor market and increasing student loan debt levels are making some high school graduates think twice about going to college.
The Bureau of Labor Statistics reports that 25% of college graduates are currently in jobs that do not require a college degree and of the 30 jobs projected to grow at the fastest rate over the next decade in the U.S., only seven typically require a bachelor's degree.
In a sea of unemployed grads, a bachelor's degree has become less attractive and has many students seeking out educational avenues without a hefty price tag, says Srikant Vasan, founder and president of Portmont College at Mount St. Mary's.
"The return on investment in college education clearly goes down as the return decreases with the decreasing probability of finding employment, especially employment at higher salaries, and investment increases with the rising costs of college…. students should check out alternatives to college degrees," he says.
With that said, the unemployment rate among college graduates is significantly lower than those without one. According to the Labor Department, the unemployment rate among college graduates stood at 3.8% while the rate among those with a high school diploma was 8.4% last month.
It is possible to build a career without investing in expensive higher education, says Erin Davis, director at McGraw-Hill Higher Education.
"By doing their research before making the decision on whether to pursue additional education beyond high school, students can be sure they're deciding on a career path that reflects their own passions as well as their financial goals and limitations," she says.
Factors to consider
For those not planning to pursue the four year college routine, it's important to do a self assessment to pinpoint which direction to take, advises Mary Docken, director of market development at Hobsons.
"Students need to think about what their interests are, how do they like to learn, what motivates them, what financial realities do they face, what type of work do they see themselves doing – (sitting behind a desk with a computer in front of them, building things, working with people, etc.)," she says.
It's essential to consider the short term and long term when deciding on a career path, including future financial responsibilities (buying a house, starting a family), says Davis.
"Will you be able to make enough money to cover your costs of living and is this something that can sustain you long term or as a temporary means to an end?"
After deciding on an ultimate goal/career, here are four alternative paths to take in lieu of a college degree.
Go to trade school
Trade schools allow students to learn basic, professional skills in two years or less, as technical institutions typically cut out many of the general courses required by traditional universities, according to Davis.
"It also cuts to the chase for the core skills they need to get a job," she says. "The instructors are usually well seasoned professionals with direct experience in the field, which is often not the case in the traditional college setting."
Because trade and technical schools are often directly tied into the employment needs of their region or state, prospective students can find low cost or free programs, says Docken.
Earn certifications
Students looking to hone specific skills should look into free or low-cost certifications in careers they are interested in pursuing that can be found online, at community colleges or through government-funded programs.
Davis explains that many certifications can be earned in under a year, often have flexible schedules and can offer job searching assistance.
"They show an employer that you have the basic skills and knowledge to hit the ground running and perform well quickly, which in this economy where employers are still struggling to find qualified candidates with specific skills, that's a huge advantage to have," she says.
"Certifications are a good way to give you the credentials that you need to start a career that you may not already have the qualifications for and also not having to make a four year commitment."
Get experience
While gaining life experience and finding a potential career interest, volunteering for a global organization or a non-profit organization can also look great on a resume.
"You're also performing real work, even though it's unpaid, but you'll be able to offer valid explanations to future employers about how you overcame cultural differences and obstacles in other countries as well as in specific business situations although you are not in the traditional working world," says Davis.
Docken also recommends looking into other opportunities like military service, getting a job to help determine what direction to take before entering a program, or seeking an internship or apprenticeship.
Start a business
Not all successful business owners have a college degree, but budding entrepreneurs should pursue their business plans carefully by creating a solid business plan, establish financial resources, their target audience and manufacturing and marketing plans along with any contingency plans.
"For every Bill Gates or Mark Zuckerberg who dropped out of college to start a successful business, there are thousands more who tried and failed," Vasan says.
Being enthusiastic and determined about the venture is also important to success, says Davis.
"Many people who don't necessarily make a good traditional student also make some of the best entrepreneurs because of their passion and people skills, which are arguably two of the most important things to have in a successful business."