College Debt: How Much is Too Much?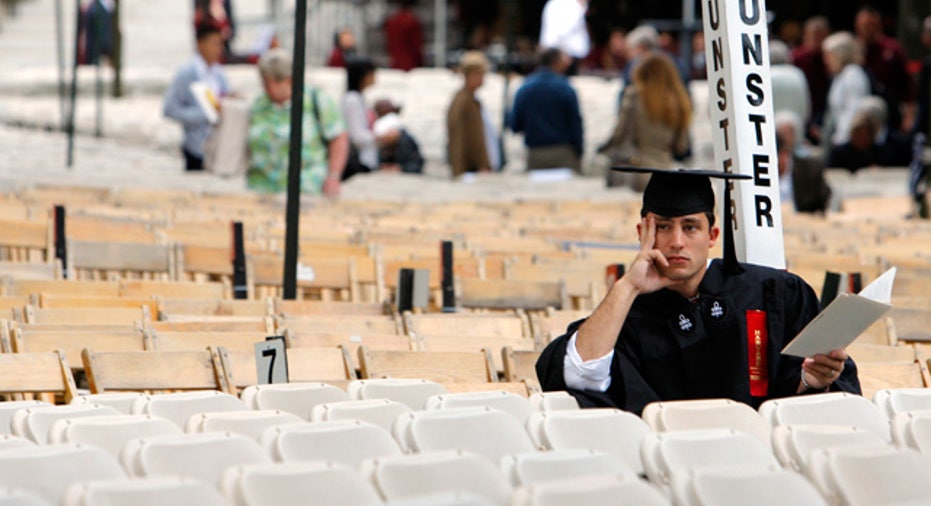 The only thing tougher than acing those college applications is deciding if you can pay for your education. Since it's almost impossible for incoming college freshmen to estimate their post-graduation income, figuring out your debt threshold is a challenge.
Here's how to decide what you can afford.
Get the Net Price
"Very few people pay sticker price, especially at private schools," says Joe Orsolini, president of College Aid Planners Inc. in Glen Ellyn, Ill. "The average sticker price in 2009 was about $35,000, but the average price people actually paid was around $21,000. It's hard to estimate what college really costs."
Colleges don't give families much chance to create a fiscal game plan, since financial aid notifications are sent in March or April, and tuition deposits are due as early as May. To buy time, Orsolini recommends that families estimate their own aid package by researching each school's average net cost and how much families in different income brackets paid. Both figures are available at the National Center for Education Statistics College Navigator website. While there, parents also can calculate the total cost of their child's four-year education, with tuition inflation.
Find the Support
"Once you know what colleges expect you to pay, you must determine how much you really can pay," says Jean Keller, a financial aid coach with Keller College Services in Columbia, Md. "If the school believes your family can contribute $20,000 per year and your reality is $10,000, you need to share that with your student."
To figure out how much families can reasonably contribute, Keller says parents should make conservative estimates on how much they can afford. College contributions should never supersede contributions to retirement accounts or mortgage payments, two areas the federal government doesn't consider when assessing a family's financial need.
According to the Department of Education, after students have received their financial aid award and maxed out Stafford Loan options, parents can take out a federal Parent PLUS Loan with a fixed interest rate of 7.9%, then repay it without a prepayment penalty should they stumble into unforeseen cash.
Assess Your Worth
After students have their financial aid award, know how much their families can help and know how much student debt they'll need to borrow, it's time to decide if the debt is manageable.
"The general rule of thumb for student loan borrowing is that the total amount of student debt should not exceed the borrower's anticipated annual salary for the first year out of school," says Allesandra Lanza, spokeswoman for American Student Assistance, a nonprofit based in Boston.
Chirag Chauhan, director of financial services for the Memphis financial services firm The Barnett Group, adds that since students' interests and the job market are always fluctuating, it's unreasonable to ask students to commit to a certain profession before starting school. But it makes sense to start assessing their career interests early.
"The best thing students can do is to make an educated guess," Chauhan says. "If someone has a strong interest in teaching high school for a living and their educational debt is going to be $200,000, the chances of paying that back are very low."
Chauhan adds that the benefits of encouraging precollege students to research their post-college salaries through sites like Payscale.com and the Bureau of Labor Statistics are threefold. The exercise gives students a realistic view of the post-college economy before they're locked into a degree program that may not support their student debt. It also encourages students to search for debt-lowering scholarships and grants while they're in school and urges those in majors such as philosophy, which don't feed directly into a specific profession, to seek out co-ops and internships that could boost their job marketability.
Build a Budget
Before letting clients take on a big student loan, Orsolini researches an entry-level salary in a field of the students' interest and creates a sample budget from there.
"Most parents and students have no idea that the debt load just for maxing out federal Stafford Loans ($27,000 for dependent undergrads) comes to $311 a month for 10 years. That doesn't even include private loans," he says. "Since your student debt load should be no more than 10% to 20% of your monthly income, it's very easy to hit that threshold in professions with low salaries."
Changes to the federal loan system have made it easier for students in certain low-income professions. The Department of Education reports that students with federal student loans can opt to cap their monthly loan payments at 15% of their discretionary income -- defined as earnings more than $16,335 for 2011. Those in public service professions can have their remaining debt dismissed after 10 years of consecutive payments. Bankrate's loan calculator can help students break down what their post-college monthly payments could be.
"Too many students operate under the assumption that the college degree is a magic bullet and they're going to walk into this job starting at $70,000 a year," says Keller. "We're trying to help students take on a manageable level of debt from the get-go."