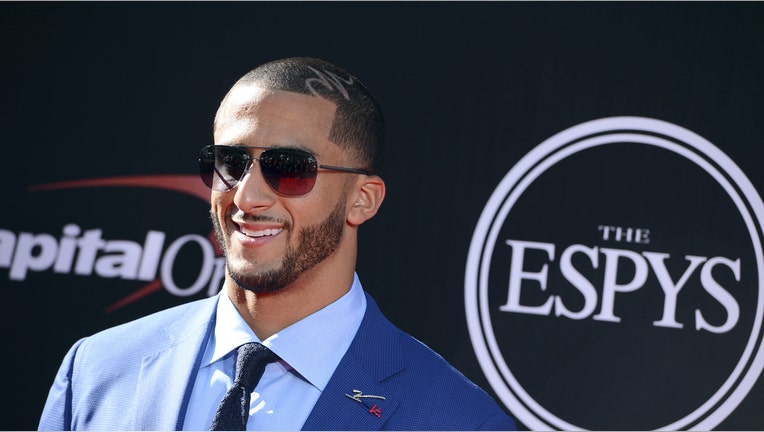 A group of free agent Colin Kaepernick supporters gathered outside National Football League headquarters in New York City on Wednesday night to push for an NFL team to sign the controversial quarterback.
The protest was organized by Kevin Livingston, president of 100 Suits for 100 Men, a charitable organization that helps former convicts re-adjust to society after imprisonment. Kaepernick donated 50 suits to the group in April.
"We are going to continue to keep pressure to make sure Colin Kaepernick's not only finished getting blackballed, but he's signed to an NFL team," Livingston said at the event, according to TMZ Sports, which posted footage from the rally on Thursday.
Kaepernick generated intense debate last fall when he refused to stand during the playing of the National Anthem in protest of perceived social injustice. The 29-year-old quarterback has been a free agent since last March, when he opted out of his contract with the San Francisco 49ers. Kaepernick is widely considered to be the most talented quarterback remaining on the free agent market.
The pro-Kaepernick rally occurred on the same day that he met with the Seattle Seahawks. Pete Carroll, the team's head coach, said earlier this month that the Seahawks would consider signing Kaepernick to serve as a backup to starting quarterback Russell Wilson.
Jason Whitlock, co-host of FOX Sports 1's "Speak For Yourself" sports debate program, told FOX Business' Stuart Varney this week that the debate surrounding Kaepernick's employment has become too politicized.
"If I'm a head coach or a general manager of a team, and you sign Colin Kaepernick, and you're going to be second-guessed by non-football people with a political agenda, I don't want to take that risk," Whitlock said. "You're risking being accused of racism when your decisions are purely football. You're risking having your integrity and character questioned when you're just trying to make a football decision."