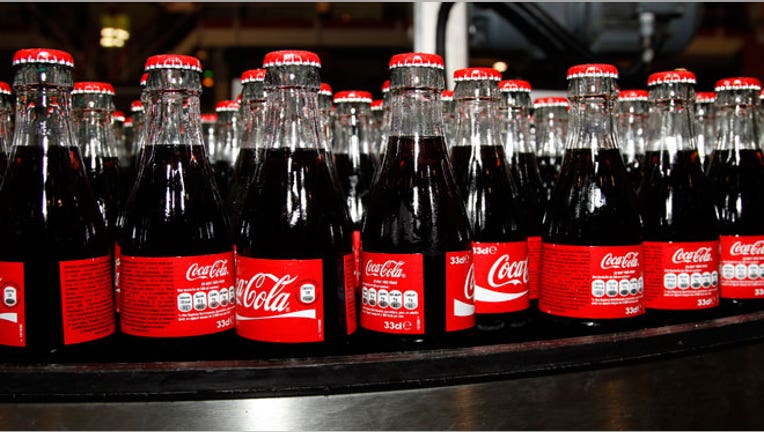 Coca-Cola (NYSE:KO) narrowly topped estimates on Tuesday with a 13% jump in fourth-quarter profits, but the world's largest beverage maker disclosed weaker-than-expected revenue amid slumping volumes in Europe.
Shares of the blue-chip company ticked slightly lower in premarket action on the mixed results.
Coca-Cola said it earned $1.87 billion, or 41 cents a share, last quarter, compared with a profit of $1.66 billion, or 36 cents a share, a year earlier.
Excluding one-time items, it earned 45 cents a share, topping estimates from analysts by a penny.
Revenue rose 3.8% to $11.46 billion, narrowly trailing the Street's view of $11.53 billion. Gross margins slipped to 59.6% from 60.1%.
Coca-Cola's sales growth was highlighted by a 9% leap in global still-beverage volume, including packaged water, juices and sports drinks. Ready-to-drink tea volume soared 16% year-over-year.
"In a year marked by continued uncertainty in the global economy, we delivered solid volume, revenue and profit growth, and we realized further volume and value share gains in nonalcoholic ready-to-drink beverages," CEO Muhtar Kent said in a statement.
Coca-Cola logged global volume growth of 3% in the fourth quarter, highlighted by a 10% rise in Eurasia & Africa amid strength in the Middle East and North Africa and a 5% gain in Latin America. While Pacific volumes were up 2%, North American volumes inched up just 1% and struggling Europe suffered a 5% tumble in volumes due to an 8% slide in the Iberia region.
Coca-Cola said its bottling investments enjoyed a 5% jump in volumes, driving a 6% increase in revenue.
Looking ahead, Coca-Cola projected 2013 net share repurchases of $3 billion to $3.5 billion.
"As we enter 2013 in what is still an uncertain global economy, we know that it is critical to seize the opportunity to keep leading and succeeding in any environment," Kent said.
Shares of the Atlanta-based company slipped 0.31% to $38.49 in premarket trading on Tuesday, putting them on track to largely maintain their 2013 rally of about 6.5%. Both Coca-Cola and rival PepsiCo (NYSE:PEP) have rallied about 13% over the past 12 months.