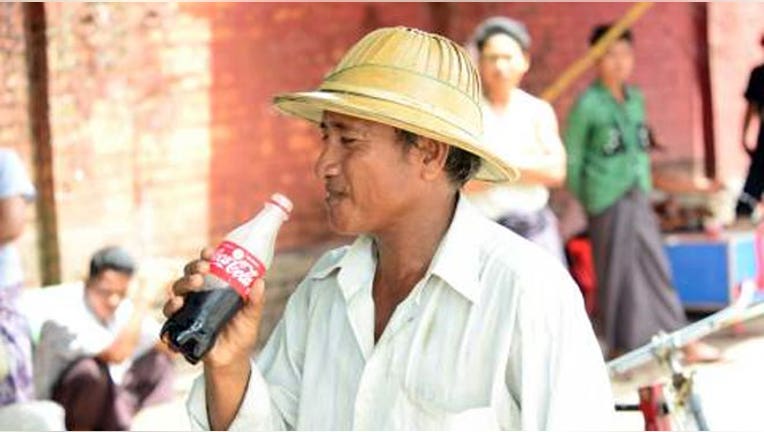 Taking its first major step in Myanmar after the lifting of U.S. sanctions, Coca-Cola (NYSE:KO) launched bottling operations in the country on Tuesday for the first time in more than 60 years.
The plant, which officially opened its doors amid a "ceremonial inauguration" on Tuesday, marks the soda giant's first local bottle operations since it entered Myanmar last year.
"For the people of Myanmar, Coca-Cola embodies the optimism of a bright future, with the promise of better days and better lives ahead," Coca-Cola CEO Muhtar Kent said in a statement.
The U.S. first lifted sanctions on the formally army-ruled country last summer and lifted more last month to support some of the country's reforms.
Upon the first easing, U.S. companies began drizzling into Myanmar, an effort to meet fresh demand there, and a continuance of a broader push into fast-growing emerging markets.
Coca-Cola became one of the first U.S. companies to be awarded an investment permit under Myanmar's new foreign investment law. The bottling plant marks a step toward its planned $200 million investment in the country over the next five years.
Other consumer-based companies have also been pushed into Myanmar as restrictions eased, including Visa (NYSE:V), which has been working on the ground to plug citizens into the global financial system and drive financial literacy.
The Atlanta-based juice and soda maker also pledged to contribute to Myanmar's economic and social revolution.
Part of that effort comprises investing in local manufacturing, employing local people in working with local suppliers and distributors, while contributing to community investment programs.
Its goal is to help stimulate job creation, estimating that more than 22,000 job opportunities across the entire Coca-Cola value chain will be created over the next five years.
The Coke and Sprite maker's non-profit arm, The Coca-Cola Foundation, will also work with local groups on the ground to provide "growth and development" opportunities for Myanmar citizens. It has partnered with Pact, a non-government organization, to support Swan-Yi, a three-year program to empower 25,000 Myanmar women on financial literacy and entrepreneurship.
Coca-Cola and Sprite 425ml plastic bottles with uniquely scripted Myanmar labels are currently being produced in the country, with local production of the iconic glass bottle and an aluminum can expected in the coming weeks.
Coke said it hopes to reach more than 100,000 outlets across the country in the next six months through increased production and distribution capacity.
Coke shares climbed close to 2% in recent trade to $41.60.