Coca-Cola Buys Stake in Saudi Beverage Company for $980M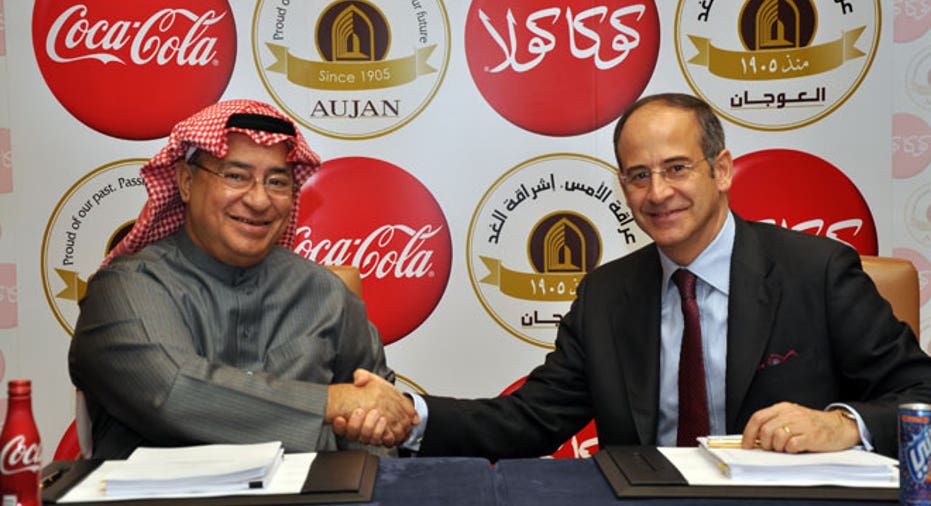 Setting its sights on the potential of emerging markets in the Middle East, Coca-Cola (NYSE:KO) announced a $980 million deal on Wednesday to buy a 50% stake in Saudi beverage company Aujan Industries.
The deal represents the largest-ever investment by a multinational company in the Middle East's consumer-goods sector, according to Atlanta-based Coca-Cola.
The companies said the investment will allow Aujan Industries, which was founded in 1905 and is one of the region's largest independent beverage companies, to accelerate international growth of its brands, which include Rani and Barbican.
"The Middle East is a high-growth region with some of the highest rates of Non Alcoholic Ready To Drink per capita consumption," Ahmet Bozer, president of Coca-Cola's Eurasia and Africa group, said in a statement. "Today's announcement is a demonstration of our commitment to consumers here that we are investing for the long term."
With annual revenues exceeding $850 million, Aujan is one of the top 100 companies in Saudi Arabia and a leading seller of still beverages.
The acquisition stems from an October announcement by Coca-Cola, the world's largest beverage maker, to invest $5 billion in the Middle East and North Africa. Already, the company said it employs more than 40,000 people across the Arab world.
"Drawing upon Aujan's deep regional insights and the international capabilities of the Coca-Cola company, Aujan will continue to leverage the strength of its leadership team and is now positioned for even greater success in the region and internationally," said Aujan Chairman Sheikh Adel Aujan.
The companies said the deal, which excludes Aujan's Iranian manufacturing and distribution businesses, is expected to close during the first half of 2012.
Shares of Coca-Cola were recently up 0.17% to $66.59, outperforming a 0.73% decline on the S&P 500.