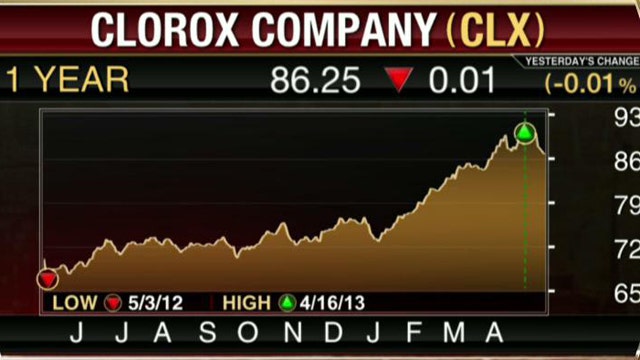 Clorox (NYSE:CLK) reported third-quarter earnings that edged up slightly, although the maker of consumer goods missed Wall Street estimates as cold weather weighed on sales of Kingsford charcoal.
The company also narrowed its full-year guidance for sales growth to between 3% and 4%, compared to previous estimates for 3% to 5%. Clorox backed its 2013 earnings outlook.
Clorox said Wednesday it plans to increase advertising during the second half of its fiscal year, with new items due to launch in the coming months. The company has plans to begin selling a smoke-flavored Kingsford charcoal and a line of Hidden Valley sandwich spreads, among other items.
In the most recent quarter, Clorox posted a $133 profit in the first quarter, while per-share earnings were $1. In the year-ago period, profit checked in at $132 million, or $1.01 a share. The latest period included more shares outstanding.
Sales rose 0.9% to $1.41 billion, and total volume remained flat. Gross margin fell to 42.1% from 42.3%.
Analysts were expecting per-share earnings of $1.05 and revenue of $1.44 billion.
"We grew sales 1% on top of strong 7% sales growth in the year-ago quarter. In addition to a challenging year-over-year comparison, the U.S. had the coldest March weather in more than 10 years, which led to double-digit volume and sales declines in our Charcoal business," Chairman and CEO Don Knauss said in a statement.
Revenue from the company's largest top-line contributor, its cleaning segment, rose 1.6% to $454 million and income fell 2%. Household segment sales slipped 1% and profit fell 1.3%. The lifestyle segment's income dropped 6.6%, while sales climbed 1.7%
Sales in the international segment increased 1.7%, while income declined 4.8%.
Shares were down 57 cents at $85.68 in early morning trading Wednesday.