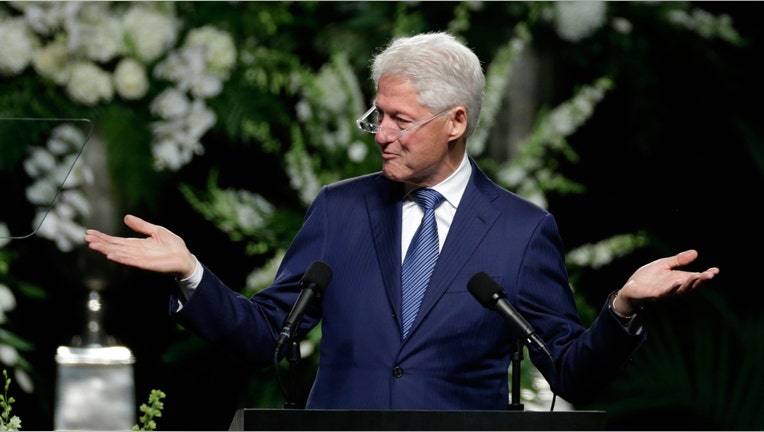 The hits just keep on coming for famed novelist James Patterson, who recently announced his latest co-author is former President (and bestselling author) Bill Clinton, which is icing on the cake for the writer who is already head and shoulders above his peers when it comes to earnings in the industry.
"Working with President Clinton has been the highlight of my career, and having access to his firsthand experience has uniquely informed the writing of this novel," Patterson said in a statement.
The World's Highest Paid Author
Patterson, the world's highest paid author in 2016 according to Forbes, enlists the help of co-authors to churn out dozens of books each year—earning him the honor of having more #1 New York Times bestsellers than any other writer, according to Guinness World Records. His books have sold more than 350 million copies worldwide, according to his website. Some of his more famous novels, including "Zoo," "Along Came a Spider" and "Kiss the Girls" have been adapted into television series and movies.
Patterson's impressive net worth registers at $95 million pretax, compared to the world's second highest-paid author—Jeff Kinney—whose worth is about $20 million, according to Forbes. Patterson's new partnership with the 42nd president of the United States, who is a bestselling author in his own right, could lead to another monster hit for the sought-after author.
Clinton's Writing Chops
The former president's 2004 memoir "My Life" sold more than two million copies domestically, earning him a spot on the bestsellers list. The $15 million advance he was given for that book was the largest ever awarded at the time. The few books Mr. Clinton has penned earned him $38 million from 2001-2015, according to Forbes.
While no details about the financial agreement for Clinton and Patterson's upcoming thriller have been disclosed, Barack and Michelle Obama recently signed a book deal which is rumored to have topped $60 million.
More from FOXBusiness.com...
The Book
Clinton and Patterson's book, called "The President is Missing," will be out June 2018 and the hardcover copy is listed for pre-order at $30.00 on Patterson's official website. The book is fiction, described in a release from publishers Knopf and Little, Brown and Co. as "a unique amalgam of intrigue, suspense and behind-the-scenes global drama from the highest corridors of power."
The pair is expected to embark on a book tour together. During an interview with "CBS This Morning" Tuesday, Patterson indicated a second collaboration with Mr. Clinton was possible.