Clemson Athletics Goes 'All In' On Microsoft for Social Content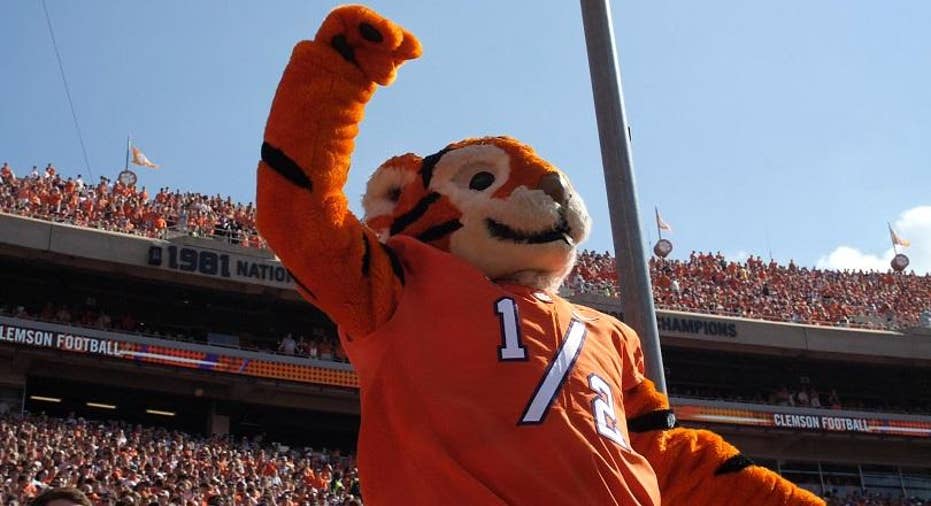 The blast of cannon fire is unnerving—a martial deviation from an otherwise celebratory medley of passion, pride, tradition, and unbridled youth. Tiny cheerleaders tumble in synchronicity through the 90-degree heat and into the arms of muscular counterparts. The unintelligible sound of synchronized voices exits the wide end of megaphones—the noises blending with and lost among the 81,500 voices in the arena. Here, on the western end zone of Clemson University's Death Valley Memorial Stadium, the explosion commences what is known as "The Most Exciting 25 Seconds in College Football"—when the reigning NCAA College Football Champion Clemson Tigers run from the top of a hill that sits above the field onto the end zone. The game is about to begin. The team is going to win. I close my eyes and see nothing but orange.
As the capacity crowd remains on its feet in anticipation of kickoff, a Clemson student sprints up three flights of steep stairs, hastening to deliver an SD card that holds the footage of the hill run to one of his teammates within the Clemson Tigers Creativity Studio. The Studio, a cramped, shadowy room is managed by Jonathan Gantt, The Clemson Athletic Department's Director of New and Creative Media. Gantt leads a team of eight creatives—six students, and two professionals—who are responsible for creating all of the social media content that captures the experience of 18 different teams and almost 500 student athletes.
The creative team combines a mix of short-form video, Facebook, Twitter, and Instagram stills, and Snapchat stories to try to replicate the experience of being a Clemson Tiger. This content includes behind-the-scenes looks into locker room pep-talks, first person video of practicing with the team, quick-turnaround video of pre-game ceremonies like the aforementioned Hill Run, or the pre-game Tiger Walk. Using its technology arsenal, Gantt's team is able to create content that is close to real-time, while still providing expert-level design. For Gannt's higher ups, the creative team's main objective isn't to sell Clemson paraphernalia or amass an army of followers; it's to show potential athletic recruits what life would be like should they choose to don the orange and white.
PCMag was given exclusive access to Gantt's team, as well as on-field access to Clemson Tiger pre-game festivities, so that we could see exactly how the small team, and its even smaller suite of technology, has made Clemson one of the most followed and respected social media content producers in sports.
The Clemson Creativity Studio
On Oct. 13th, 2008, Clemson head coach Tommy Bowden, who had been with the team for 9 years, was fired. The same day thirty-eight-year-old wide receivers coach Dabo Swinney was offered the interim job and told he could remain on as head coach if he were capable of turning the team around. He met with the team, told them what had happened, and said that the next six weeks would be extremely difficult for everyone involved, but that he would be "all in" to helping return Clemson Football to a place of respectability. He told his team and his coaches he only wanted people who would be "all in" with him. Anyone who wasn't committed to the program, he said, should be absent for the next practice, which was scheduled for later that day. The entire team and coaching staff came to the practice.
Today, prior to exiting the locker room before each game, each Clemson football player and Dabo Swinney places a poker chip in a bucket labeled "All In" to re-pledge their commitment to the program. Although Gantt doesn't run his Creativity Studio with a similar emphasis on tradition, he said he doesn't choose his staffers and students based on their respective skillsets, but rather on the type of person they are, and whether they're committed to going all in for the creative team.
"The number one criterion for working for us is you've got to be a good person," said Gantt. "We don't really care if you can hold a camera or know how to use Photoshop. We can teach you that. Obviously, it helps tremendously if you have some skill and experience, but the number one thing is you've got to be a good person, because we can teach you the rest."
The first thing you notice when you walk into the Creativity Studio is the 84-inch Microsoft Surface Hub . Then you'll notice the mess; papers strewn about, empty coffee cups, Clemson t-shirts, Clemson hats in no apparent order. You'll see two Microsoft Surface Studio desktops along the right-side of the room, a square table at the center of the room housing two Microsoft Surface Book laptops, and a coffee bar in the far left corner featuring a wide variety of sweeteners, creams, coffee flavors, and a bottle of water or two. Because the team needs to follow what Clemson football and its rivals are doing on the field, four large-screen LG televisions are positioned alongside one another on the back wall.
As proof of his commitment to his staff, Gantt allows any one of his professional or student workers (and even their friends) to access the $21,999 Microsoft Surface Hub at any point during the day. The Hub, an 84-inch 4K Windows-based collaboration kiosk, is designed to provide businesses and schools the ability to work in large groups, on multiple screens, and in remote locations. Gantt also allows his team to check out one of two Microsoft Surface Books , which start at $1,499, if they'd prefer to use the device over their own personal laptops, which were each in the range of three to four years old, the staffers told me. The same goes for any of the high-end cameras the team uses down on the field. With access to these expensive devices, and with the freedom to use them how and when they want, the students feel like professional creatives, rather than work-study gophers.
"Any of the people that are on the team can access the Hub on their own and do their own thing," he explained. "For us, we want them to come to after-hours brainstorming sessions with their peers and to use the Hub and to use that room. My goal is that they would never want to go to the library or go to their apartment to work or to hang out. I want them to come and hang out in here. That's why we've got a coffee bar. There are actually a lot of board games in here. We wanted a mix of your favorite restaurant bar and coffee shop and workplace all in one."
Why Microsoft?
When Gantt and his boss, Deputy Athletic Director, Graham Neff, were approached by Microsoft with an offer to use the Surface suite for content creation, the partnership was a no-brainer, according to Neff. "You talk branding and return-on-investment…when it comes to revenue opportunities and brand exposure it's really important that we fight above our weight class," he said. "The Microsoft offerings were comprehensive and allowed us to pull levers in so many different directions [video and image editing, whiteboarding, and presentations]."
For Gantt, Microsoft's tools solved a variety of problems his team struggled with prior to the partnership. For example, designing motion graphics, adding written text to video, and game-planning content strategies were easier for the team on the Surface suite's touchscreens. Max Huggins, a fourth-year senior on Gantt's team, is responsible for taking video captured during the team's Tiger Walk (when the team walks from its buses into the stadium alongside a school marching band), locker room speeches, game footage, and crowd reactions, and turning it into a one-minute video that goes live five minutes after the game. Gantt's team uses the Surface Hub's giant display to brainstorm and short-list the footage the team needs to capture for the video. As footage is taken, it's crossed off of the Hub's whiteboard. Footage is transferred via a hand-delivered SD card to Huggins, who puts it onto a Microsoft Surface Studio desktop, and begins to cut the video, which includes adding hand-drawn text as well as audio.
Jordan Salisbury, a sophomore on Gantt's team, is charged with a similar task. She touches-up and edits photos in order to ensure maximum quality. Simple things like, adjusting the color of the team's uniform under the harsh South Carolina sun light so that the color is consistent with Clemson's orange, and not, say, Syracuse's orange. When asked if she'd be able to do her job without the Surface Studio, she sighed and said, "It would be a drag to go back from a touchscreen now."
That all sounds well and good, but when I ask Gantt, if and when Neff calls him into his office and asks him to show-and-prove the Creativity Studio's value, what will he point to as his proof of ROI?
Gantt laughed like a poker play who'd read his opponent's hand. "I've got one for you," he said, "Shaq Smith."
Smith, a Clemson inside linebacker, was a five star recruit out of Maryland, where he was ranked the state's top prospect. A second-team All American in High School, Smith received scholarship offers from all of the major football programs in the country, including top schools such as Alabama, Penn State, and Ohio State. He visited Clemson in November of 2015, on a night when the team won a crucial victory over powerhouse Florida State, and won the Atlantic Division of the ACC, and secured a berth in the conference championship game.
After the game, Gantt said he and his team were working in the press box into "the wee hours of the night, as we usually do for home games," when he got a call on his cell phone from Clemson's recruiting coordinator for football. "Hey, I want you to talk to somebody real quick," the coordinator said.
"Shaq Smith gets on the line," Gantt said. "I never met Shaq, and I'm going to do a poor impression of him, but he said, 'Hey, is this Jonathan?' I said, 'Yes.' He said 'Hey, I just wanted to tell you, you're doing a great job on social media.'"
Gantt acknowledges that Smith probably didn't choose Clemson based on the greatness of the school's social content. But might it have had an impact, however small, on his recruiting process? "Yes," said Gantt. "We're just trying to package all the special things that are happening here and make sure that those people who are trying to make a decision about where to go to college understand exactly what Clemson has to offer, and it's important for us to make sure we're telling that story really well."
This article originally appeared on PCMag.com.