Citi Posts 1Q Beat as Consumer Credit Improves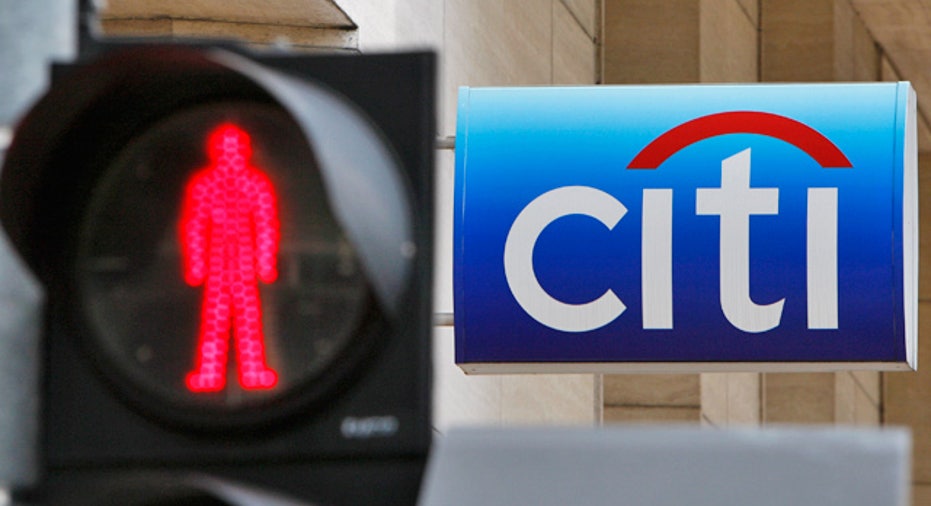 Citigroup (NYSE:C) reported a 3.5% increase in its first-quarter earnings to beat Wall Street expectations, as lower provisions for bad loans picked up the slack for a struggling fixed-income business.
The nation's third-largest bank said Monday its profit climbed to $3.94 billion from $3.81 billion in the year-ago period. Per-share earnings remained level at $1.23 a share. On an adjusted basis, earnings ticked a penny higher to $1.30 a share.
Revenue eased 0.6%, or 2.2% on an adjusted basis, to $20.12 billion. Analysts projected earnings of just $1.14 a share and revenue of $19.37 billion.
Shares jumped 4.1% to $47.55 shortly after the opening bell. Through Friday's close, Citi was down 12.3% since the start of the year.
The solid beat brings some uplifting news for Citi, whose capital plan was rejected by the Federal Reserve last month. However, the company is also planning to cut 200 to 300 jobs, or about 2% of its global workforce.
"We continue to tightly manage expenses, making targeted headcount reductions in light of current market conditions," a Citi spokesperson said. "At the same time, we are adding some talent strategically, leveraging our unique global footprint to serve our clients."
The rejection from the Fed came after Citi altered its fiscal 2013 guidance to reflect potential fraud at its Mexico unit. Speaking to analysts during a conference call, chief financial officer John Gerspach said Citi found issues with loans to a second supplier used by Mexico's state-controlled oil company, Pemex.
Commenting on Citi's capital plan, CEO Michael Corbat said the bank is "committed to bringing our capital planning process to the highest possible standards, befitting an institution of our global reach. I will dedicate whatever resources and make whatever changes necessary to achieve this critical goal."
In the first quarter, Citi particularly benefited from improved consumer credit. Its reserve release increased 3.5% year-over-year to $673 million, while credit-loss provisions fell roughly 20% to $18.9 billion.
Mortgage originations tumbled to $5.2 billion, compared to $18 billion a year ago and $8.3 billion in the fourth quarter. Banks such as Citi have grappled with less refinancing activity in recent quarters.
Rival Wells Fargo (NYSE:WFC), the top mortgage lender in the U.S., also reported a first-quarter beat amid a sharp decline in credit-loss provisions.
Fixed-income trading was a week spot, with revenue dropping 18% to $3.85 billion. The bank blamed the weakness on global macro uncertainty, as well as a tough comparison to a strong quarter last year. On Friday, J.P. Morgan Chase (NYSE:JPM) said its fixed-income revenue in the latest period slipped 21%.
Revenue from investment banking checked in at $1.05 billion, down 10% versus the same quarter a year earlier. Overall consumer-banking revenue fell 4.6% to $9.29 billion
Total revenue in North America decreased 5.1%, while revenue fell 7.5% in Asia, 4.7% in Latin America and 5.9% in Citi's Europe, Middle East and Africa segment.
Operating expenses were down 1.1% at $12.15 billion. Citi said expenses related to its cost-cutting measures declined 43%.
"Both our consumer and institutional businesses performed well and we grew both loans and deposits while holding the line on our expenses. We reduced our deferred tax assets more than any other quarter since the crisis and drove Citi Holdings closer to break even," Corbat said.
Citi lowered its deferred tax assets to $1.1 billion in the first quarter. Citi Holdings, which contains assets that Citi has been looking to sell since the financial crisis, posted a $292 million adjusted loss. A year ago, Citi Holdings lost $798 million.