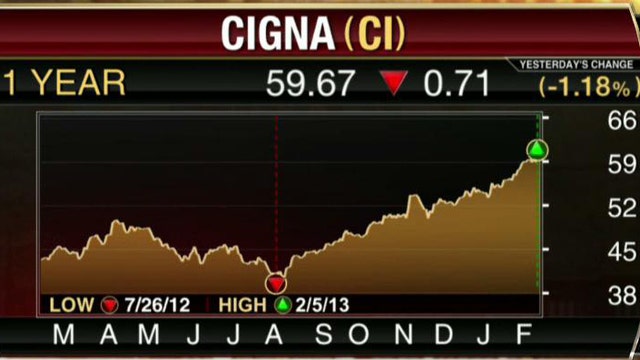 Cigna (NYSE:CI) revealed stronger-than-expected fourth-quarter earnings on Thursday, led by a sharp rise in fees and premiums fueled by its acquisition of HealthSpring.
The company also raised its fiscal 2013 earnings outlook by five cents a share to a range of $5.85 to $6.30, below the consensus view of $6.34.
Cigna's quarterly performance reflected favorable medical costs, as tighter expenses worked congruently with a rise in sales. Premiums climbed by 48% to $6.8 billion, led by the insurer's 2011 purchase of Medicare provider HealthSpring for $3.8 billion.
The Bloomfield, Conn.-based health insurer posted net income of $406 million, or $1.41 a share, compared with a year-earlier profit of $273 million, or 98 cents.
Excluding one-time items, Cigna said it earned $1.57, topping average analyst estimates of $1.48 in a Thomson Reuters poll.
Revenue for the three-month period reached $7.6 billion, up from $5.4 billion a year ago, beating the Street's view of $6.7 billion.
"Cigna's operating performance in 2012 was strong, driven by effective execution of our strategy and a consistent focus on delivering value for our customers," said Cigna CEO David Cordani.