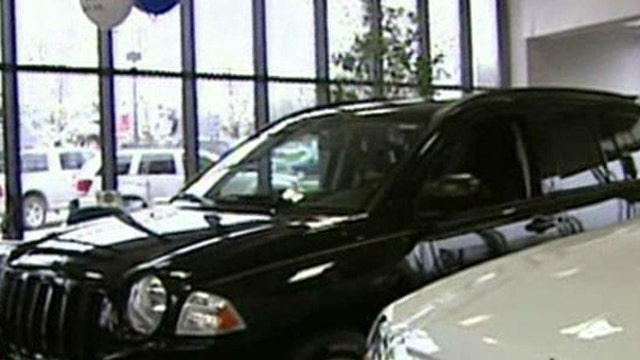 Chrysler Group said Tuesday its second-quarter net income jumped 16% to $507 million, as strong demand for pickup trucks and other vehicles drove the Big Three automaker's revenue higher.
The Auburn Hills, Mich., company did, however, provide a downgraded outlook for the full year. Chrysler expects net income of $1.7 billion to $2.2 billion, down from its previous guidance of $2.2 billion.
Along with rivals like General Motors (NYSE:GM) and Ford (NYSE:F), Chrysler has benefited from rebounding auto sales in the U.S. In particular, highly profitable pickups are in demand, and Chrysler's Ram trucks, which were redesigned for the 2013 model year, have recorded strong sales.
In the second quarter, Chrysler's global sales rose 10% to 660,000 vehicles. The company reported a 5% decline in worldwide sales in the first quarter. Earlier this month, Chrysler reported U.S. sales growth of 8.2% in June amid continued demand for pickup trucks and Dodge vehicles.
Overall, revenue in the latest period rose 7% to $18 billion. Adjusted operating profit rose to $808 million from $755 million in the year-ago period.
The latest period included a $151 million charge related to the recall of 1.56 million Jeeps that U.S. regulators said were susceptible to fuel-tank fires.
Chrysler reported disappointing results in the first quarter, when its profit fell 65% year-over-year as a result of lower auto shipments and higher costs related to the launch of new models like the Jeep Grand Cherokee. The company was slow to launch two of its most profitable models, the Grand Cherokee and new versions of its Ram heavy-duty trucks.
Sergio Marchionne, the chief executive of both Fiat and Chrysler, said on a conference call Tuesday that first-quarter delays in launching new models hurt the company's year-end outlook, while the Grand Cherokee is "necessary" to hitting 2013 profit goals.
The Grand Cherokee, which is replacing the Jeep Liberty, should hit showrooms in September. Until then, Jeep is left with virtually no Liberty models—and thus, no mid-size SUVs—to sell after Chrysler ceased production of the Liberty last August.
The second-quarter results buoyed Chrysler's Italian parent Fiat, which reported a net profit of $577 million to beat estimates.
Fiat, which took over bankrupt Chrysler in 2009, has become increasingly reliant on its U.S. subsidiary, as it struggles to turn around its European operations.
Fiat has attempted to increase its stake in Chrysler by exercising options to purchase more shares, but the company continues to spar with VEBA over Chrysler's value. The Italian car maker currently owns about 58.5% of Chrysler and has exercised options that would bring its ownership to 68.4%.
The Italian automaker, however, wants complete ownership of Chrysler. Fiat and VEBA, the United Auto Workers union retiree healthcare trust that owns the remaining 41.5% stake in Chrysler, continue to disagree over the valuation of those shares, Marchionne said on a conference call Tuesday.
Marchionne referred to talks with VEBA as "fruitful," although he added that a deal is not close.