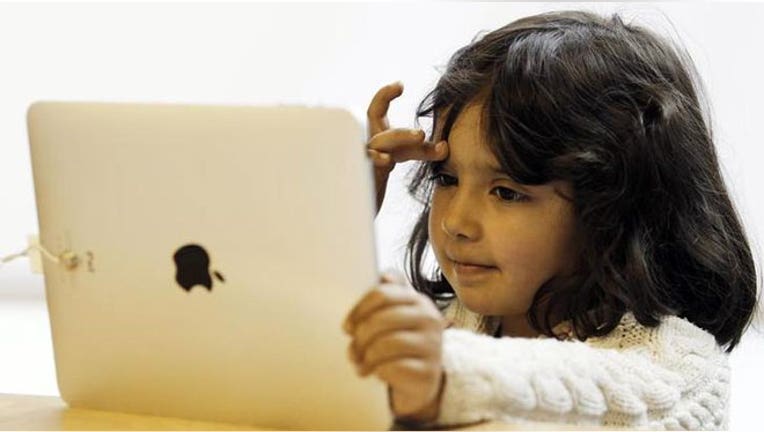 Digital media has infiltrated every aspect of our lives, how we communicate, shop, organize and get our news. It's also invading the world of play as touch screen tablets, eBooks, smartphones and mobile apps are defining virtual toy chests for children as young as tots learning to walk and talk.
Wading through an abundance of digital choices for their children is no small feat for parents facing pressure to introduce early digital learning in a world increasingly driven by technology, according to experts. There's a battle between staying current and giving their kids every opportunity but wondering whether all this tech is really good for their kids.
Experts advise parents to adopt a healthy skepticism when choosing digital toys. "Just because the label claims a toy can teach letters and numbers doesn't make it so," says Dr. Michael Robb, director of education and research publications, at the Fred Rogers Center for early learning and children's media at St. Vincent's College.
Interaction with others, collaborative play, cause-and-effect awareness and problem-solving skills are also important drivers for children's cognitive and language development, and Adrienne Appell of the Toy Industry Association claims toy makers are stepping up to the challenge and successfully integrating tech into both new and classic toys.
At LeapFrog, child development experts work side-by-side with toy designers throughout the entire delivery cycle, according to chief marketing officer Greg Ahearn.
If research shows a toy doesn't work, product development changes. In one LeapFrog toy modeled after the Pixar movie "Brave," the character princess had to collect 20 jewels. "As the children played, we noticed they got tired and couldn't finish all 20 tasks, says Ahearn. "We reduced the hunt to 15."
The observation process also informs future development, says Kathleen Kremer, senior manager of user experience at Fisher-Price. "Kids do things you would never expect. "We've seen 18-month-olds who know the home button and how to get into the iPad—one even figured out how to get to a NetFlix Sesame Street video, press play and then forward through a Katy Perry segment to get to Elmo," she says.
Capitalizing on that capability, Fisher-Price developed its Apptivity line introducing new toys and giving its classic play sets a digital facelift with the integration of an iPad.
Kremer says youngsters seamlessly move back-and-forth between open-ended and digital play. Much like when their parents were kids, tots move the plastic animals around the barnyard. But with the iPad interface, kids are introduced to a second mode of play on the screen. When they touch the food bin, grain comes out; they push the pump, water floods the screen. The interactivity helps children understand causal relationships, but imaginative play returns as kids wipe mud from the animals' paws.
The new toys are still part of a child's everyday experience, says Ahearn. For example, toy cell phones for babies enable kids to imitate mom and dad. And cuddly is still a universal.  LeapFrog's My Pal Scout interfaces with a Mac or PC but it's upgraded to be able to say a youngster's name and plays music.
"There's still a tremendous emotional component with these new toys," says Kremer. "We see kids fall in love with a toy in the lab then read on Facebook, they're taking these toys to bed."
E-books are also in and include digital versions of classics like Pat the Bunny. While the e-book may not offer the same tactile fuzzy sensation of the rabbit's tail, the on-screen sounds are activated and a camera in the book reflects the child's picture back, according to Robb.
Experts still urge parents to read along with their child. In fact, to develop vocabulary and language and encourage collaborative play parents should interact as their youngsters play with any of the new toys, Robb says. "In early childhood these adult-child interaction are critically important."
Digital extremes
Still, pediatricians are concerned with too much screen time. "We find screens everywhere, and interact with the world in a different way," says Dr. Dimitri Christakis, Seattle Childrens Research Institute, director for child health, behavior and development.
It is not uncommon to see parents and children in restaurants ostensibly enjoying a family dinner: the infant is playing with an iPad covered in a baby-proofed case, older children are playing digital games and the parents are fiddling with their smartphones.
"This is not healthy digital usage," Christakis says. "Family time in a restaurant is an opportunity for real interaction. Why diminish it?"
The American Academy of Pediatrics Executive Committee on Children and Media says screen viewing should be limited to two hours a day. But Christakis, a committee member, draws the line for infant viewing at one hour a day. Even if children are watching high-quality content, media displacement pushes out real-life experience. "If parents are not careful, their children will spend 30% of their waking hours in front of a screen."
Tips for parents on using tech toys to help their children's development:
Do your homework. Before buying any toy or gadget be sure to research the product, read reviews and   listen to trusted sources. Evaluate what a product provides and what you want a toy to offer your child.
Join in. Have your infant sit on your lap during screen time, read with him/her, and talk about what you are seeing on a screen or what he/she is creating in open-ended play to enhance language and cognitive development.
Find balance. Maximize the benefits of tech but make time for diverse human interactions important to brain development.
Watch the clock. Set limits on digital play and make sure children still learn social skills interacting with others and playing outdoors.
Have fun. Never under value the importance of play. The learning skills children acquire through play early in life carry on throughout their lives.