Chipper Jones Talks Bryce Harper, Baseball's 'Unwritten Rules'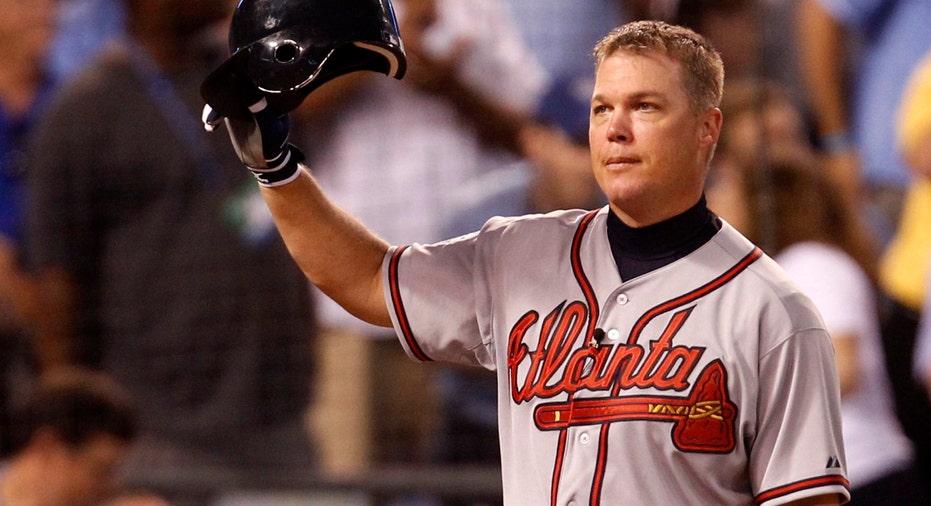 Chipper Jones knows a thing or two about baseball's "unwritten rules." A 19-year MLB veteran, Jones spent the majority of his storied career playing under legendary Atlanta Braves manager Bobby Cox, whose traditionalist views on the sport did not include much patience for boisterous home run celebrations.
Toronto Blue Jays slugger Jose Bautista and Washington Nationals outfielder Bryce Harper are leaders among baseball's new school – players who think home run celebrations and brash behavior are part of what makes the sport fun. Harper, who has criticized opposing pitchers for intentionally throwing at batters that celebrate a big hit, told ESPN the Magazine last March that baseball is a "tired sport, because you can't express yourself."
A self-professed "old-school guy," Jones told FOXBusiness.com that it's fine for batters to show emotion after a big hit – as long as they aren't showing up their opponent.
"Some of the things [Harper] said, I don't particularly agree with, but I wouldn't stop him from being who he is. I've seen many guys celebrate home runs over the years where the other team didn't get offended by it," Jones said.
Baseball's "unwritten rules" are once again under the microscope after last Sunday's wild bench-clearing brawl between the Blue Jays and the Texas Rangers. Jose Bautista was beaned by a pitch and then punched in the face during a confrontation with Rangers infielder Rougned Odor. Most saw the incident as retaliation for Bautista's antics during last year's playoffs, when he famously flipped his bat after a key home run off a Rangers relief pitcher.
Jones, who retired in 2012 with 468 career home runs and eight All-Star appearances, said players need to find the balance between reveling in their achievements and showing respect for their opponents.
"There are other guys around the league that play the game and hit homers and show exuberance without showing up the other club and are not frowned upon," Jones said. "Each young player just has to find that happy medium where they can be themselves and show that youthful exuberance when they do something outstanding without offending the other ball club, and I think everybody will get along just fine."
Harper has earned the right to be brash. At age 23, he's the National League's reigning Most Valuable Player and the centerpiece of a Washington team that's expected to compete for a World Series berth this season.
Jones ranks Harper alongside Los Angeles Angels outfielder Mike Trout and Baltimore Orioles third baseman Manny Machado as the brightest young stars in Major League Baseball.
"It's hard for me to pinpoint just one, I think they bring different things to the game," Jones said. "They're durable, they're strong kids, they're well-rounded ballplayers. They do everything from hit for average, hit for power, they play gold glove caliber defense, they run the bases, they can steal a base when they need to."
Harper, Trout and Machado are all 24 years old or younger, meaning they've yet to hit the open market as free agents. With MLB revenues on the rise, team owners are spending more money than ever before to woo top-notch players to their cities. Within the last year alone, the Boston Red Sox shelled out $217 million to sign starting pitcher David Price.
Jones, who made about $170 million in salary during his entire 19-year MLB career, said the size of baseball contracts could eventually plateau if owners grow wary of handing out decade-long deals. The day-in, day-out grind of the MLB season makes injuries a real concern, especially for players in the second halves of their careers.
But youthful players of Harper's or Trout's caliber could still command record-breaking sums when they finally hit free agency, Jones added.
"I made my fair share of money and what I made pales in comparison to what these guys are making now and I've only been out of the game for four years," Jones said. "I think there will be a certain plateau that comes about, but who am I to say that a Bryce Harper or a Mike Trout or a Manny Machado, some of the good young stars of the game that are coming up, aren't gonna ask for $400 million, maybe $500 million when the time comes, over a 10-year period, and who's to say that there's not somebody out there that wants that superstar so badly that they're willing to pay it?"