Chipmaker Nvidia's Quarterly Revenue Beats Street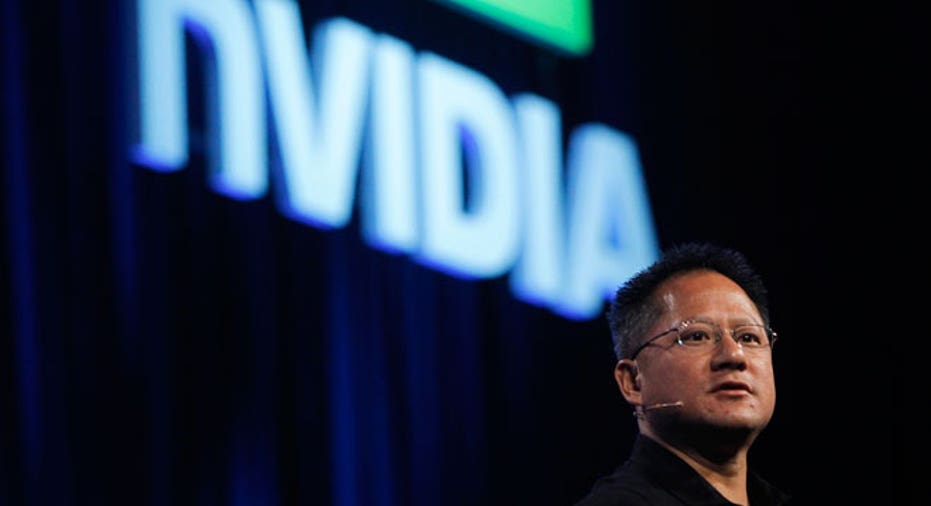 Nvidia Corp's third-quarter results beat estimates as the chipmaker refocused on smartphones and tablets in a tepid personal computer market, although its revenue forecast was a bit lower than expected.
Shares of Nvidia, which unveiled its newest mobile processor this week, jumped over 5 percent following the report Thursday.
Anxious to move beyond its traditional business of designing graphics chips for personal computers, Nvidia has jumped into mobile devices with its Tegra chips.
Nvidia had some successes early in 2011 with its processors appearing in tablets made by Samsung Electronics and LG Electronics, although sales have grown less quickly than many investors had expected.
Its newest mobile processor, Tegra 3, also faces growing competition from chip heavyweights Qualcomm Inc and Texas Instruments Inc.
Nvidia said sales in its Professional Solutions group, which includes graphics chips used in workstations, grew 9.5 percent sequentially in the third quarter.
``We're impressed with the growth in the work station business. That's high margin. We think that's why they beat on the bottom line,'' said Kevin Cassidy, an analyst at Stifel Nicolaus.
Emerging markets like China, where many families are buying their first personal computers, have supported sales of Nvidia and other PC chipmakers in recent quarters and helped offset slow demand in the United States and Europe.
Investors also fear a slowdown in PC manufacturing late this year and in 2012 after flooding in Thailand disrupted production of hard drives, a key component in computers.
Goldman Sachs recently warned that global PC shipments in the December quarter are likely to fall 3 percent year over year, instead of rising 3.1 percent as it had previously expected.
If manufacturers build fewer PCs, that would mean less demand for the computer graphics chips that Nvidia depends on for most of its revenue.
Nvidia's Consumer Products group, which includes the Tegra chips, rose 14 percent sequentially to $191 million in the quarter.
Chief Executive Jen-Hsun Huang in September said Tegra revenues would reach $1 billion next year, surprising some analysts.
Nvidia's main GPU business, which includes graphics chips used in PCs and revenue from a licensing deal with Intel Corp, rose 1 percent from the second quarter.
Nvidia said revenue in the current quarter would be up or down 2 percent from the past quarter. That implies revenue of $1.045 billion to $1.087 billion, compared with analysts' average forecast of $1.069 billion.
GAAP earnings were $178.3 million, or 29 cents per share, compared with $84.9 million, or 15 cents a share, in the same period a year earlier. Analysts on average had expected third-quarter EPS of 26 cents, according to Thomson Reuters I/B/E/S.
Nvidia's revenue for the quarter ending Oct. 30 was $1.066 billion, up 26 percent and a bit above analysts' average estimate of $1.062 billion.
Shares of Santa Clara, California-based Nvidia rose 5.5 percent in extended trade after closing up 1.05 percent at $14.47.