China's Tencent Buys 5% Stake in Tesla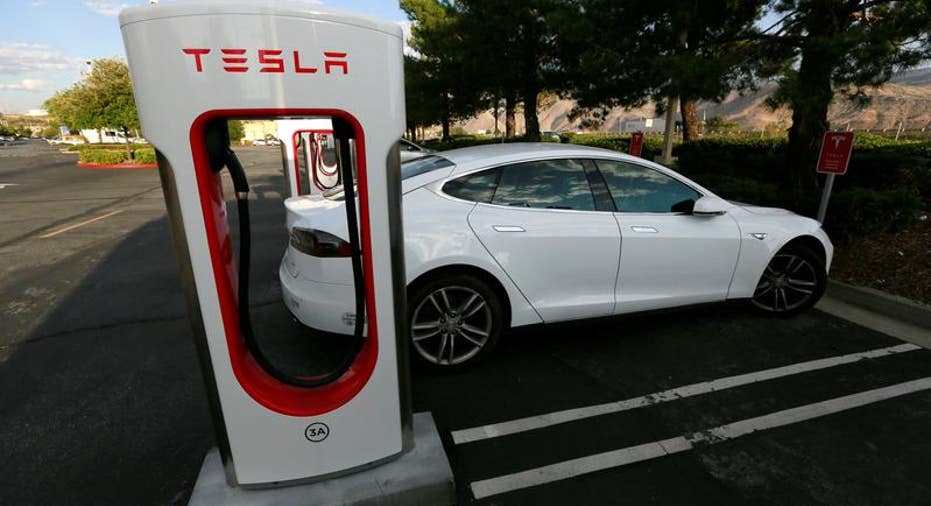 Tesla Inc. (NASDAQ:TSLA) gained a potential key ally in China after the country's most valuable company, Tencent Holdings Ltd., revealed it had bought a 5% stake in the Silicon Valley electric-vehicle maker.
The $1.8 billion investment marks a vote of confidence in Tesla Chief Executive Elon Musk at a time when he faces questions about whether he can meet his ambitious goals of delivering the $35,000 Model 3 sedan on time later this year and at the scale he is projected.
In a tweet Tuesday, Mr. Musk welcomed the tech giant as an investor and "advisor," suggesting a possible deeper relationship between the two companies could come. Tesla declined further comment.
Best known for its ownership of China's largest social network, WeChat, Tencent could play an instrumental role in helping Tesla set up a manufacturing operation in the Middle Kingdom, said Michael Dunne, a longtime auto industry consultant who spent years in China. Tencent and Foxconn Technology Group, best known for manufacturing Apple Inc.'s iPhones, are both investors in a startup called Future Mobility Corp., which aims to make its own electric vehicles by 2020.
"This is highly significant," Mr. Dunne said of Tencent's new investment.
China is the world's largest auto market and an important one for luxury-car makers. Tesla has held discussions with the government in the past about assembly in China, and Mr. Musk has said local production of vehicles in the country could cut the sales price of Tesla vehicles by one-third, with savings from items such as import duties.
A Tencent spokeswoman said Tencent's success comes from backing entrepreneurs like Mr. Musk, who combine vision, ambition and execution.
Tencent's investment in Tesla is the latest -- and highest-profile -- foray into the autos sector for big Chinese tech companies, which have recently backed a wave of Silicon Valley green-car startups, including NextEV Ltd. and Lucid Motors Inc.
Tencent acquired the stake through a combination of a recent stock offering by Tesla and shares purchased on the open market, according to a filing Tuesday. Tencent's stake is passive, meaning the company likely isn't seeking board seats or agitating for change.
Mr. Musk, who is also chairman, remains Tesla's largest shareholder with about 20% of the company.
Tesla's revenue in China more than tripled last year to $1.07 billion -- a faster rate of growth than in the U.S., where sales about doubled to $4.2 billion in the same period. China made up 15% of Tesla's $7 billion in revenue last year, compared with about 8% in 2015. The U.S. accounted for 60% of the company's 2016 revenue, up from 48% in 2015.
Tesla, which is unprofitable and deeply indebted, plans to begin Model 3 production in July and ramp up to 5,000 vehicles a week in the fourth quarter. Mr. Musk has set the ambitious target of increasing overall vehicle production to 500,000 next year from about 84,000 last year.
But the cost of ramping up production has been high, and Tesla needs a cushion to move ahead in the capital-intensive auto industry. The company has more than $2 billion of debt due in 2018.
Earlier this month, Tesla moved to strengthen its fragile balance sheet. At the time, it said it was offering $250 million in common stock and $750 million in convertible notes.
Shares of Tesla, which have surged 26% this year, rose by 2.7% Tuesday in New York. With a market value of about $45.3 billion, according to FactSet, Tesla is approaching Ford Motor Co. to become the second-most valuable car maker in the U.S. Ford's market value stood at about $46.4 billion, behind leader General Motors Co. with about $52 billion.
Tesla's rise underscores the premium that investors are placing on Silicon Valley's bold attempt to loosen traditional auto makers' grip on personal transportation.
Tech giants, including Alphabet Inc. and Uber Technologies Inc., are investing heavily in technology that one day could remove drivers from vehicles and open new ways of making money off transportation.
Traditional car makers like Ford -- which is 100 years older than Tesla with over 20 times the revenue -- are racing to catch up with their own plans for self-driving cars and other technologies to move beyond their core auto-making businesses.
The Model 3 launch is part of Mr. Musk's bet to transform Tesla from a luxury car maker into a company that offers a mass-market electric vehicle, along with solar panels to generate energy to power its vehicles, and batteries to store that power at home and offices.
Tesla closed its $2.6 billion acquisition of SolarCity in November, combining Mr. Musk's electric-car and solar-energy companies, and dropped "Motors" from its name as it signals it is more than just a car company.
Tencent, while little known outside China, is the world's largest game publisher by revenue. It owns "League of Legends" developer Riot Games Inc. and last year teamed up with Chinese investors in an $8.6 billion acquisition of Supercell Oy, the Finnish maker of "Clash of Clans."
Its social network, WeChat, counts 889 million monthly active users.
Tencent has been on a tear of late, with shares surging more than 40% over the past year, thrusting it ahead of e-commerce giant Alibaba Group Holding Ltd. (NYSE:BABA) and Industrial and Commercial Bank of China, the world's biggest bank by assets.