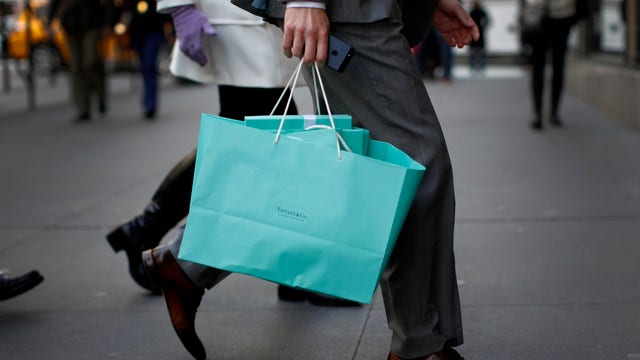 Tiffany (NYSE:TIF) beat the Street on Tuesday with a 16% jump in second-quarter profits as the high-end jeweler enjoyed robust growth in China and hiked its earnings targets.
Shares of the New York-based company ticked 1% higher, although the gains were likely limited by a sales miss.
Tiffany said it earned $106.8 million, or 83 cents a share, last quarter, compared with a profit of $91.8 million, or 72 cents a share, a year earlier. Analysts had called for EPS of 74 cents.
Revenue rose 4.4% to $925.9 million, trailing the Street's view of $941.4 million. Same-store sales increased 5%, excluding currency fluctuations. Gross margins expanded to 57.5% from 56.3%.
Tiffany said total sales in the Americas gained 2% to $444 million, highlighted by growth in the company's flagship New York store.
Sales in the Asia-Pacific soared 20% to $208 million thanks to "strong sales growth" in Greater China.
Total sales slid 14% in Japan, but increased 7% on a constant-exchange-rate basis. European sales climbed 11% to $111 million.
"Total sales growth met our objective due to solid performance in most regions, and with particular strength in our statement and fine jewelry product categories," CEO Michael Kowalski said in a statement.
Management expressed confidence in the future, raising the company's 2013 EPS outlook to $3.50 to $3.60, compared with $3.43 to $3.53 previously. The midpoint of the new range, $3.55, would exceed calls from analysts for $3.53.
Global net sales are expected to increase by a mid-single-digit percentage as measured by U.S. dollars and net inventories are seen rising 5%.
After rallying more than 2% earlier, shares of New York-based Tiffany were up 0.77% to $82.30 in recent premarket action. Expectations had been set high as Tiffany has soared more than 42% on the year.