China Imports in the Grocery Store: A Cause for Concern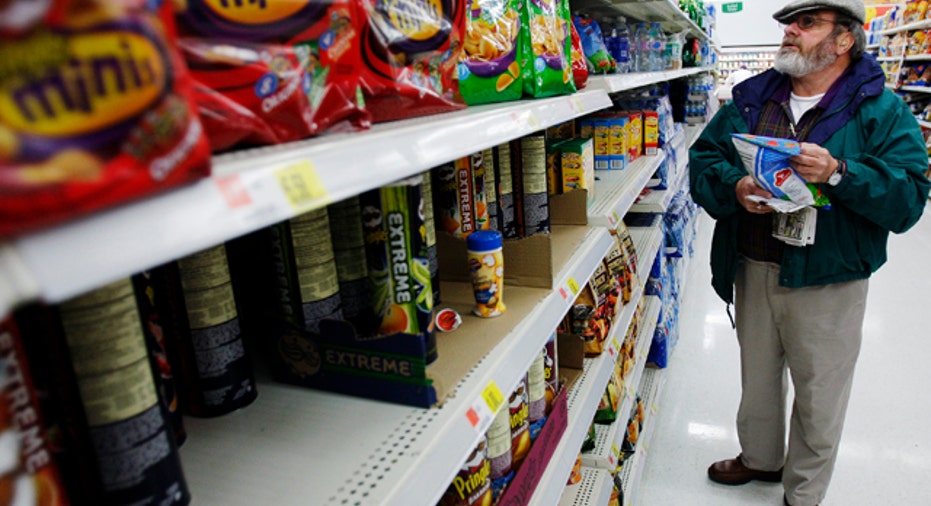 With Chinese products dominating more than just the shelves of dollar stores, it shouldn't come as that much of a surprise — if you're surprised at all — that imports from the largest nation in the world are increasingly finding their way into American grocery stores.
But the Chinese imports are starting to crop up in parts of the store that were more typically dominated by U.S. grown products or those from Central America. One such place is the freezer case, where imports are up 20% over the past decade and it is no longer unusual to find frozen vegetables that originated in China.
Even so, China still accounts for only 7% of the overall market of frozen fruits and vegetable — up from 2% in 1999, notes Corey Henry, vice president of the American Frozen Food Institute,
"So, yes, imports from China have grown quite a bit, but still represent a small segment of the overall fruit and vegetable market," Henry says. "China is the fourth largest foreign supplier of fruit and vegetables with Mexico, Canada and Chile the top three."
But, if you shift away from frozen and fresh fruits and vegetables, where influence is growing but not yet commanding, you need not stray too far to see domination.
As American as apples are (apple pie and all), Chinese apples dominate the apple juice market in the U.S. — the mainstay of brands including Motts, Tree Top and Apple & Eve. Chinese apple juice concentrate, a crystallized concoction reconstituted in the states, accounts for about 60% of the U.S. apple juice supply.
To get an idea of the stakes of this battle in the war of public perception of food from China, look no further than two niche grocery chains that are associated with the higher end of the marketplace.
In one corner is Trader Joe's. In the other, Whole Foods.
One is committed to not stocking its shelves with Chinese products (Trader Joe's) and the other (Whole Foods) is committed to not only defending the practice, but declaring why it's a good thing.
"Whole Foods Market continues to buy from China because we believe in supporting farmers that provide high quality products," the company says in a statement on product sourcing. "Our strategy is not to run away from our Chinese suppliers, but to take a stand and get closer to our suppliers."
In fact, many one product of Whole Foods' organic line are is sourced from China, which because of its extraordinarily low production costs, can ship products halfway around the world for less than it costs to get them from down the street.
(Update: A Whole Foods spokeswoman said the company's policy remains the same, but the stores are currently carrying only one of the store-brand items sourced from China — edamame. "In reviewing and renewing contracts with vendors, we found better quality at better prices outside of China for some items that we'd previously sourced from China. However, we were not able to find high quality edamame for the same price anywhere else.")
Trader Joe's drew a line in the sand in 2007 and is holding firm. The company sent a four-year-old statement that they said remains true today.
"Our customers have voiced their concerns about products from this region and we have listened. In response, we made it our goal to find alternative sources by January 1, 2008 to phase out selling any single ingredient food items sourced from mainland China," the company says. "We will continue to source products from other regions until our customers' feel as confident as we do about the quality and safety of Chinese products."
While the company has only committed to not selling products that solely come from China, some of those who produce the closely guarded private label products have said they are also required to avoid using Chinese products.
Consumers don't appear to be punishing the brands that are delivering them food that originated in China, which could be because it's not terribly obvious that's where they come from. Nation of origin laws on products that tend to come from China, like apple juice, require some commitment to finding the ink stamp on the container. But, when asked, consumers tend to exhibit a sense of wariness because of the country's well-documented problem with poisoning its own people.And while a recent Deloitte survey found that 73% of consumers are more concerned about the food they eat than they were five years ago, a majority said they don't look at nation of origin labeling.
It has been less than three years since milk tainted with melamine that led to the deaths of at least six toddlers and made nearly 300,000 others sick. While China has pledged time and again to crack down against those in that country who would run afoul of safe food practices, scandal after scandal has continued to drag the nation's food safety image into the gutter.
"Tainted melamine milk powder, salted duck eggs containing cancer-causing dyes, artificial honey, fake wine, donkey-hide gelatin, waste oil, sulfur steamed ginseng, plaster tofu, dyed bread…the list goes on," an opinion column in the English language China Daily said. "Sadly, many people estimate that the list will get longer. Every day we worry about the next food time bomb exploding, we just do not know where the site of the blast will be."
But Henry, of the Frozen Food Institute, echoes what those in the food industry say about importing food from China.
"It's important for consumers to know that regardless of their origin all frozen fruit and vegetable products must meet the same U.S. federal food safety standards," he says. "U.S. companies that import frozen products from China engage in very rigorous verification and inspection efforts to monitor the quality and safety of the product they're importing."
But given China's track record, at a minimum the country still has a colossal PR problem.Just last week, the government seized some 26 tons of melamine-tainted powdered milk from an ice cream company. More arrests and more promises. That repetition has American safety advocates, who already see the U.S. Food and Drug Administration can't even keep up inside this country, worried about what's coming from a giant exporter with its own troubles."I am concerned with just what regulatory program they have over there for food," says Nancy Donley, president of STOP Foodborne Illness, a safe food advocacy group. "China has just always been one that raises concerns for us."
Donley said the country has just said too many times that it is cleaning up its act: "'We promise to never do it again until the next time'."