Chevrolet Signs Up to Remain MLB Sponsor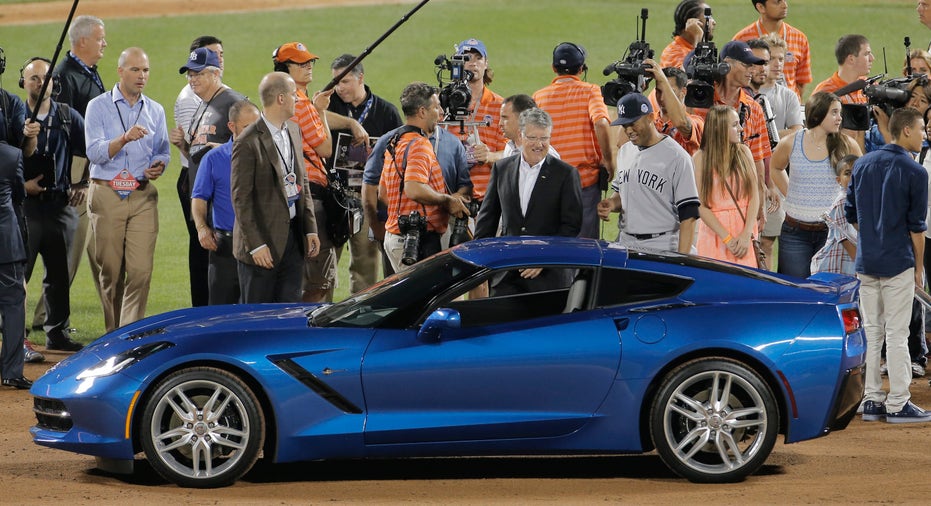 Baseball, hot dogs, apple pie and Chevrolet are here to stay. The General Motors (NYSE:GM) brand renewed its longtime sponsorship of Major League Baseball with an exclusive multi-year agreement.
The deal announced on Thursday will keep Chevrolet in its role as the official vehicle of MLB. Chevrolet, whose partnership with MLB dates back to 2005, will continue to present the Most Valuable Player awards after the All-Star Game and World Series. Financial terms of the deal weren't disclosed.
Chevrolet is the only American car brand to score a sponsorship deal with one of the four major U.S. sports leagues. Hyundai replaced GM's GMC brand as the official car partner of the NFL before the 2015 season. Kia has an exclusive deal with the NBA, and Honda (NYSE:HMC) is partnered with the NHL.
MLB has other sponsors from around the world, of course. But the partnership between an American car brand and America's pastime has proven to be the right fit, executives say.
"Chevrolet is pretty close to apple pie when it comes to iconic American brands," MLB Executive Vice President of Business Noah Garden told FOXBusiness.com. "For what our goals are, they're the best partner for us."
Steve Haener, Chevrolet's senior manager of media, experiential marketing and brand partnerships, said working with MLB allows the company to reach fans who watch and play baseball.
"There's a natural connection between our national pastime and Chevy, which is really an all-American brand," Haener explained. "Whatever you do in your marketing, it's important to be authentic. In places like NASCAR, country music and baseball, those are authentic places for Chevrolet."
According to Haener, Chevrolet is working with MLB to associate the brand with technology features in the sport.
The new sponsorship formalizes Chevrolet's involvement in youth baseball initiatives, earning the title of official automotive sponsor of Play Ball, a program jointly run by MLB and USA Baseball. Chevrolet, which is jumping into Play Ball for its second season, has supported youth baseball and softball leagues through Chevy Youth Baseball. Over the last 10 years, Chevrolet's program has donated more than 90,000 equipment kits and renovated 9,400 parks in the U.S.
"Chevy has been doing a lot on their own in that space, and they probably haven't gotten enough credit," Garden said.
Play Ball is holding an inaugural "Play Ball Weekend" at ballparks around the league this weekend, May 14-15.
"It's one thing to advertise during games and get our message to the broadcast base, but to actually connect personally with kids and their parents is really what our brand values are about," Haener said, adding that Chevrolet utilizes its dealers to work with local baseball and softball programs.
Garden said the success of MLB's partnership with Chevrolet will be measured by youth participation in the sport, as well as any sales gains for GM.