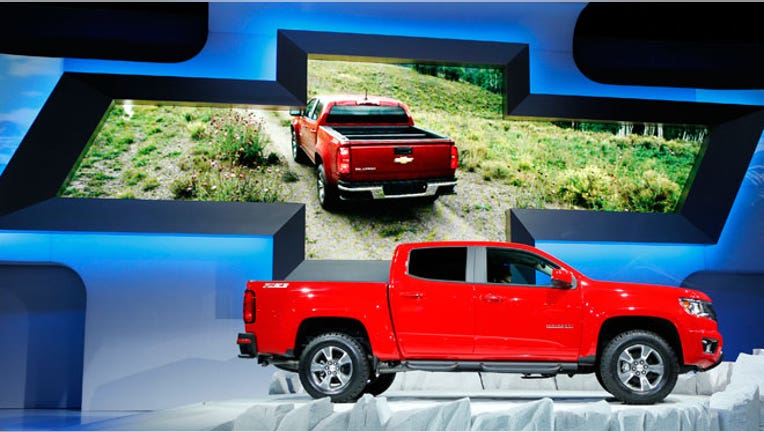 Building on the Silverado nameplate, General Motors (NYSE:GM) aims to reinvigorate the mid-size truck segment with the new Chevrolet Colorado.
GM is the first Detroit automaker to restart production of smaller pickup trucks. Chrysler Group stopped making the Dodge Dakota after the 2011 model year, and Ford Motor Co.'s (NYSE:F) Ranger was scrapped a year later.
Toyota (NYSE:TM), the current leader in mid-size trucks, sold 102,736 units of the Tacoma through the first eight months of 2014. Nissan Group is a distant second with sales of 48,510 Frontier pickups. Honda's (NYSE:HMC) Ridgeline has a small share of the market.
Now GM is hoping to raise the stakes with mid-size trucks that top the competition in fuel economy and towing capacity. The Colorado, as well as the higher-end GMC Canyon, has a maximum trailering rating of 7,000 pounds and achieves up to 27 miles per gallon with a four-cylinder engine under the hood.
The Colorado, which recently started shipping to dealers, joins a Chevrolet truck lineup that includes the full-size Silverado 1500 and heavy-duty versions including the Silverado 2500.
"We talk a lot about having a three-truck strategy. The Colorado rounds out that three-truck strategy, and there's certainly a lot of opportunity there," said Tim Mahoney, chief marketing officer for global Chevrolet. "We're bringing a really smart solution to the market."
The automaker's objective is twofold. First, grab market share from current rivals in the segment. Second, expand the customer base by attracting consumers who are typically interested in crossovers and sport-utility vehicles.
Of course, the Colorado and Canyon run the risk of stealing sales from their larger—and profitable—siblings, the Silverado and GMC Sierra. Mahoney acknowledged that possibility, but he said there isn't any concern that too many full-size truck buyers will make the switch.
Truck vs. SUV
Most small trucks are sold in what GM calls the "smile states" like California and other coastal locations, Mahoney explained. With the better-handling Colorado, owners can get work done before loading bikes or surfboards in the back.
"We're going after a different buyer, and we can control that through ad selection," said Mahoney, who also serves as global GM's marketing operations leader. "I don't think there will be a high level of substitution."
Chevrolet is stressing creature comforts that buyers are used to seeing in crossovers. Mahoney expects the Colorado to resonate with consumers who have active lifestyles and want the benefits of adjacent segments. Given its smaller footprint, the Colorado is also the right size for people who live in suburban or urban environments, he said.
Along with other 2015 models from GM, the Colorado can become a 4G LTE Internet hotspot through the company's OnStar service. Leather seats, USB ports and driver assists like forward collision alert are also available.
Buyers can choose between two engines: a 3.6-liter V6 that generates 305 horsepower and a 2.5-liter, four-cylinder engine. For the 2016 model year, Chevrolet will add a 2.8-liter Duramax turbo-diesel.
"Like in a crossover, you get a good ride, technology, better handling and fuel economy. But you can also use it for work. That makes it an alternative to a crossover," Mahoney said.
"Trucks are cool. It's the kind of thing when you have one, you have more friends because people want to borrow it," he added. "Our marketing will take that direction."
According to Mahoney, Chevrolet's marketing efforts for the Colorado will encompass a "whole menu of advertising," including digital and social media.
GM has reported that initial demand for the Colorado is strong. As of Sept. 16, dealers placed nearly 30,000 orders. GM, which said the figure is "very high for early orders," added a third shift to its assembly plant in Wentzville, Mo.
Lurking Threat?
Chevrolet is confident that its all-new Colorado, a significant departure from the previous generation, will be able to withstand the competition over the long haul.
Mid-size trucks will get another jolt when Toyota launches a redesigned version of the Tacoma, a move that's expected for model-year 2016. Meanwhile, Ford and Chrysler's Ram brand could get back into the game.
"We have the advantage of coming back into [the segment] and reigniting it," Mahoney remarked, saying GM can leverage the strength of the company and its brands. "The reaction has been incredibly positive."
Consider that in today's automotive market, younger buyers may be more likely to stick with one brand over time after growing attached to its on-board technology. GM is trying to stay ahead of the curve with features like wireless Internet access.
"We will be able to keep our ground," Mahoney said.