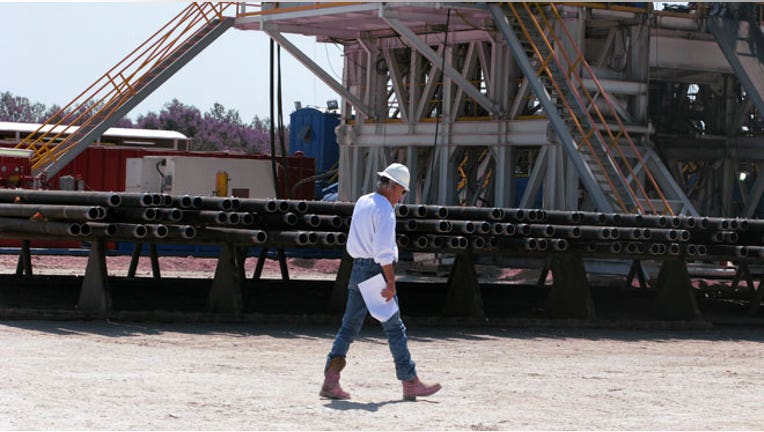 Chesapeake Energy (NYSE:CHK) saw its earnings rise sharply in the first quarter to easily top Wall Street views, as the oil and natural gas company benefited from production growth and higher prices.
The nation's second-largest producer of natural gas also hiked its estimate for 2014 adjusted production, calling for growth of 9% to 12% amid stronger-than-expected natural gas liquids volumes. Chesapeake previously said production would rise 2% to 4%.
Shares rallied 3.7% to $29.41 in early morning trade Wednesday. The stock was up 4.5% on the year through Tuesday's close.
Chesapeake said it earned $374 million in the first quarter compared to $15 million in the year-ago period. Per-share earnings jumped to 54 cents from two cents. Excluding the impact of asset sales and other items, adjusted earnings checked in at 59 cents versus 30 cents.
Revenue surged 47% to $5.05 billion, well ahead of analysts' expectations for $4.45 billion. Chesapeake also beat a bottom-line estimate of 48 cents a share.
Average daily production increased 11% to 675,200 barrels of oil equivalent in the latest period. On an adjusted basis, oil output rose 20%, natural gas volumes grew 4% and production of natural gas liquids was up 20%.
Chesapeake's realized price for natural gas climbed to $3.27 per thousand cubic feet, up from $1.90 in the fourth quarter and $2.13 a year ago.
The company also lowered capital expenditures in the first quarter by 50% and logged positive cash flow for the first time in years, a significant feat after aggressive spending during the tenure of former chief Aubrey McClendon.
"This was an important and defining quarter for Chesapeake, as our competitive capital allocation, cost leadership and capital efficiency initiatives are driving tangible improvements in the company's growth profile and financial performance," CEO Doug Lawler said in a statement.
Under Lawler, Chesapeake has undertaken an effort to unload assets and focus on more profitable projects.
The Oklahoma City-based company is also considering a spinoff of its oilfield services unit, which generated $2.2 billion in revenue last year and handles drilling, hydraulic fracturing and equipment rentals, among other services. Chesapeake plans to change the name of the business to Seventy Seven Energy.
Chesapeake expects its targeted asset dispositions to boost earnings. The company said Wednesday it "continues to pursue opportunities to high-grade its portfolio to focus on assets that best fit its strategy of profitable growth from captured resources."