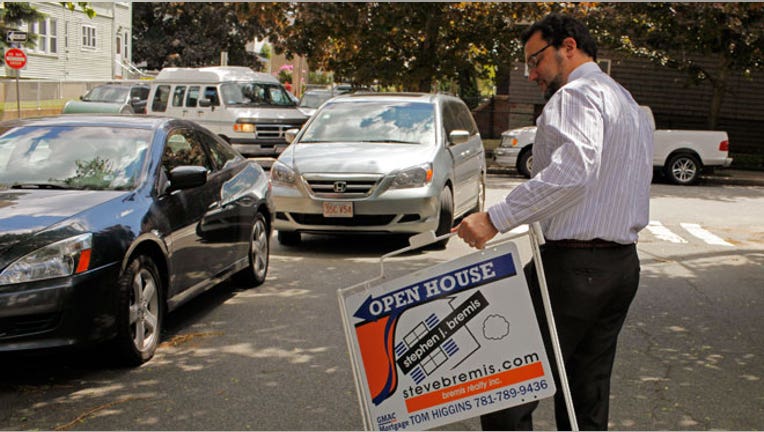 Winter is considered "off season" in the real estate world, but that doesn't mean that buyers aren't still out there. Even in December, when everybody was busy racing around to get ready for the holidays, the number of home sales — including existing homes, foreclosure resales and new home sales — was 8.7% higher than in the same month in 2011.
One way to make your home stand out from others during the winter doldrums is to choose words that jump out at potential home buyers when they're searching through real estate listings.
Desirable features vary depending on price and city, but there are a few universally golden terms at the moment. Daniel Beer, a real estate agent and marketing expert in San Diego, says "open floor plan" and "downstairs master" are popular features everywhere.
"A downstairs master bedroom has long been standard in luxury homes," Beer said. "But now that requirement has moved down into the middle market, and home builders are responding." He says this is especially true among aging baby boomers, who are now focusing on smaller homes with fewer levels and fewer, if any, stairs.
Similarly, the "walkability" of a neighborhood is rising in stature. Green terms such as "solar" and "energy efficient" are red hot. "Low HOA fee" continues to be a popular term in listings all over the U.S. because an estimated 63.4 million — and counting — Americans live under the governance of homeowners associations.
On a more local level, the term "No Mello-Roos" is a welcome phrase in California because it means that a particular property is not subject to a special property tax that's often levied in newer communities to pay for parks, roads and other infrastructure. In coastal Southern California "new construction" jumps out because there is currently so little of it while demand is strong.
Seeing the light
"Light and bright" or words to that effect are huge in Manhattan. "I can't stress enough how important lighting is in New York," Leslie Lazarus, an agent with DJK Residential, told the Wall Street Journal. Lighting isn't as important, of course, in a fair-weather city such as Miami, but a "sunny breakfast room" or nook seems to appeal to people everywhere.
Being as specific as possible with adjectives tends to result in higher sale prices, according to the National Bureau of Economic Research. Instead of "wood floors," for example, say "oak floors." How about "stainless" and "granite"? Not so hot anymore or even necessary: Those are givens these days if you've noted that your kitchen has been "updated," says Beer, who pointed out that "updated" is a word that always gets attention. Stainless may not be king much longer anyway, according to Beer. A current hot buzzword in design material, he says, is "Caesarstone," which is high-quality quartz.
Dropping high-end appliance brand names continues to be an effective "look-at-me!" lure. The biggies are still Sub-Zero, Viking, Bosch and G.E. Monogram, and "anybody considered a chef will demand a kitchen with a Wolf range," Beer said.
In the bathroom, the coolest brand name is now Toto. "Actually, it has become the Sub-Zero of the toilet world," Leonard Steinberg, managing director of Douglas Elliman in New York, recently told the New York Times.
Be cautious with the 'F' word
People tense up when they see the word "fixer," and readers often translate the term "investor," as in "investor special," as "needs lots of work" (use "income property" instead, Beer counsels). "The mood of the market right now is for a 'turn-key' or 'move-in-ready' property," Beer said.
At times, however, a term like "needs work" is advantageous. First-time buyers are often looking for a fixer-upper in a desirable neighborhood or coveted school district in which they would otherwise be priced out.
Buyers are often put off by hardcore sales lingo such as "Hurry, won't last!" Some phrases have been so overused that they now put buyers to sleep. "Gourmet kitchen" and "luxury bath" are in that category. And the word "rare" is anything but rare in real estate listings — "rare jewel," "rare opportunity."
Be careful with vague superlatives, too. Some people believe "charming" means "small." Others consider "classic" a euphemism for "completely out of date."
Finally, Laura Lothian, a Pacific Sotheby's agent in La Mesa, CA, says she has seen the words "open house" more and more frequently in listings all over the U.S.
"It's a trend I love," she said. "People are having more open houses, and those open houses are attracting bigger crowds." She speculates that there are two reasons behind this trend. Most real estate photos are now taken by professional photographers, she says, so photos are looking more and more alike. Images can be easily "enhanced," so people want to get a more realistic look at a place with the electric wires in place and without a Technicolor blue sky.
The second reason open houses are increasing in popularity, Lothian believes, is that people are getting antsy about spending so much of their social lives online in places such as Facebook. "They want to connect with real flesh!"
Read More from Zillow: