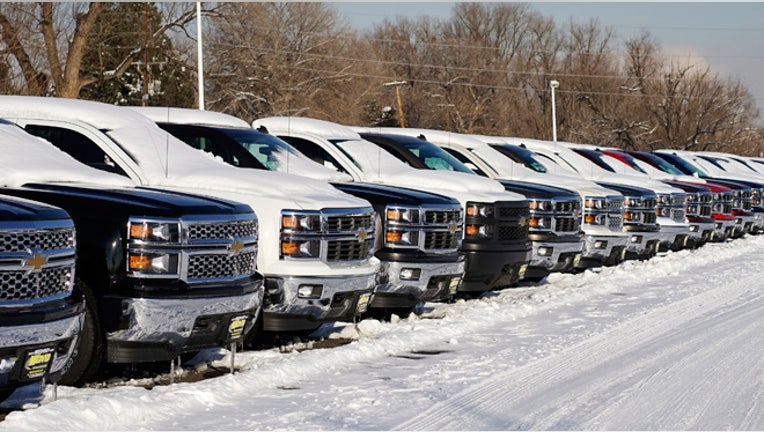 Automakers broadly reported better-than-expected U.S. sales in November amid cheaper gasoline and Black Friday deals.
For much of the last two years, the auto industry has benefited from low interest rates, recovering construction activity and aging cars on the road. A rapid decline in oil prices has pushed gas prices lower in recent months, bolstering demand for new vehicles like pickup trucks and sport-utility vehicles.
Meanwhile, the auto industry is increasingly embracing the holiday shopping season. Like other retailers, car dealers offered incentives during the Thanksgiving weekend to drive showroom traffic.
"Automakers got very smart and started Black Friday promotions about 10 days in advance," said John Krafcik, president of car-buying platform TrueCar (NASDAQ:TRUE). He added that TrueCar recognized an upswing in consumer interest leading into Thanksgiving. "The industry is establishing a new pattern this year."
Analysts expected automakers to reap the rewards of their Thanksgiving promotions, but the industry reported an even better month.
According to Autodata, November auto sales reached a seasonally adjusted annual rate of 17.2 million vehicles, well ahead of 16.3 million a year earlier and 16.46 million in October. Total industry volume surpassed 1.3 million, beating Kelley Blue Book's forecast for 1.27 million units.
November had 25 selling days, one less than last year.
Chrysler Group, the U.S. division of Fiat Chrysler Automobiles (NYSE:FCAU), led the way with a 20% gain in new vehicle sales, beating estimates from Kelley Blue Book and Edmunds.com. It was the company's best November sales since 2001.
Chrysler said Tuesday it sold 170,839 vehicles compared to 142,275 in November 2013.
The Auburn Hills, Mich.-based automaker continued to benefit from strong demand for Ram trucks and Jeep SUVs. The Ram brand saw a 31% increase in sales, while Jeep was up 27%.
Noting Chrysler's Joe DiMaggio-like streak of 56 consecutive months of sales growth, Krafcik said the automakers that are posting the best numbers have strong footprints in crossovers and pickup trucks.
Total truck sales rose 18%. Car sales bounced back, advancing 26%. Chrysler recently began selling a new mid-size sedan, the Chrysler 200, and Dodge's Challenger and Dart had a good month.
Dodge recorded sales growth of 1%. Chrysler's namesake brand surged 30%, as 200 sales more than doubled. Fiat sales were up 1%.
Alfa Romeo delivered 24 4C coupes last month, marking the sporty Italian brand's official return to the U.S.
Fiat Chrysler rallied 2.8% to $13.06 in recent trading. The stock is up about 45% since making its debut on Oct. 13.
GM reported its best November sales in the U.S. since 2007, delivering 225,818 vehicles for a 6.5% gain over last year.
The results easily surpassed expectations, sending GM shares 1.6% higher to $33.45. Kelley Blue Book and Edmunds each projected sales growth of about 1%.
"The buzz around Black Friday helped drive strong showroom traffic but there was a lot more at work in the market," Kurt McNeil, GM's U.S. vice president of sales operations said. "More people have jobs and job security, their wages are starting to increase, household wealth is growing and low pump prices look like they're here to stay through 2015."
GM said its incentive spending as a percentage of average transaction prices was 10.4%, down 1.2 percentage points versus October.
Despite the Black Friday blitz, incentive spending across the industry still dropped from levels seen in October and last November, according to TrueCar data. That signals underlying strength in consumer demand going into the final month of 2014, Krafcik said.
"The fact that they are able to do this shows just how strong demand is," he explained, saying there shouldn't be any concerns that early holiday deals took a piece of December sales. "December will be a great month."
Buick and GMC fueled GM's sales during the latest month. GMC, which had its best November since 2001, posted sales that grew 23% year-over-year thanks in large part to the Sierra pickup truck. Buick sales were up 27%, giving the luxury brand its best November in 11 years.
Chevrolet sales advanced 3.2% on higher sales of the Silverado pickup, which was up 24%. The Tahoe and Traverse SUVS also posted strong growth, and the Cruze compact sedan logged a 26% increase in sales.
GM said retail sales of its Colorado pickup truck were ahead of plan last month. The nation's largest automaker recently launched the Chevrolet Colorado and GMC Sierra, its new mid-size trucks.
Cadillac was the lone GM brand to see an overall decline. Sales fell 18.7%, partly due to weaker sales of the ATS and XTS cars.
Ford Motor Co. (NYSE:F) had another downbeat month amid a switchover to the redesigned 2015 F-150 pickup truck.
The No. 2 Detroit automaker reported a 1.8% decline in U.S. sales, despite better results from luxury brand Lincoln. Ford sold a total of 187,000 vehicles, down from 190,449 units a year earlier.
Ford said "the overall sales decline was anticipated" because the company continues to manage inventory levels of the F-150 ahead of the new truck's launch. The first 2015 F-150s are expected to reach dealers by the end of the year.
John Felice, Ford's vice president of U.S. marketing, sales and service, was asked during a conference call with analysts how long Ford's sales will feel pressure from reduced inventories. He said Ford will be "working through the transition for the next several months."
Ford is also rolling out the new Mustang, which was revamped for 2015. The Mustang's monthly sales came in strong, posting the best November result in eight years. Ford said Mustangs are selling in just eight days on average after arriving at dealers.
Car sales were down 6.4% for Ford and Lincoln, while utilities jumped 15.4% amid a new record November for the Ford Escape. Truck sales fell 9.9% as the F-series fell below 60,000 in unit sales.
The new Lincoln MKC crossover, which was featured in an advertising campaign with actor Matthew McConaughey, was the brand's best-selling vehicle in November. Lincoln also got a boost from the Navigator SUV, which helped offset weaker car sales.
Emily Kolinski Morris, Ford's chief economist, noted how the auto industry saw strong consumer demand around Black Friday despite reports of a slow start to the holidays for other retailers. According to the National Retail Federation, consumer spending over Thanksgiving weekend fell 11%.
Ford shares were up 0.4% at $15.84.
Toyota's (NYSE:TM) November sales totaled 183,346 vehicles, a 3% improvement. The Japanese automaker said light trucks and SUVs set new records for the month.
Lexus also tallied its best-ever November volume. Sales climbed 7.3%, outpacing the Toyota brand's growth of 2.3%.
"Auto industry sales during Thanksgiving weekend were even better than expected," said Bill Fay, Toyota division group vice president and general manager.
Toyota rallied 1.5% to $126.76, as sales beat expectations.
Including Audi, Volkswagen's sales expanded 9%. Audi said November volume surged 22%, marking the brand's 47th consecutive month of record sales. The Golf and Jetta helped Volkswagen lift sales by 3.2%.
Edmunds was looking for the German manufacturer to report growth of 4.2%.
Honda (NYSE:HMC) said its sales increased 4.6% to 121,814 vehicles, citing robust demand for SUVs like the CR-V and Pilot. Shares were trading at $30.87, up 1.2%.
Honda's total truck sales were up 13% to offset lower volume for the Accord and Civic. The Acura luxury unit added 2% to its November sales.
Nissan sales slipped 3.1% to 103,188 units last month, mostly due to a weaker performance by Infiniti.
The Rogue crossover reached a new November record thanks to a big sales gain of 44%. Consistent with industry trends, Nissan benefited from a higher number of trucks sold to offset weaker car sales.
Despite a disappointing November, Nissan has already set a record for annual U.S. deliveries. The automaker's total sales are up 11.5% since the start of the year.
Hyundai and Kia booked combined sales of 98,608 units, down 2.8%. Kelley Blue Book and Edmunds projected a wider decline.
Hyundai's November sales fell 4% amid mixed results for cars. The Santa Fe and Tucson SUVs posted slightly better volume. Kia said it's on pace for an annual sales record this year, although November sales were down 1%.