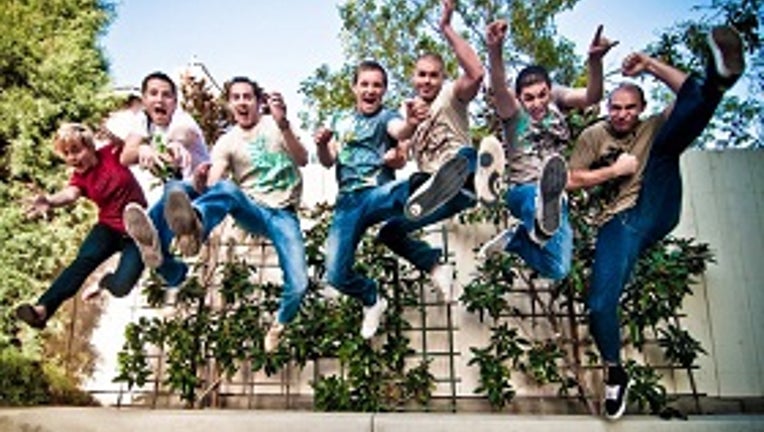 One constant in the entrepreneurial lives of Jimmy Hendricks and Patrick Dillon is change.Faced with a struggling economy, the business partners from San Diego have been successful in shifting their focus from one product to another. But they haven't been taking haphazard leaps, as their moves reflect tenacity and a carefully maintained focus on keeping their businesses alive. Here's their timeline in a story of constant adaptation:
- Hendricks, 29, and Dillon, 30, jumped into startups two years ago with Collar Free, a specialized T-shirt-design website. Artists submitted entries, visitors voted for their favorites, and winning designs were sold on the site.
- Although the business struggled, Collar Free caught a break via Sports Illustrated Kids magazine. "They asked us if they could license our software to run a contest," says Hendricks. "We saw an opportunity to repurpose our platform and create a new revenue stream."
- Within weeks, Artistic Hub was born. The company provided software to companies that wanted to manage contests easily and efficiently. Says Hendricks: "How many communities needed a contest platform? This pretty much automated the entire process."advertisement
- The entrepreneurial journey was just beginning for Hendricks and Dillon. During a chance conversation, Hendricks talked about Groupon, the behemoth Internet purveyor of one-day coupons and other deals. What, he wondered, were the possibilities of building a similar deal-focused software, but with complete management — from publishing the deal on the Internet to delivering the financial payoff to participating businesses? Moreover, there'd be no up-front marketing expenses needed to lure customers in for short-term discounts.
- The result of his brainstorm, Deal Current , launched in April. Hendricks says the company is now signing on as many as five new clients a week. The nine-person firm is growing an average of 20 to 30 percent every month. "We're on a multimillion-dollar run rate for next year," says Hendricks.
Hendricks acknowledges this breathless chronology may seem unstructured and unplanned. But, he notes, shifts from one product to another are necessary tools for both success and survival."People who are not entrepreneurs may see us as flighty, unfocused and impatient," he says. "But great companies are a series of products. Give a model six to nine months; if it doesn't hit it, kill it and come out with a new product. If we hadn't shifted away from the T-shirts at the beginning, we would have died."
Norman Scarborough, a professor at Presbyterian College in Clinton, South Carolina, and the co-author of the book "Essentials of Entrepreneurship and Small Business Management," agrees: "Often, the choice is very simple: Change or die.
"It's also one area in which small companies have a significant advantage over their larger rivals," adds Scarborough. "In the time that it takes a small-business owner to implement a shift, a large business will have formed a committee to study the move and the committee may have met one time."
Moreover, Hendricks feels that he and Dillon have grown as entrepreneurs along the way. To that end, they recommend focusing on:
Improvement, not just replication. One ironic pitfall of Groupon is death by success: a stream of customers who take advantage of the short-term discount at the expense of the merchant. Deal
Current addresses that issue by way of a tiered-compensation system — the larger the customer response, the greater the percentage paid to the participating business. "It seemed as though the only merchants who complained were the ones who had a really great turnout," says Hendricks of the pre-compensation system.
Greater due diligence. Deal Current's compensation arrangement was the result of exhaustive interviews with hundreds of companies to gain a sense of what drawbacks existed within the daily-deal model. That, says Hendricks, reflects a more thoughtful approach in general: "We're more patient on the front end now. When we pull the trigger, we know it's right."
But their work is far from finished. Hendricks says he's now on the lookout for new products and services that derive from Deal Current — as long as they reflect the ideas that have preceded them.
"We have hundreds of media clients, hundreds of entrepreneurs, 10,000 merchants, and millions of customers in our database. What model can be extended off each one of those? But it's not as though [we're saying], 'We're online — let's go sell tattoos now instead.' You just get faster and play bigger."Jeff Wuorio is a veteran freelance writer and author based in southern Maine. He writes about small-business management, marketing and technology issues.
* For more articles like this, visit www.businessonmain.com. The Fox Business newsroom was not involved in the creation or production of this special advertising section.