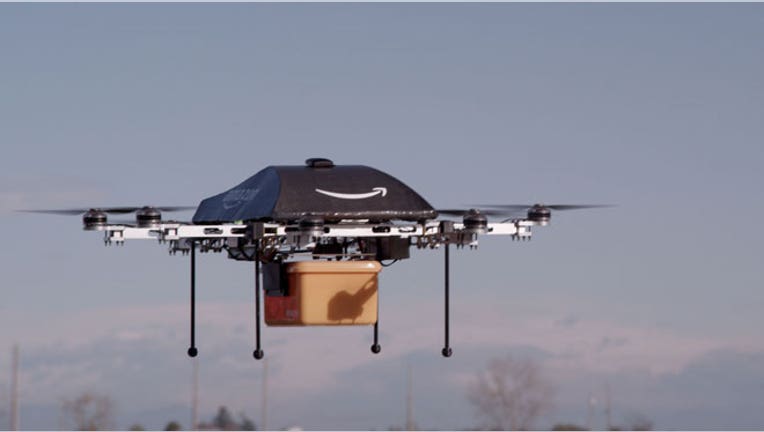 Drones, more commonly known for their use by the military and hobbyists, may be coming to a doorstep near you.
Or maybe not.
Amazon.com (NASDAQ:AMZN), to great fanfare earlier this week, said it plans to eventually use unmanned aerial vehicles to deliver packages in some cities near the company's warehouses. Analysts say plenty of big challenges await the world's largest online retailer.
In an appearance Sunday on the CBS show "60 Minutes," CEO Jeff Bezos unveiled the so-called octocopters currently in development at Amazon. The drones have a range of ten miles and can carry products under five pounds, which covers about 86% of the online retailer's inventory.
"I know this looks like science fiction. It's not," Bezos said. "It drops the package. You come and get your package, and we can do half-hour deliveries."
He said the technology will be ready to go in four to five years, taking into account further research and the implementation of government regulations overseeing commercial use of drones. The company cautioned that putting the service, called Prime Air, into commercial use will take "some number of years."
Skeptics of the drone plan characterized Sunday's announcement as an attempt to drum up hype ahead of Cyber Monday. But whether Prime Air actually gave a boost to Amazon.com is hard to determine, Colin Gillis, an analyst at BGC Partners, said.
"It's not like, 'Oh, octocopters. Let's go buy a book,' " he said. "But it's unlikely it hurt them."
Congress told the Federal Aviation Administration to come up with regulations overseeing commercial use of drones by 2015.
If the FAA does allow companies like Amazon to utilize the small aircraft, there are still more regulatory hurdles that could follow. Congress only asked the FAA to propose rules by 2015, and implementing regulations could take more time.
Meanwhile, some local municipalities have already banned the use of drones over privacy concerns. The FAA doesn't regulate flights below 400 feet, allowing individuals like photographers and hobbyists to use drones in that airspace.
It's certainly feasible for Amazon to add drones to its delivery options, according to Dr. Jerry LeMieux, president of Unmanned Vehicle University and a retired U.S. Air Force colonel.
"Other countries are already doing it," he said, noting how Domino's delivers pizzas by drone in the U.K. and Australia delivers school textbooks using UAVs.
LeMieux's believes the FAA will simply require a permit for commercial entities to operate drones below 500 feet, mirroring regulations in Canada and other nations. It's unlikely that Amazon will need to operate its UAVs at higher altitudes, he said.
Safe Landing?
One of the biggest challenges for Amazon will involve the safe landing of its drones in front of its customers' homes.
Concerns over hitting trees, power lines and other objects would have to be addressed, in addition to ensuring the safety of people walking outside.
"It needs to be idiot proof," said Gillis.
On "60 Minutes," Bezos acknowledged that Amazon's drones will need more safety testing. "This thing can't land on somebody's head while they're walking around their neighborhood," he said.
The UAVs would need to feature collision avoidance technology that uses sensors to detect that aircraft or other objects are getting close, LeMieux explained. Amazon must also ensure its drones have a reliable command and control link.
Regulations will likely include a requirement that drones have a transponder so they appear on radar systems.
Human factors are an important element as well, and operators must have proper training. The drone featured on "60 Minutes" was an autonomous model and one of several early prototypes the company has developed, according to company spokesperson Mary Osako.
Even if the company moves forward with an autonomous drone, "there's going to be a camera and someone watching," LeMieux said. He added that the technology exists to guarantee an accurate landing based on GPS coordinates.
Osako couldn't provide details on Amazon's success in testing the drone's ability to safely land in front of homes.
Flying to Cut Costs
Despite the challenges in making drone delivery a reality, Amazon is motivated to get its packages in the air.
The company has done nearly all it can do to cut down on shipping times when orders are delivered to homes by truck.
It's all about the "last mile," Gillis said, and Amazon will explore just about every way it can shorten deliveries and slash costs. The company's shipping costs are equal to 4.7% of revenue, which totaled about $17.1 billion in the third quarter.
Amazon already offers same-day delivery in certain locations, while Sunday delivery through the U.S. Postal Service was announced last month. The e-commerce giant also dipped its toes in direct shipping with the Amazon Fresh grocery service, which uses company-owned trucks to deliver orders.
Exactly when Amazon's drones may go airborne remains up for debate. While Bezos indicated it could take another five years, LeMieux believes the retailer could start shipping packages by UAVs in one or two years. In an interview on FOX Business, aviation attorney Albert Pucciarelli suggested a target date of 2017 or 2018.
"Amazon has to get the last mile and connect the warehouse to customers," Gillis said. "I don't want to say [drone delivery] will never come, because it might. There's a constant need to reduce the time from the warehouse to consumers."