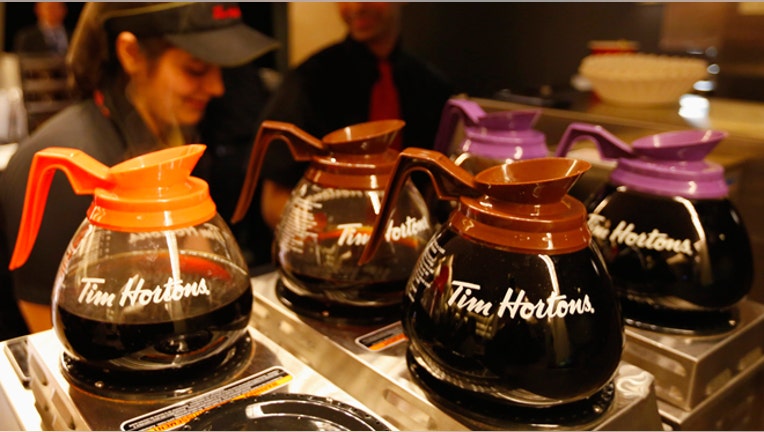 Restaurant Brands International Inc, formed out of Burger King's takeover of Canadian coffee and doughnut chain Tim Hortons last year, saw higher quarterly sales growth at both brands, but posted a net loss due to one-time costs related to the merger.
U.S. chain Burger King bought Tim Hortons for C$12.64 billion ($10.21 billion) in August, creating the world's third-largest fast-food restaurant group. The two restaurant chains are being managed as distinct and separate brands under the parent company.
"Whenever you do a transaction like that, there's going to be a lot of one-time fees," Restaurant Brands Chief Financial Officer Josh Kobza said in an interview.
"The underlying businesses are doing really well and that gives us a lot of confidence about the results that are going to come over the next few years."
Comparable sales grew 4.1 percent at Tim Hortons and 3 percent at Burger King in the quarter, Oakville, Ontario-based Restaurant Brands said. On a constant currency basis, system-wide sales grew 7.4 percent at Tim Hortons and 7.7 percent at Burger King.
Investors and industry experts have said Tim Hortons' coffee products can help Burger King chip away at McDonald's Corp's <MCD.N> dominance in the quick-serve breakfast market, while Burger King can help Tim Hortons expand in the United States and abroad.
Last month, the company cut some 350 corporate jobs as part of the post-merger reorganization.
"We executed our organizational restructuring up front, which really focused on back office, corporate areas where we said we'd see overlap in the business," Chief Executive Daniel Schwartz told Reuters. "We have no plans to have any more job cuts."
Executives said they would focus on deleveraging and reinvesting in the business. Tim Hortons' U.S and international growth would be a top priority, but something that would take time, they added.
Restaurant Brands, which has more than 19,000 restaurants in 100 countries, posted a net loss attributable to shareholders of $514.2 million, or $2.52 per share, in the fourth quarter ended Dec. 31, in its first quarterly results after the merger.
The company reported total revenue of $416.3 million in the quarter.
Up to Friday's close, Restaurant Brands' stock had risen about 14 percent since its listing on the Toronto Stock Exchange.
(With additional reporting by Sneha Banerjee in Bengaluru; Editing by Simon Jennings and Meredith Mazzilli)