Cassette Tapes at 50: Alive and Kicking?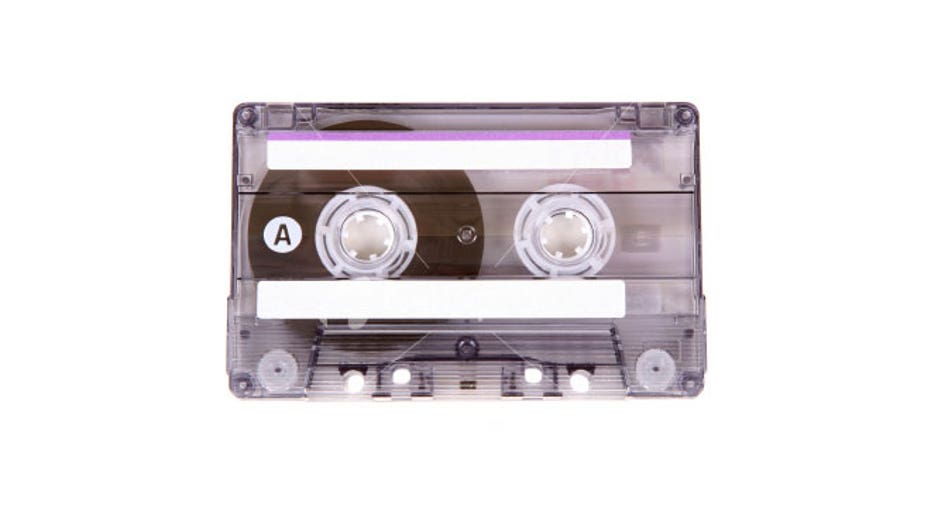 The cassette tape is turning 50 and some music industry insiders say the recording relic is poised for a comeback.
The people who helped put together Record Store Day in 2007 are launching the first Cassette Store Day on Saturday in celebration of the beloved recording format.
Steve Rose says the idea for Cassette Store Day was born while he was putting together some tapes for a friend following Record Store Day. He reached out to fellow music producer Jen Long, who in partnership with Transgressive Records runs the U.K.-based tape label Kissability, to help bring the party to life.
Long says first and foremost it is a day for music and cassette fans, but also a way to show there is still an appetite to own releases in a physical format.
"We'd like to see cassette labels get a little more recognition," Long tells FOXBusiness.com.
She says the response has been loud and clear.
"When we started the event it was going to be UK only and we really didn't expect so many U.S. stores to get involved."
Indeed, a couple dozen cassette and record stores across the United States and Latin America are celebrating and some 50 bands including The Flaming Lips, Animal Collective, Deerhunter and Los Campesinos! (Kissability will be releasing the first live album on tape from the band especially for the day) are set to release music.
50 Years of Cassettes
While the eight-track began popping up in American households in the 1950s, it was eclipsed by the cassette tape in the 1960s. In 1970, when Ray Dolby used his noise reduction unit to solve the cassette's "hissing" issue, the cassette quickly morphed from a business aid into a music carrier -- giving the music industry its first taste of piracy.
"Cassettes caught on because they made music portable," says Don Cusic, music historian and professor at Belmont University in Nashville, Tenn. "You could copy music onto a tape and carry it with you in the car, on a Walkman, wherever."
Despite all the hype, Cusic says he doesn't see the tape making as big a resurgence as vinyl records. Based on data from Nielsen Soundscan, U.S. vinyl music sales for 2013 are projected to reach 5.5 million units.
And according to the Nielsen Company and Billboard's 2012 Music Industry Report, "digital album sales are up 14.1% and digital track sales are up 5.1%, but despite being down 12.8%, physical is still the dominant album format."
Dan Keen, instructor of Music Business and Cusic's colleague at Belmont, agrees any sales bump from the celebration will likely be small, however, he does think the music industry as a whole is at the "dawn of a golden age."
"We're trending away from owning copies of anything, sure, but publishers, songwriters and artists have always adapted to new technologies and will be okay," Keen says. "It's anybody whose business depends on selling recorded versions of music (like record stores) turn to react."
The Making of a Mixtape
The fact tapes are cheaper to produce has kept them popular among independent record stores and labels, and in turn for consumers looking to purchase old and new tracks at a lesser cost.
Eric Ziegler, store manager for Homer's Music in Omaha, Neb., says the inexpensiveness of the exchange might do the trick to help ailing record stores and labels.
"Sure there's some kitsch value to [Cassette Store Day] because not everybody buys tapes, but not everybody buys records and [Record Store Day] is still hugely successful," he says.
Homer's Music opened its doors in 1971 and operated as a chain up and down the Midwest until recently when the company decided to close all but one store, the one in Omaha at which Ziegler works. He says tapes make up maybe 1% of Homer's sales, 70% comes from CD sales, 30% from Vinyl LP sales. Tapes typically sell for anywhere from $2 to $7, depending on if there are bonus tracks or they're collectibles. Some of the exclusive releases for Cassette Store Day imported from the U.K. may go for $12.
Kevin Klein, owner of the independent Omaha-based label Rainy Road Records, is producing several releases for Cassette Store Day. He says he can produce about 100 tapes for about $200.
Klein admits it's been hard to sustain his business as people move toward digital music and streaming, but says one thing that's helped the company survive is the low cost of cassettes -- and including download cards for digital copies with the purchase.
He also thinks tapes, even at 50-years-old, can make a comeback.
"Maybe it's a nostalgia thing, but tapes have a warmer quality to their sound that passionate music fans appreciate."