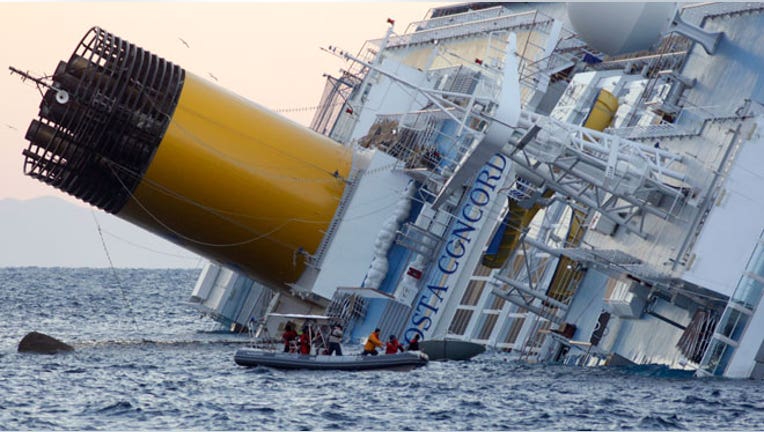 U.K.-listed shares of Carnival (NYSE:CCL) plunged almost 20% Monday morning as the markets fret about the financial impact of the Costa Concordia cruise-ship disaster off the coast of Italy over the weekend.
Analysts warned the disaster, which has caused at least six deaths, could hurt bookings, lead to a flurry of lawsuits and reduce the company's ship capacity. Sixteen other people are believed to be missing.
The cruise ship, which carried 4,229 passengers and crew, needed to be evacuated after striking a reef Friday night.
Carnival, which owns the cruise line that operated the boat, said on Monday it expects the incident to hurt its 2012 earnings by $85 million to $95 million, translating to 11 cents to 12 cents a share.
The company, which is the world's largest cruise line operator, also warned it sees "other costs to the business that are not possible to determine at this time."
London-listed shares of Carnival, which is traded on both the New York and London Stock Exchanges, sank 17.04% to 1,865 pounds in recent action. U.S.-listed shares were inactive on Monday due to the Martin Luther King holiday.
In response to the incident, analysts at Morgan Stanley downgraded Carnival to "equalweight" from "overweight." The firm warned the situation could worsen if the investigation finds industry safety issues or if people choose to stay away from cruises, Dow Jones Newswires reported.
"While we would not recommend stepping into shares near-term, the company's nearly 3% dividend yield and history of returning capital through buybacks should provide a backstop for the stock," analysts at Credit Suisse said in a note.
Carnival said it has insurance coverage for damage to the vessel that carries a $30 million deductible as well as insurance for third party personal injury liability that is subject to an additional deductible of about $10 million for this incident.
According to Bloomberg News, Costa Concordia was insured by a number of companies, including XL Group (NYSE:XL), RSA Insurance and Assicurazioni Generali. The insurers face $512 million in total costs, the wire service reported.
"At this time, our priority is the safety of our passengers and crew," Carnival CEO Micky Arison said in a statement.  "We are deeply saddened by this tragic event and our hearts go out to everyone affected by the grounding of the Costa Concordia and especially to the families and loved ones of those who lost their lives."
Carnival said a damage assessment is being conducted on the ship, which is still stuck on a rock off the coast of Tuscany. Carnival said the ship is expected to be taken out of service for the rest of the current year.