Can't Keep This 'Winer' Down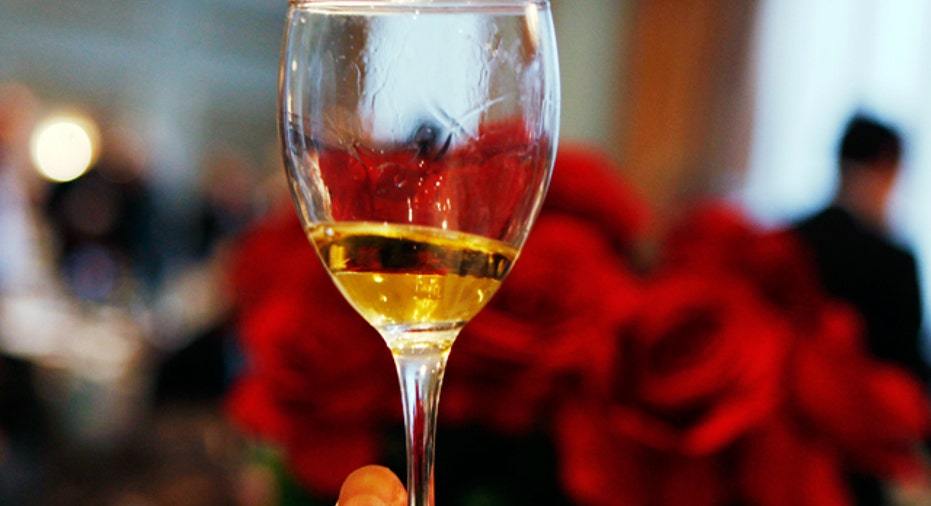 Theresa Dilworth, owner of the Comtesse Thérèse vineyards, came down from the upstairs office of her new bistro with a cane and a bandaged foot because the ladder fell while she was putting up Christmas lighting. A week earlier, she had fallen off the roof while trying to fix something -- herself.
An international tax attorney by day and owner of a 42-acre vineyard by, well, weekend, Theresa (or Tree, as her friends call her) clearly is not afraid to be challenged – or get hurt.
During the week, she handles global tax transactions for a multinational company in Purchase, N.Y. Then, every Friday night she drives 1.5 hours out to Aquebogue on the North Fork of Long Island to spend the weekend planting grapes, decorating her new bistro, making candles, or whatever else this closet-Laura Ingalls feels must get done.
But that's the two sides of Tree. She and her husband bought an uncultivated piece of property out on Long Island as a New York City getaway back in late 90s. Every weekend, they'd leave their Manhattan high-rise apartment and sleep in tents – yes, tents -- on the property, fixing it up until the actual home was complete.
Back then, Tree had no interest in growing grapes or making wine.
But thanks to the encouragement and financial interest of a friend, she found herself buying another 40 acres that again needed to be cultivated. This time, for grapes.
We sat in the tasting room of her new Comtesse Thérèse French bistro, a converted home from the 1800s, as she told me her story. It didn't take long for me to feel like a slacker.
But we did have something in common. Tree is an Ernst & Young alum, like myself. I actually met Tree back in 2005 at a tasting bar in downtown Manhattan. The bar, since closed, only served wines produced in New York. Tree was there, personally pouring her own. And I remember thinking back then how cool it was that this corporate attorney was making wine on the weekend, for kicks. (Come to think of it, she made me feel like a slacker back then, too.)
But, clearly, wine-producing is for more than just kicks. Obviously, it can be quite painful -- and expensive. Tree has dumped all of her own money into the place. She uses her own blood and sweat to plant, grow and produce the wine, and, like most wise small business owners, she's recruited her family. Her husband has since made a drastic career change, leaving the executive suite of the steel industry to become the in-house sommelier. And her parents come out Monday through Friday to work the property.
In the first year the land was ready, she only planted one acre of grapes to learn the process. The following year, she increased to five acres. Today, 42 acres are covered with all types of grapes from Sauvignon Blanc to Malbec to Syrah (the last two due in 2011).
But the problem with grapes? They take years to grow and Tree needed that property to start making money ASAP. So in 2001, she bought grapes from a local vineyard and started making some wine.
My Wine Lesson
I mentioned in my first column that the weather, the grapes and the oak used in the barrels can all change the taste of your wine.
Interestingly enough, European countries like Italy, France and Germany have strict rules on the kind of oak you must use. Not in the U.S., though. Feel free to pick your oak.
So in an effort to differentiate herself, she did. She started tinkering with different oaks and has since created top notch wines in oak barrels from Russia and Hungary. And she is currently producing one with Canadian oak, which she says will be the first truly all North American wine available.
Now, in accordance to the column, I asked her to pick her favorite wine, but asking a vintner to pick her favorite wine is much like asking a mother to pick her favorite kid.
Instead she picked her customers' favorite: The Comtesse Therese 2007 Russian Oak Chardonnay, which retails for about $20.
I stuck my nose in the glass and was able to smell pepper. She got that as well as nutmeg and clove, and pointed out that oak, not the grapes, was influencing the smell.
Now I don't often drink chardonnay, but as I swished it around my mouth, that Russian oak offered a cinnamon taste to me.
Certainly not the chardonnay I've had in the past.
Life Lesson
Chef Arie Pavlou sent out escargots and a brie en croute, which was brie, wild mushrooms and their home-grown sage in a flaky pastry crust. And with that, we moved on to her 2005 Hungarian Oak Merlot.
I asked her if she had plans to leave corporate America and do this wine stuff full-time.
"I'm not giving up my day job. I love my job," she said emphatically.
Which one?!
This women spends the work week buried in the tax code and then gets on her hands and knees and plants grape seeds on the weekends just to keep paying the bills.
Yet we have close to 2 million people in this country collecting 99 weeks of unemployment benefits and asking for more.
Really?
But not people like Tree. They just keep moving forward. The deals keep coming on the international tax front, and she's planning to open a Comtesse Thérèse bed and breakfast in her wine world.
"I'm having fun," she says, even with the bandage on her foot and her cane lying against her chair.
Clearly, it's all hard work, and she obviously occasionally gets knocked down.
What sets her apart, though, is that she keeps getting back up.