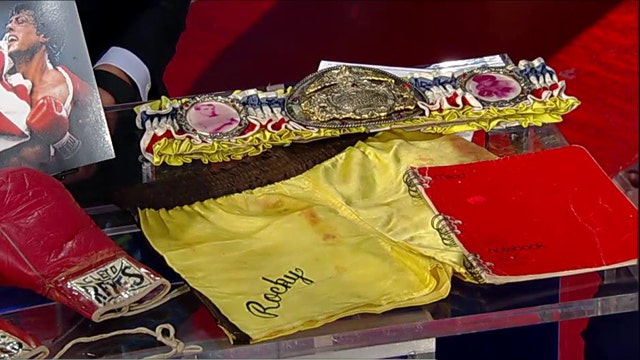 Heritage Auctions President Greg Rohan knows a thing or two about 'Rocky' movies. He spoke with FOX Business Network's Maria Bartiromo about the upcoming auction of memorabilia from the very popular boxing saga.
Rohan discussed some of the highlights from Stallone's collection and what fans can bid on.
"This is the script, the original script that Sylvester Stallone wrote in 1975 that started everything, handwritten, the script for 'Rocky.' Opening bid for the script is $150,000, I expect it will go for more than that."
The collection also included the shorts Rocky Balboa wore in 'Rocky 3,' and  "the estimate on these is $20,000 and up," Rohan said.
He also addressed why Stallone decided to auction off the memorabilia.
"Mr. Stallone is a really generous person and a portion of the proceeds from the sale of these [items] are going to benefit military service men and service women."
For at least $300,000, fans can bid on a pair of Rocky's gloves. Rohan noted that these are the only gloves Stallone wore in 'Rocky 2'.
"They are incredibly worn and just beat to death because he used them throughout the entire 'Rocky 2' [movie] and of course won the championship against Apollo Creed with them."
Rohan also discussed why Stallone chose to auction the memorabilia now.
"Sylvester Stallone is the first international superstar of his popularity, at the very top, to have ever sold his memorabilia during his lifetime.  We sold John Wayne's estate years after John Wayne passed away and Mr. Stallone said to me 'the only thing missing from that auction was John Wayne.'"