Can You Divorce Your Story?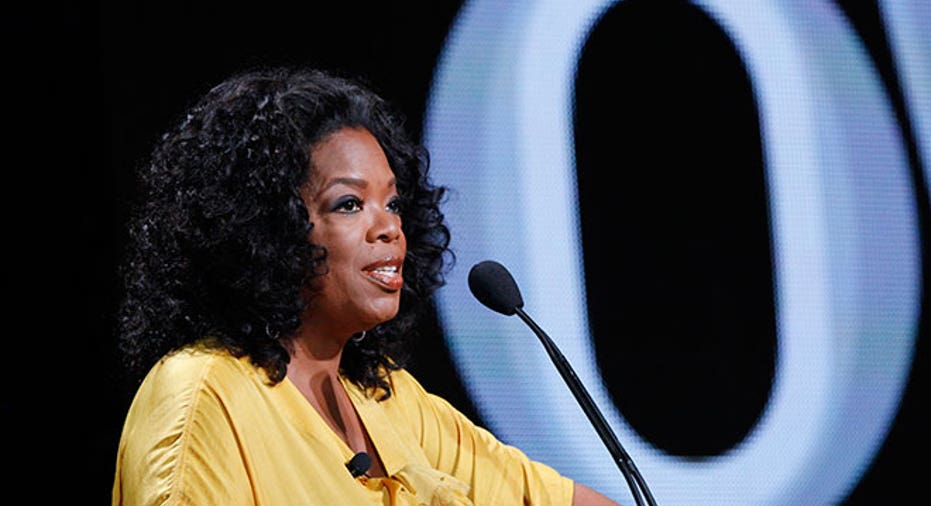 It's a Monday night and I'm sitting in Radio City Music Hall as life coach dynamo Tony Robbins is revving up the crowd just prior to Oprah's Lifeclass: The Tour going live on the air. It's in its second season on OWN, only it's grown from intimate studio audiences to packing in around 5,400 at this New York landmark, the second stop on the tour.
There's clapping and arms waving and singing along as "I got a feeling that tonight's gonna be a good night …" blares from the speakers. Robbins has us do an exercise where we introduce ourselves to people around us, first as though we're depressed and don't really care and then from a place of enthusiasm and confidence. My own energy shift is palpable, and already I feel changed because I know I have the power to make that switch in an instant.
But it is not until later, well into the show, that Robbins says, "Divorce your story" and a bunch of little bells in my head ring in an 'a-ha' moment. Because although he says that in one form or another to a number of "students" in Lifeclass, it is the one whose name is on the network that really crystallizes the concept for me.
Let's face it. While individual shows on OWN have enjoyed some terrific ratings, Oprah Winfrey has not been getting rave reviews on her network of late. Layoffs and turnover have been the focus in the news. So Winfrey's "story" could easily be that she is running a struggling network. She could be leading from that place of doubt and fear.
Instead, as she told her live audience during a commercial break, she prefers to see it like this: "I'm building a network, one show at a time." Harpo Co-Presidents Sheri Salata and Erik Logan greeted the Radio City audience and talked about the "motion" and "momentum" of OWN. That means Winfrey is operating from a place of trajectory as opposed to one of pending decline or struggle. What a difference.
This is the part of Winfrey that puts her appeal notches – OK, maybe a stratosphere – above most. She is an unabashed student, too. Lifeclass was born of lessons culled from her 25 years of interviewing people on The Oprah Winfrey Show, but it lives on because she is constantly on the learning side as well. The tone is not guru-preaching-from-the-mountain. That was more than evident as Winfrey copiously recorded the wise words of spiritual teacher Iyanla Vanzant in a little notebook over and over in the first episode of season two.
"You're addicted to your story," Vanzant told a struggling addict Steve on last week's show from St. Louis. "The story is the new drug."
Put your own story in here and understand what she's saying more clearly. "I'm no good at relationships" or "I can't act. My sister is the actor in the family." How many years have you been telling yourself something that is essentially pigeonholing you or paralyzing you? How is your limited perception of yourself holding you back?
Later in the show Vanzant asked, "Who would you be without that story?"
Maybe the person who thinks he isn't good at relationships could instead make his story, "I'm now at a point in my life where I'm prepared to receive a vibrant life partner. The ones that didn't work out have taught me so much." Perhaps the woman who wants to act despite having a sister who does could rewrite her story to say, "I'm from an acting family. I love acting and so does my sister."
That's what Vanzant – whose OWN show, Iyanla, Fix My Life premieres this summer -- meant by, "Can you tell your story in a way that invigorates you?"
Sounds like a fabulously uplifting exercise, doesn't it?
Then along comes Robbins in the second Lifeclass to throw down the gauntlet – "Divorce your story." And by that he means the relationship is over -- "Never speak again."
With Twitter and Facebook an integral part of the interactive show, Winfrey also turns to Skype feeds to bring in guests or to check in with people who previously told their stories. For example, teenager Caitlin had been on The Oprah Winfrey Show and was low on energy and dejected about her life, but when Winfrey talked to her on Skype this week she explained the changes she'd made since that show. One was that she didn't like high school, so she worked extra hard and graduated early.
Winfrey marveled at that, noting that someone else in that situation might have dropped out instead. Caitlin is now a social worker. She appeared polished and relaxed. Another viewer, Dawn, spoke of turning fear to power because she realized it requires the same amount of intensity.
That was similar to my own realization in the aforementioned exercise where we introduced ourselves to one another. My story can either come from a woman standing up straight, looking a stranger in the eye, smiling brightly and speaking clearly or from a hesitant, slouched woman with eyes averted and speaking in low tones.
I think I'll divorce the slouchy one. That other one got a few really great hugs from strangers.
That's the story I'd like to tell over and over again.
Nancy Colasurdo is a practicing life coach and freelance writer. Her Web site is www.nancola.com and you can follow her on Twitter @nancola. Please direct all questions/comments to FOXGamePlan@gmail.com.