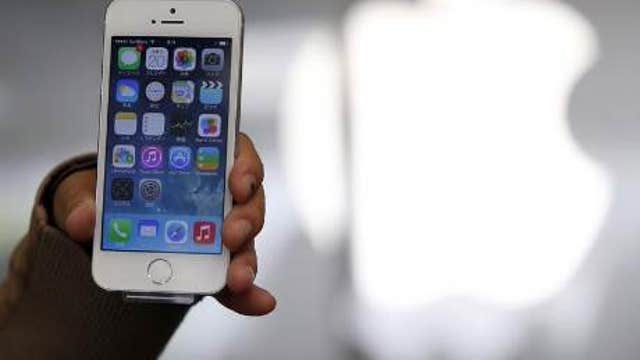 Once the rocket ship of tech stocks, the past few years have been a roller coaster ride for Apple (NASDAQ:AAPL) shareholders. Lucky for them, the latest leg has been up. Since mid-April, shares have soared 28% to around $94 per share after Apple hiked its dividend, increased its stock repurchase program and split its stock seven-for-one. The Cupertino, California-based company will report earnings for its fiscal third quarter Tuesday and analysts on average expect earnings jumped 15%. But given the run up, should you step back or buy more shares?
A purchase decision now hinges largely on Apple's launch of the iPhone 6 and its larger screen expected this fall that will allow it to better compete with high-end Android-powered phones with larger screens. But analysts and fund managers are divided over whether the new smartphone launch merits buying more shares.
Trading at 15 times 2014 price-to-earnings, Scott Kessler, chief technology analyst for S&P Capital IQ, says shares look fairly valued. After recommending the stock as a "buy" for more than five years, Kessler downgraded the stock to "hold" on May 29.
"It seems like a limited growth story with sentiment having caught up," says Kessler.
The analyst says the iPhone 6 could fall short of estimates and that the rumored iWatch launch, expected before the end of the year, could be delayed. Kessler also says that recent iPad sales have been disappointing with a mid-teens decline in both unit shipments and revenues in the first three months of the year. And with the iPhone 6 due out this fall, that could put more pressure on iPad sales if consumers shift spending away from iPads to the new iPhone.
Veteran tech manager Paul Meeks, who has been a long-time holder of Apple, agrees. The stock is one of Meeks's top positions in the Sextant Growth fund (TICKER:SSGFX) he manages for Saturna Capital. But Meeks says the stock is simply a hold here.
"The stock has had a nice run, fundamentals are better," says Meeks. "And while the iPhone 6 will be a nice catalyst [for the stock], I think some people are a little too bullish on the iPhone 6."
Canaccord Genuity analyst Michael Walkley is one who is banking that the iPhone 6 launch will push shares higher. The analyst recently raised his target price to $112 from $102 ahead of the iPhone 6 launch later this year. Walkley found in his June-July survey that the iPhone 5S remains a top-selling smartphone. But the survey also showed people are putting off upgrading from their current iPhones to newer models as they wait for a larger-screen iPhone. According to Walkley's analysis, the replacement rate for iPhone sales slowed from 41% in 2012 to 22% in 2013 as consumers delayed purchasing new iPhones. That, he says, sets Apple up to rake in record iPhone 6 sales. Walkley also thinks Apple will charge a higher price for the larger-screen phone, helping to buoy Apple's gross margins, which have started to rebound after peaking in June 2012.
The larger-screen iPhone could also help Apple claw back market share. Since Apple hasn't offered a large screen that was competitive with high-tier Android phones, Apple has ceded market share to Android. Larger screens are popular in Asia, and particularly China, where Apple inked an agreement in December with China Mobile, the world's largest mobile carrier. Also, larger screens are growing in demand in developed markets as more people use their phones to watch TV and movies.
The iPhone 6 launch comes as investors have been waiting for a new product to reinvigorate profits. Apple says it plans to launch a new product category before the end of the year, which analysts speculate is a smartwatch. The device, dubbed the iWatch by media, is reportedly supposed to track and monitor health and fitness. But don't expect it to be another category killer like the iPhone or iPad. Walkley estimates the new product will offer less than 4% upside to earnings next year – though that's a rough estimate since the price and margins are still unknown.
Even if the iPhone 6 and iWatch turn out to be successful products, Apple is bumping up against the law of large numbers. "The company is like an ocean liner. It's so large that regardless of what happens with iPhone 6 or an iWatch, it's hard to move the needle in percentage terms," says Meeks.
The manager says Apple will be hard pressed to generate revenue and earnings at a rate of 10% or more after the iPhone 6 launch.
Once known for crushing profit expectations quarter after quarter, Apple's sales and earnings growth have slowed. Over the past year, the tech juggernaut grew sales by 9.2%, compared with an average growth rate of nearly 44% over the past five years. Net income contracted 11% in fiscal year 2013 versus an average blistering growth rate of 56% over the past five years. Though, on average, analysts expect Apple to increase earnings this year by 11%, while sales are projected to rise by 6.3%.
Aside from a maturing business with steep competition and the risk of market saturation, critics scorn Apple lost its innovative edge since founder Steve Jobs passed away in 2011. Meeks says Apple might have given up a little innovation, but he says he thinks Apple is a better-run company under chief executive Tim Cook based on better management of its cash mountain.
Under Cook, Apple is now returning money back to shareholders, making big-brand acquisitions like Beats and partnering with outside software developers and companies. The company also just partnered with an old rival IBM (NYSE:IBM) to make specialized business apps for Apple products that will help it push into the enterprise market.
"In the past you had this company with $150 billion in cash, but they wouldn't do even a medium-size acquisition because I think Jobs was very close minded," says Meeks.
Lately, buying time with investors by paying them a juicier dividend and buying back stock until it launches new products has paid off for Apple. Short of a successful, new major product launch, question marks remain about the reinvigorating high-growth sales and earnings.
"You'll continue to have bursts of outperformance with new product launches or new iterations of current products like iPhones or iPads," says Meeks. "But after that it's a steady lull."