Can the Family Sedan Make a Comeback?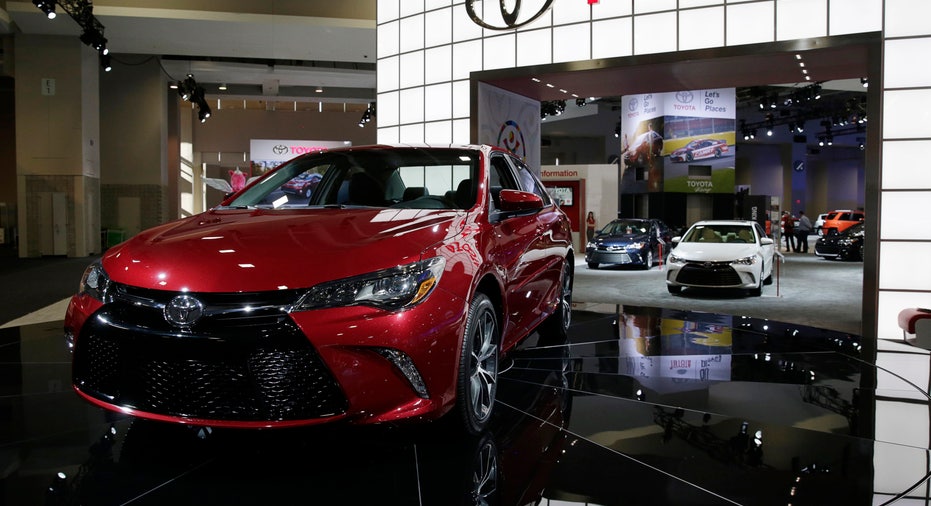 Family sedans are falling out of favor with American drivers.
Car shoppers have increasingly jumped into new crossovers and SUVs, showing a preference for additional cargo space, an elevated ride height and comparable fuel mileage. Automakers have responded to the shift by discounting cars on dealership lots in hopes of boosting sales. Some manufacturers, including Fiat Chrysler Automobiles (NYSE:FCAU), have cut production of slow-selling sedans.
Utilities overtook sedans for the first time in mid-2014, based on IHS Automotive's analysis of U.S. car registrations. By 2015, compact crossovers dethroned midsize sedans as the most popular vehicle among American consumers. The decline has continued into the current year, even as U.S. auto sales set a pace to beat the annual record set in 2015. During the first half of 2016, passenger cars recorded a sales decline of 7.5%, overshadowed by a 9.2% gain for light trucks, according to sales tallies compiled by Autodata.
June was a microcosm of the sedan's persistent struggles. Sales of all passenger cars combined slipped 8% versus June 2015. Automakers sold 11.4% more light trucks, a category that includes crossovers and SUVs. Demand for pickup trucks and utilities carried June to 2.5% sales growth overall.
"Sedans have had a tough year," said Patrick Min, senior analyst at TrueCar (NASDAQ:TRUE). Even updated models like the Kia Optima are having a tough time generating demand, he added. "Maybe the only car that's hit it out of the park this year has been the Honda (NYSE:HMC) Civic."
The Civic, Toyota (NYSE:TM) Camry, Toyota Corolla and Nissan Altima were the only sedans to rank in the 10 best-selling vehicles last month. Pickup trucks—the Ford (NYSE:F) F-Series, Chevrolet Silverado and Ram models—dominated the top three. Three crossovers made the top 10: the Honda CR-V, Nissan Rogue and Ford Escape.
Incentives for new cars have edged higher across the board this year, but "a little more on the car side" as sales lag behind SUVs, Min said.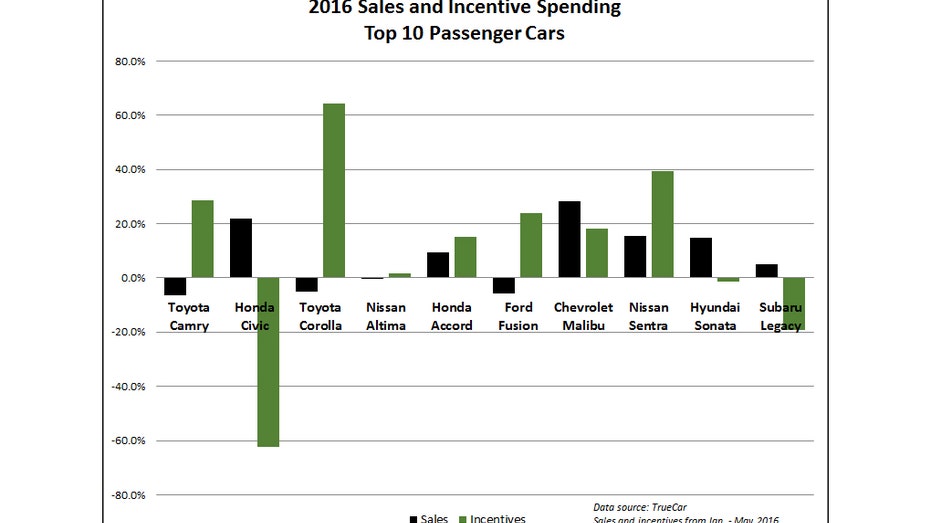 Cash discounts on 45 compact, midsize and full-size models sold in the U.S. from January through May have risen an estimated 9%, according to TrueCar data provided to FOXBusiness.com. For the Toyota Camry, car buyers received an average of $3,452 in promotional discounts. Still, sales of the venerable Camry—the top-selling passenger car so far this year—were down 6.3% over the same timeframe.
Meanwhile, utility vehicles hold their own cash incentive: cheaper gasoline. AAA on Wednesday reported a national average of $2.26 a gallon, or savings of 50 cents compared to the same day in 2015. Drivers were paying around $3.60 a gallon just two years ago.
"Before, SUVs had a huge fuel-efficiency penalty, but there have been a lot of gains in fuel economy," Min said. "People see a lot of added value in crossovers. They feel like they're not giving up a lot."
Light trucks have widened their lead over passenger cars to 58% of the market in the first half, up from 56%. TrueCar expects trucks and SUVs to hold onto their advantage with gas prices staying below $3 a gallon for the next few years, and compact crossovers are projected to remain the best-selling segment.