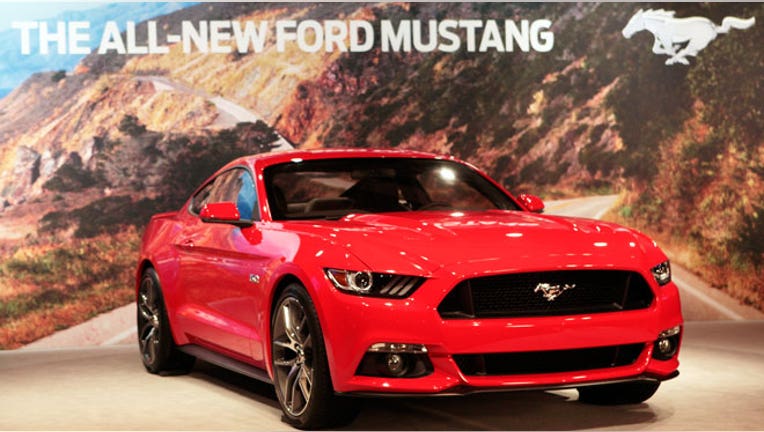 Ford Motor Co.'s (NYSE:F) upcoming F-150 pickup truck is getting plenty of attention for its aluminum body, a big departure for the Blue Oval. Another gamble can be found under the hood of the new 2015 Mustang, as Ford looks to expand the pony car's market.
The Mustang hasn't featured a four-cylinder engine for two decades. That changed in late September, when Ford dealers began selling the redesigned Mustang.
For 2015, a 2.3-liter EcoBoost joined an engine lineup that also includes a V6 and a new 435-horsepower V8. The turbocharged four-cylinder achieves the best fuel economy of the bunch and comparable horsepower to the V6, which is rated at 300 horsepower.
The EcoBoost engine, which shares technology found in other Fords, generates 310 horsepower and 320 pound-feet of torque. With a six-speed automatic transmission, the smaller engine gets 32 miles per gallon on the highway, compared to the V6's 28 mpg.
The result is a better-handling Mustang with laudable fuel economy and plenty of power, according to Matt DeLorenzo, managing editor for Kelley Blue Book's KBB.com.
"The fuel economy and performance are there. The number of cylinders doesn't matter as much anymore," DeLorenzo said. "If you look at some of the turbocharged four-cylinder engines out there, they're getting [horsepower] into the high 200s."
The Mustang is the latest Ford model to get an EcoBoost engine, which Ford touts as the best combination of power and fuel economy. Most Ford models, such as the Fusion sedan and Escape crossover, can be equipped with an EcoBoost engine. F-150 buyers will have a choice of two EcoBoost engines, in addition to a V6 and V8.
While the sporty Mustang may not have been an obvious choice to join the EcoBoost club, adding a four-cylinder engine could attract a new type of buyer.
Steve Ling, Ford's marketing manager for performance cars, said the four-cylinder motor compliments the V8 well by offering an engine that's more plausible for many consumers. The Mustang EcoBoost will cost less to fill up the tank, and drivers can expect lower insurance costs as well.
"I can't tell you the number of people who have walked up and said, 'The EcoBoost engine is the one to have,' " Ling said, noting how more female and young consumers are showing interest.
The EcoBoost "will probably be the [Mustang's] best-selling engine over time," he added. The F-150 EcoBoost V6 is the pickup truck's volume seller.
Sticker prices are slightly higher for the four-cylinder Mustang, which starts at $25,995 including the destination charge. The V6-powered Mustang has a starting price of $24,425.
Mustang Goes Global
Ford hopes its EcoBoost can broaden the Mustang's appeal not only in the U.S., but in overseas markets like Europe. The Dearborn, Mich.-based automaker has international aspirations for the Mustang, which will be sold outside of North America for the first time in its 50-year history.
The car market in Europe, where gasoline is more expensive, leans toward smaller engines. Industry watchers expect the EcoBoost-equipped Mustang to do well in other markets as well.
"It adds one more choice for American consumers, but another driver is the globalization of the car," DeLorenzo said. "The EcoBoost will be the performance engine in some markets. In Europe, there's already a market for turbo-fours."
The Mustang's introduction overseas is part of a larger effort at Ford to improve global sales. Earlier this week, Ford said it will take longer than expected to record a profit in Europe. The company also lowered its financial guidance for the current year.
In the U.S., Ford delivered 77,186 Mustangs in 2013. Through September, sales are 1.1% ahead of last year at 59,831 units. The Mustang hasn't topped six-figures in annual U.S. sales since 2007.
Sales of General Motors' (NYSE:GM) Chevrolet Camaro, the Mustang's chief rival, have jumped 7.8% to 69,878 units so far in 2014. Chrysler Group's Dodge is updating its two-door muscle car, the Challenger, for model-year 2015.
Both internationally and here at home, interest in Ford's revamped Mustang can also trickle down to other models.
"I think it will help the Ford brand globally," DeLorenzo said. "The Mustang may help them a lot in Europe because people like things that are American. This is a way for Ford to stand out a little bit. Some customers may drive away with a Fiesta, but the thing that drove them to the showroom was the Mustang."
Maintaining a Legacy
Ford made it a priority to keep the Mustang true to form, even with a four-cylinder under the hood. Ling said the EcoBoost version has the "fun-to-drive factor" that enthusiasts have come to enjoy.
If the EcoBoost didn't meet that standard, "we weren't going to consider this," Ling added. "There are certain expectations for the Mustang. As long as we fulfill that, people have been willing to accept how we got there."
The benefits provided by a smaller, turbocharged engine certainly don't hurt. The Mustang is competing in a different market than it did in 1964. Buyers value miles per gallon in addition to burnouts. According to a Kelley Blue Book survey, 28% of car shoppers said they were looking at new cars in order to get better fuel economy.
"You have to be able to offer that alternative all across your line. Everyone wants 30 miles per gallon," DeLorenzo said.
Ford expects the EcoBoost, plus other new features like an independent rear suspension, to draw attention from new buyers and Mustang enthusiasts alike. Pony car fans tend to be interested in the latest automotive technology, Ling explained.
"I think having this engine on this car meets the DNA of the Mustang," he remarked. "Why is the Mustang so enduring? It's a combination of getting the original formula right and always keeping the car relevant. And I think that's what EcoBoost does."