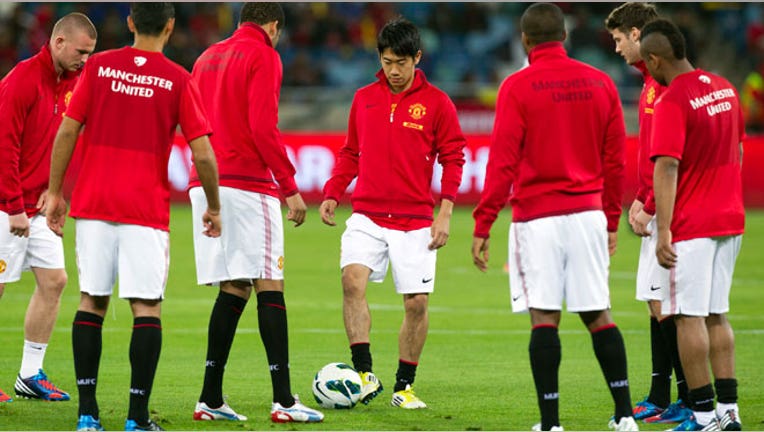 Hoping to simultaneously lift its sagging global market share and boost brand awareness, General Motors (NYSE:GM) made a huge splash this week by inking a jersey sponsorship pact with England's Manchester United that is worth as much as an eye-popping $600 million.
The mega marketing deal, which is far more lucrative than Manchester's current sponsorship with insurance broker Aon (NYSE:AON), allows GM to emblazon the Chevrolet logo on the front of the soccer club's iconic red jerseys.
For struggling GM, the landmark agreement is aimed at attracting the attention of the hundreds of millions of fans around the world who tune in to watch European soccer.
"There's zero arguing the value of Manchester United and their global fan base in building a global brand," said Kevin Adler, president and founder of Engage Marketing, a Chicago sports and entertainment marketing firm.
Raising GM's Profile
Think New York Yankees, but much bigger. Manchester claims north of 650 million fans around the world and its initial public offering is expected to value the soccer club at a whopping $3.3 billion, or roughly twice the estimated value of the Dallas Cowboys.
Manchester vies with Liverpool for the hearts and minds of not just the U.K. faithful, but soccer fans around the world, including in emerging markets in Asia.
"As a brand that's trying to get more exposure internationally it's a great way to go," said Darin David, a director in the sports marketing division of Dallas-based The Marketing Arm.
GM, which had a $4.5 billion advertising budget last year, also announced a four-year auto sponsorship pact with Liverpool last week.
"People watch those games from a global point of view. Absolutely, it's a huge amount of exposure," said Paul Samuels, who is based in the U.K. as senior vice president of AEG Global Partnerships in Europe.
Sagging Market Share
It's clear that GM needs to do something to breathe new life into its sales. The Detroit auto maker's share price has crumbled by nearly 33% over the past year, sinking to post-IPO lows just last week.
Facing tough competition from the likes of Chrysler, Hyundai and Ford (NYSE:F), GM's U.S. market share contracted by two percentage points to 18.1% in the first half of 2012. At the end of the first quarter its European market share slipped to 8.2% from 8.4% the year before.
"Rather than simply fighting for market share here in the United States, why not do that on a global basis? Man-U can be a fantastic vehicle for that given the sheer size of their fan base," said Adler.
Lofty Price Tag
Still, the sheer size of the Chevy/Manchester deal has raised some eye brows.
At a reported $600 million, including an activation fee of $100 million, the pact rivals some of the biggest stadium naming rights deals seen in the U.S.
For example, Citigroup (NYSE:C) is paying a reported $400 million for the naming rights to the New York Mets' Citi Field, while British bank Barclays (NYSE:BCS) shelled out about $200 million over 20 years for the home of the Brooklyn Nets.
The reported price tag of the GM deal doubles the value of the soccer club's current deal with Aon, which expires after the 2013-2014 season.
Further casting doubt on the value of the pact, GM ousted high-profile marketing chief Joel Ewanick this week after officials at the auto maker determined he failed to properly vet the financial deals of the Manchester deal, The Wall Street Journal reported.
"It would be presumptuous for anyone to say Chevrolet didn't do their due diligence, but the word on the street is that when GM management paid literally double what Aon paid, that was viewed as not the result of cautious financial due diligence," said Adler.
Samuels wouldn't comment on Ewanick's ouster specifically, but said, "A board would have approved this deal, I'm sure."
Will it Work?
Still, it's far too early to say whether GM overpaid for its exposure to Manchester United's legions of passionate fans.
"I think the general consensus is they paid a ton of money for it," said Adler. "But if they've got a clear vision of what impact it can have on its business, and a clearly articulated activation plan, there's nothing to say this can't perform for them and deliver more ROI (return on investment) than what it cost them."
By closely linking its brand to Manchester's GM will be striving to create a lucrative emotional attachment between the club's fans and Chevrolet.
Adler said, "Man-U claims to have 650 million fans globally. The question is how many of those fans will be driving Chevys three years from now?"