Campus to Office: How to Make the Transition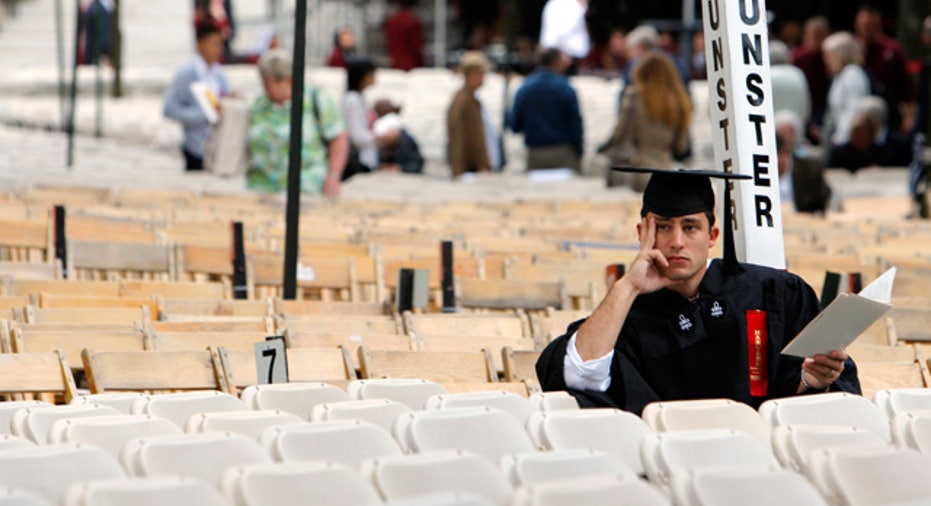 Earning a college diploma will help students' employment prospects, but it doesn't guarantee success in the workplace. Experts say that both colleges and students share responsibility when it comes to ensuring their preparedness for success in the workplace.
A recent study by Gen Y research and consulting firm Millennial Branding and Internships.com shows that 25% of students feel unprepared for the working world and 69% of students believe that it's both their college's and their own responsibility  to make sure they're ready.
In many industries, an undergraduate degree is essential to be considered for an entry-level position and is the bare minimum when it comes to what employers require from candidates, according to Dan Schawbel, founder of Millennial Branding and author of Promote Yourself: The New Rules For Career Success.
"We're finding that 67% of students believe that an internship is most important when developing business skills compared with a college class [at] only 12%," he says. "There's a significant difference and what it shows is work experience trumps education every time and that's what employers are looking for, so that needs to be part of your college experience."
To prepare grads for the working world, here's how experts say both colleges and students can better use their resources to increase hiring opportunities.
Build a Stronger Connection with the Career Center
Universities are providing invaluable career resources through their curriculum and campus activities, yet there is often a disconnect when it comes to the career center, says Jeff Livingston, senior vice president of education policy at McGraw-Hill Education.
"The career center is not thought of as an integral part of the university, but an offshoot of the university," he says. "The fact that it is still possible within the culture of an extremely expensive university having never visited the career center means that there is a cultural problem."
Schawbel suggests colleges create a mandatory career course to help students get acquainted with career services throughout their four years.
"It needs to be a career seminar: this is what you need to be doing, we are career services, we will be there for you and here are the resources that we have at our disposal, come in and see us," he says. "Otherwise you maybe hear about career services, you go see them when you need a resume checkup--they need to play a bigger role."
With a plethora of services offered, it's up to students to take advantage of opportunities to seek out guidance and advice for their ultimate goal of landing a job, explains Emily Kissane, policy and research analyst for education solutions company Hobsons.
"Use it as the springboard to explore internship, volunteer and other employment opportunities to gain experience and work references," she says. "Resume writing, job searching, interviewing, and salary negotiations are daunting to the uninitiated--attend career center workshops to gain insights."
Create Better Alumni Networking Opportunities
Engaging with alumni and bringing them to campus to network with current students is one of the best assets colleges have, yet many schools fail to stay adequately connected, says Schawbel.
"They need to put so much more emphasis on alumni, not just for donations, but to help the students so that it increases the probability that those students get jobs, which helps the school even more," he says. "It's not walking in and saying 'check my resume for spelling errors', it's 'who you know at this company in this position that might be able to help me or I might be able to learn from?'"
However, students should take the initiative to reach out to former students in their field to create genuine professional networking connections, says Shawnice Meador, director of Career Management & Leadership Development for MBA@UNC.
"For schools that don't have an active alumni network, students can locate alumni on LinkedIn simply by using the 'Network - Find Alumni' feature and input the information they are looking for to find alumni that meet their geographical, field of expertise, or employer criteria," she says.
Integrate More Working Life Situations in the Classroom
The experts recommend that schools go beyond giving notes in the lecture hall and show students what types of real-life situations and projects they may be faced with in the working world.
"If colleges are unable to invite executives to the school, professors can bring the students to the executives' work environments through company immersion experiences," says Meador. "After learning a topic like supply chain management in the classroom, the class can visit a relevant local company and participate in a tour of the supply chain processes as well as hear first-hand from the employees about how supply chain theory directly relates to practice in the workplace."
Finding ways to integrate emphasis on soft skills can help grads hone their abilities to work in teams and communicate effectively with others, often at the top of employers' lists when seeking out candidates.
"The first thing that a college can do is identify those soft skills that they want each graduate to leave with and then restructure the curriculum in the way of teaching and learning in order to incorporate those skills into the process," says Livingston. "Finally, they need to help their students be fluent in describing how they have cultivated those skills to employers."