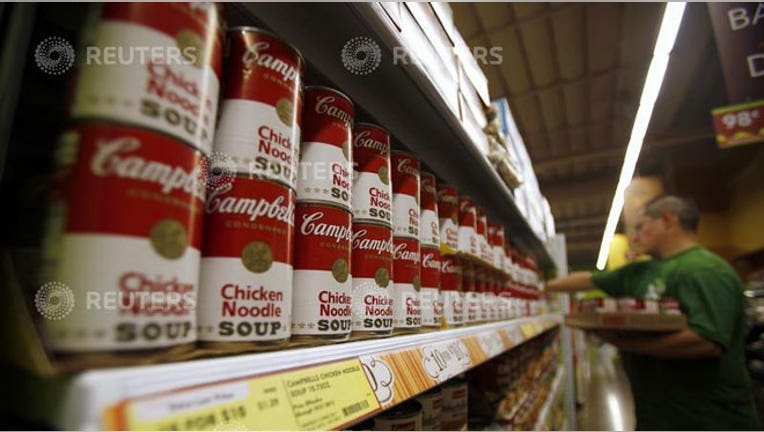 Packaged foods maker Campbell Soup Co reported lower-than-expected quarterly sales and profit, hurt by a strong dollar and "movements in retailer inventory levels" in its U.S. soups business.
The company said on Friday that sales in its U.S. simple meals business, which includes soups, fell 6 percent in the third quarter. The business, its biggest, accounted for about a third of its total revenue.
Campbell and other packaged food makers have been struggling to grow in the U.S. market as customers shift to foods perceived as healthier, such as gluten-free and organic products.
Retailer Target Corp informed packaged food makers, including Campbell, that it would spend less on promoting some of their products and instead promote fresher items, the Wall Street Journal reported on Sunday.
Campbell, also known for its Pepperidge Farm cookies and Goldfish crackers, said sales fell 4 percent in condensed soups, 18 percent in ready-to-serve soups and 13 percent in broths.
The company said it now expected full-year sales to be closer to the lower end of its previous forecast of a fall of up to 1 percent to a rise of up to 1 percent.
The net income attributable to Campbell fell slightly to $182 million in the quarter ended May 3 from $184 million, a year earlier.
On a per-share basis, the company's earnings were unchanged at 58 cents.
Excluding items, Campbell earned 62 cents per share.
Sales fell 3.6 percent to $1.90 billion.
Analysts on an average had expected earnings of 52 cents per share and revenue of $1.93 billion, according to Thomson Reuters I/B/E/S.
Campbell's shares closed at $46.93 on Thursday on the New York Stock Exchange. Up to Thursday's close, the stock had risen 6 percent in the past 12 months.
(Reporting by Sruthi Ramakrishnan in Bengaluru and Anjali Athavaley in New York; Editing by Kirti Pandey)