Campbell's Recalls over 4,000 Pounds of Mislabeled Chicken Soup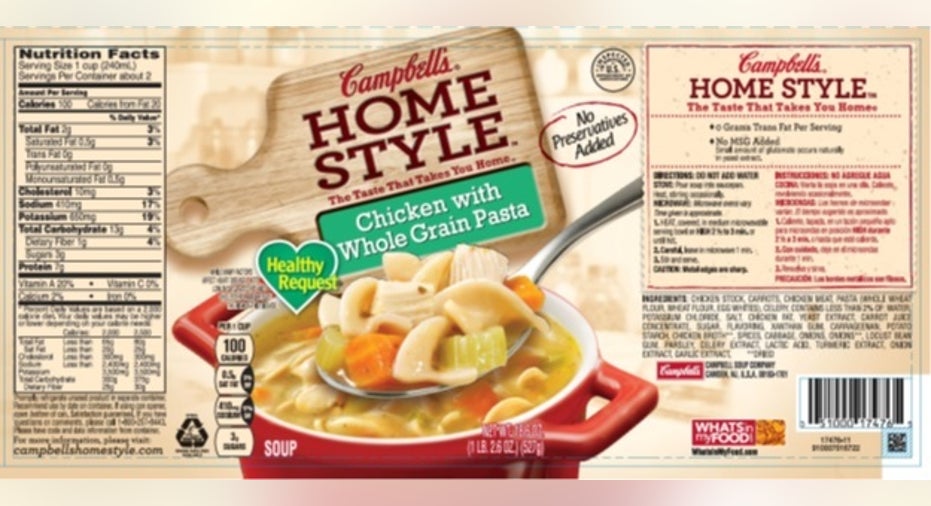 Campbell Soup Company (NYSE:CPB) has issued a voluntary recall for approximately 4,185 pounds of chicken soup products due to a misbranding mishap and undeclared allergens, according to a statement from the U.S. Department of Agriculture's Food Safety and Inspection Service (FSIS).
The mishap was discovered last Thursday, when the company realized that soup cans labeled as "Campbell's Homestyle Healthy Request Chicken with Whole Grain Pasta" were actually "Campbell's Homestyle Healthy Request Italian-Style Wedding Spinach & Meatballs in Chicken Broth" soup. Campbell's realized their mistake when multiple consumers called in to complain about the switcheroo.
Additionally, the FSIS has declared the incident a class 1 recall due to an undeclared allergen (milk) that is not currently listed on the mislabeled cans.
According to the USDA, a class 1 recall indicates a "health hazard situation where there is a reasonable probability that the use of the product will cause serious, adverse health consequences or death."
The company says there have been no confirmed reports of adverse reactions due to consumption of the mislabeled products, but both Campbell's and the FSIS urge consumers not to consume these products but rather throw them away or return them to the place of purchase.
The products subject to this recall are 18.6-oz. cans of "Campbell's Homestyle Healthy Request Chicken with Whole Grain Pasta" with Best By dates of Feb. 13, 2019, which is located on the bottom of the cans. Additionally, they bear the establishment number "EST. 4R". These items were reportedly shipped to several retail locations in Florida.