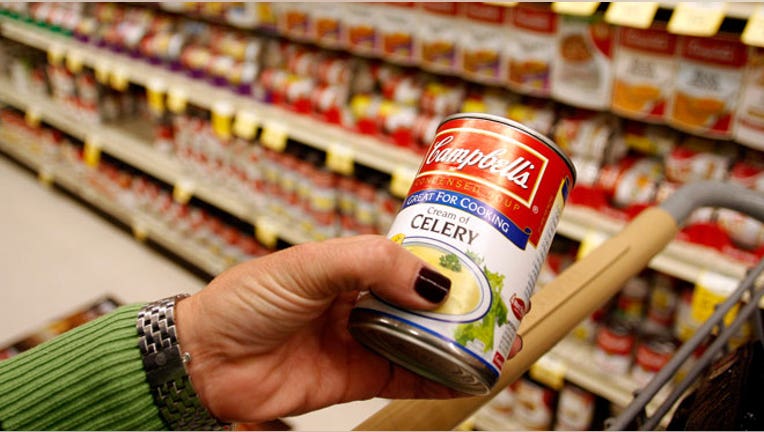 Campbell Soup (NYSE:CPB) beat the Street on Friday with a lighter-than-expected 7.3% dip in fiscal second-quarter profits as sales growth helped offset one-time charges.
Reporting just a day after ketchup maker H.J. Heinz (NYSE:HNZ) agreed to the largest buyout on record in the food industry, shares of Campbell dipped more than 1% in premarket trading.
The soup company said it earned $190 million, or 60 cents a share, last quarter, compared with a profit of $205 million, or 64 cents a share, a year earlier.
Excluding one-time items, it earned 70 cents a share, up from 64 cents a year earlier and above the Street's view of 66 cents.
Revenue rose 10% to $2.33 billion, essentially matching the Street's view of $2.32 billion. However, organic sales inched up just 1% and gross margins slid to 35.1% from 38.4%.
"Despite weakness in our U.S. Beverages and North America Foodservice businesses, our first half business results were positive," CEO Denise Morrison said in a statement. "Although profits in U.S. Beverages improved, we have more work to do to drive the top line and continue to stabilize profit in a sluggish shelf-stable juice category."
Looking ahead, Campbell reaffirmed its fiscal 2013 guidance that calls for sales to jump 10% to 12% and adjusted EPS to increase 3% to 5%. Management still expects non-GAAP EPS of $2.51 to $2.57, which is in line with estimates from analysts for $2.54.
Shares of Camden, N.J.-based Campbell dropped 1.08% to $38.30 ahead of Monday's opening bell. The selloff should eat into the stock's impressive 2013 rally of 11%.